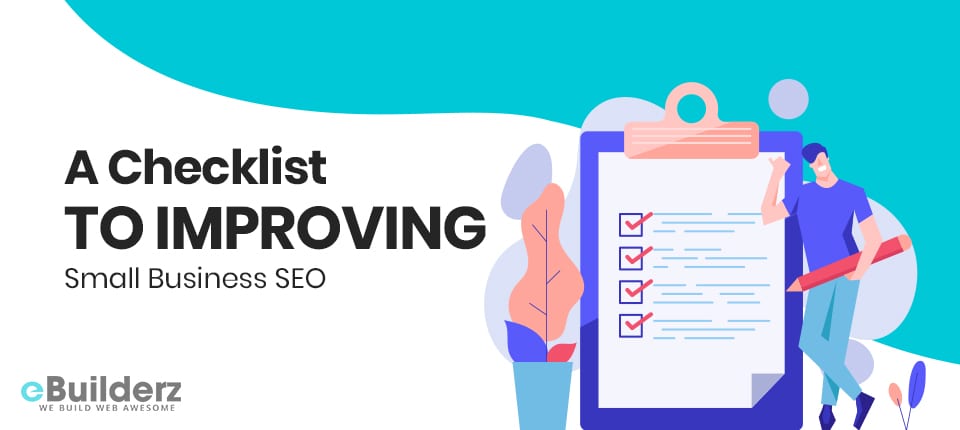 What makes small businesses thrive is when they understand the problems their consumers face and try to solve them. Failure to know what your potential customers want will affect your business negatively, and it may not grow. However, knowing what your target market needs is not enough sometimes to make small businesses grow. Most of the time, you need to optimize the solutions you intend to offer them.
To get on top of Google's search engine results, your SEO strategy needs to be on point and should relate to what clients want when they search for products and services online. This post is meant to help you understand better what small business SEO is all about. It is a complete guide on small business SEO with a checklist to help you get started and grow.
What is small business SEO?
First, let's define what small business SEO is. Small business SEO is all about optimizing various aspects of your Website to make it visible to users and search engines. When you optimize your Website, you make it easy for people to find you or your business. This means that you will rank better on search engines like Google and Bing and increase your site presence. SEO also gives you an edge in the competitive online world.
Ignoring small business SEO is not an option if you want to grow your business. Many benefits come with optimizing your small business. Here are some of them.
Benefits of Small Business SEO
It is hard to convince someone who doesn't know the importance of online presence to use small business SEO. Small business SEO needs time and money to make it work. This makes it worth it if you do it properly.
It attracts more customers
It makes your Website visible to new customers
Creates brand awareness
Enhances the rate of conversion
Lets you stay ahead of your competitors
Helps you realize your long term business goals
Investing in SEO makes it easy for people to find your Website. Brand awareness is increased when your prospects find your Website with ease. They may not convert at that very moment, but they have a clue of what you are offering and make an informed choice.
Small business SEO also allows you to increase the number of regular appointments, leads, and sales. When you stay ahead of your constipation, many of their customers will come to you instead of them. Ignoring the internet will slow down growth in your business. Today, many people trust the internet to get information about products. That is why it is vital to have your business online.
What ROI should you expect from small business SEO?
Compared to larger corporations, small businesses lack the funds and time to invest in effective SEO. But is SEO worth it for small businesses? Or does it give you the desired return on investment?
Of course, SEO for small ventures is worth every dime, and various studies have proved this fact. The main search engine to focus on in your SEO is Google, even though there are others out there. The reason for this is that most of the search engines are owned by Google. Google's market share of search engines grew to 87% as if January 2020. Getting more traffic and higher ranks shouldn't be the main focus of small business SEO. Driving more conversions should be your ultimate goal.
When you are doing smart SEO, you may end up getting the worst ranks or lower traffic. The reason for this is due to targeting more conversions by shifting resources to more commercial search terms. Even though these terms are harder to rank for, they will still get you more conversions ranking at number 10. You may use valuable keywords that raise your rankings, but this doesn't necessarily translate to more business. Smart small business SEO helps you to boost your ROI in this way. What you need to do is optimize your site to cater to actual customers. Search engines start 98% of the online experience.
Your business bottom line depends on knowing what your customers want when searching online. This is more so for B2B ventures. 70% of B2B researchers rely on general searches when starting their research. This is according to Google. Another thing is that, before making a purchase, 90% of B2B buyers do their research online. Before choosing to engage with any B2B business, they will search about 12 times. These are 12 chances for a small business to get clicked online.
Most researchers research intensively first before making a buying decision. SEO is an old way of online marketing; however, ranking factors keep changing in search engines, which makes coming up with the consistent right strategy hard. You are doing your business disfavor when you fail to include your SEO into your small business.
What thrills small ventures is how to get started with crafting and implementing SEO. If you don't know where to invest in SEO, this checklist will help you with that. On it, there are 28 points with crucial SEO elements to implement on your site. When you couple this with an SEO roadmap, you will have a success story soon.
28-point small business SEO checklist
Before delving into that, the first thing to do has proper SEO basics. This is realized by logically designing your Website and allowing Google to find your Website by having your technical ducks in a row. You will make it easier for Google to grasp what your Website is all about, thus increasing your site visibility.
Also, you can read Why You Must Hire Search Engine Marketing Consultant from an seo company?
1.       Have Google Analytics Installed on Your Website
Before optimizing your site's SEO, you need to find a way of gauging whether your efforts are working? Google Analytics offers the best solutions when you want to track activities on your Website. The kind of data you will get from GA includes the amount of traffic, where it comes from, and how people engage with your Website. This info is vital as it helps you to find out what works, what doesn't, and what you need to do to improve things.
The best thing about Google Analytics is that you don't need to pay to install it. The tool is free to use, and using it is quite easy. This is a crucial tool for all types of online ventures because it offers a great deal of data.
2.       Set up Google Search Console
The next thing that you need to do is configure the Google Search Console account. With this tool, you will get a wealth of data like how your site appears on search engines. This includes click rates, ranking for keywords, and much more. Google Search Console also helps to:
Submit sitemaps to Google
Set up and submit robots.txt file
Setting and receiving alerts errors from Google about failed crawls
Google Search Console is the best tool for finding out the sudden drop in performance so that you can deal with the issue. It is also free and easy for anyone to use. It is a vital tool if you own a small business and want to thrive.
3.       Have One or Two SEO Plugins
Since it is hard to track things manually on your Website, you need to install an SEO plugin on your Website. WordPress is the best platform to run your Website because it allows you to access and install dozens of plugins to increase functionality. With an SEO plugin, you can manage basic tasks in your Website, such as:
Meta titles and descriptions optimization
Keyword optimization for a single or several pages
Allow search engines grasp what your Website is all about
Help search engines better understand what your content is about
A lot of time is saved when managing SEO tasks with these plugins. If you are running a small venture, having these SEO plugins is a must, more so if you have limited time and funds.
4.       Have an XML sitemap
Website structures need technical roadmaps called XML sitemaps to make sense. Their work is to help search engines crawl your Website to help them grasp what your site is all about fast. Search engines can then direct your site to relevant searches. An XML site map is vital to your SEO since it helps websites rank better.
5.       Build and Insert a robots.txt File to the Website
When you want search engines to crawl your Website more easily, you need to add a robots.txt file into your site. With a robot.txt file, crawlers can head straight to your relevant content without spending time on media and other irrelevant files. This reduces the workload crawlers have when trying to make sense of your Website. By directing them to the relevant text, they will avoid bogus texts and shorten the time to find your Website. Every chance that presents itself to you to improve your SEO is a blessing, so grab it and run.
6.       Make use of Brief Descriptive URLs
An easy win for small businesses is using short URLs that describe what your Website is all about. Keeping your URL brief and descriptive is important when you are building a new page on your Website. The best thing is to use very few words to describe what your business deals with. Both search engines and users will have an easy time understanding what the page is all about.
7.       Each Page on your Site Should Have a Title Tag and Description
Title and description tags are also other ways to make your Website easy to understand by users and search engines. A title tag is the first point, and the description is the second one.

With Google, you get limited characters to describe your page. You should always ensure that you accurately describe what your page is all about with the title and description whenever you create any page.
8.       Use the Main Keyword on One H1 on your Page
The title tag on your page is the same as the H1 heading. They do the same work. However, they shouldn't look the same. As much as you have more characters to describe the page, you should not overdo it. Including the main keyword in your H1 headline is the most important thing that you can do as your small business SEO. The topic of the page is signaled to Google when you include the main keyword in your H1 headline. This makes it easier for search engines to use the same keyword to show your page in searches.
9.       Use Relevant Backlinks as Internal and External Resources
Back any content new content that you publish on your site with relevant links. This helps your users to get more information on what they are looking for from other websites that are linked to yours. Internal links refer to other pages on your Website, while external links are those from other websites. Users and search engines are directed to other pages in your site using internal links for more information that is related to the topic.
Internal links also help crawlers to find any other content on your Website. Behavioral data such as bounce rate and time spent on your page (dwell time) to rank your Website. With internal links, users can stay on your site for a long time trying to find additional information, which reduces the bouncing rate.
If you don't have any internal links, you can use external links that direct the user to other sites with relevant content. The sites should be of high quality and have online authority. Moreover, users should help from these websites.
10.   Descriptive Alt-tags are Needed to Optimize Your Images with Descriptive At-tags
Other Meta tags that are becoming more and more popular with SEO are image alt tags. An image alt tag is more of a text describing what is shown by the image. All your users are important, and in this case, alt tags are useful to users who are visually impaired. This helps them to know what the image is all about. Search engines will also use alt tags to better understand what the page entails. It still counts even though it's a small ranking factor.
Deal with Technical SEO Issues Immediately
When you find any technical issues on your site, you need to fix them as fast as possible. When search engines can crawl and index your Website, the pro process is known as technical SEO. Anything that affects the ability of search bots to crawl and index your Website positively or negatively is called technical SEO. That is why fixing technical issues whenever they occur is very important.
11.   Find any Broken Links and Pages
A broken page is one of the worst technical issues when using SEO efforts. The reason being that the broken page makes it hard for users and search engines to make sense of it. This is frustrating for both users and search engines. Before deleting a page on your site, ensure that it redirects to a working page within your Website. If you accidentally broke it, make fast efforts to fix it. This also goes to broken links within your page. Search engines and users will have a hard time on your Website when they come across a broken link. A broken link isn't as bad as a broken page, but you still need to fix it when you realize it's broken.
12.   Find and Fix Any Crawl Errors
Step 2 in setting up a Google Search Console account is vital because you will be alerted when there is an error when search engines try to crawl your Website. A crawl error is when a search engine can't make sense of your Website or page. This will cause your site to rank low or even not showing it in search engines. When you come across an error, you should fix it immediately.
13.   Improve Your Website Loading Time
Page loading speed affects the site ranking. The faster your pages load, the higher you will rank if you have other ranking factors in check. If your page takes several seconds to load, many users won't have the patience to wait for it to load, and this will increase the bounce rate. This means that a slow loading page or Website is not useful to visitors, and this makes search engines lower the ranking.
The following can cause your page to load slowly:
If your Website has large media files and images
If your Website is not properly coded
When there are too many redirects on your Website
The good thing is that we have several tools in the market to help you measure your site's loading speed, plus they will tell you what is slowing down your site.
See More:- How to Get Google to Immediately Index Your New Website
14.   Always Use Mobile-Friendly Sites
Over 65% of searches are done on mobile phones. You are doing your small business wrong when you fail to use a website that is not easy to access using a smartphone or any other mobile device. Local and small businesses benefit more from mobile-friendly websites because while traveling, shoppers will search for local stores and services on their phones. If they are close by, they will walk in and buy something on that day or book for an appointment.
15.   Use HTTPs
The online world is full of scams. Therefore, you need to show that your Website is secure using HTTPs. People have become wary of hackers who are just looking for a way to steal information for their gain. Anyone would click away if they see a warning from the browser they are using that the site is not secure. HTTPs is one of the factors that Google uses to rank websites.
If you are looking for a reliable and cheap SSL certificate then, there are multiple vendors like Cheapsslshop there who can provide you quality SSL certificate depending upon your site's requirement. Please keep in mind that without HTTPS, you will probably lose your valuable customers and website traffic.
Your users won't receive that warning if you are using an HTTPs website. You need each potential customer that visits your Website. That is why you should do everything to ensure your Website is safe.
You Should Optimize Every Page on Your Website
It is always good to optimize the content on every page on your Website. If you are clueless about how this is done, this section of the checklist will give you pointers. This will help your small business thrive using SEO.
16.   Look for the Main Keyword and Target it
The main keyword on your Website should appear on every page on your Website. Keywords are search terms used by users to find your Website when they are searching online. It may be a whole sentence or a single word.
You can use several ways to look for keywords:
The names of items you are offering on your Website can help you come up with keywords
With Keyword research tools, you can also find relevant keywords
Analyze your competitors' keywords.
Always look for keywords with high search volumes. Google allows brands to purchase valuable keywords if they are all taken.
17.   Identify Keyword Variations that Long-tailed to Target
Just like keywords with high search volume, long-tail keyword variations of these keywords are also vital. Long-tail keywords are more specific than short-tail versions. "Men shoes" is a short tail keyword while "brown leather shoes for men" is a long long-tail keyword. However, as much as long-tail keywords have many variations, they also have lower search volumes. Since they are quite specific, they are not easy to rank for. Using long-tail keywords also helps your small business get known fast.
18.   Know Your Users' Intent for Searching
Next, you need to know what your users' intentions are for using certain search terms to look for your Website. This is a good way to find out how you are going to optimize your Website to convert more. It also helps you avoid wasting your time and money, targeting keywords that will not yield any fruits. For example, if you target "cheap ladies shoes for sale", it can easily lead to sales. On the other hand, targeting "how ladies shop for shoes" will not lead to sales since the user is only looking for information.
19.   Write Good Content Which is Interesting to your Readers
Using the right keywords and coupling them with technical SEO is vital. However, this is only half of what is needed to complete your SEO effort. To make it complete, you need to come up with quality content to insert the right keywords in. Readers want to read useful content that is relevant to them. Google values high-quality content that users want to read to solve their issues. The SmallSEOTool check your paper for plagiarism and help you build quality content quickly. Our tool scans your document for similar content on the Internet. The way you present the content should also match up with the quality. If your content is lengthy and has dense paragraphs, it will be hard to read, and users won't waste their time on such content. They will be forced to click away and find it easy to read content elsewhere. Google caters to what the customer wants, and quality content is one of its ranking factors.
20.   Enhance SERP Appearance by Adding Schema Markup
Also called structured data, schema markup refers to code added to your content to allow search engines to get and show more information about your page or Website. Another thing that schema markup does is add more links or information for users to click on. More conversions are driven when you offer your users more channels to source for information on the search result page. Schema markup also allows you to add links to events, reviews, videos, and product images.
Manage citations and local business listings
After fixing technical issues and having your Website optimized, the next step is building citations. This will help you manage your local business SEO on Google maps.

21.   Create Relevant Business Listings and Citations
When a website is mentioned by address, name, or phone number on another website, it is referred to as citations. This confirms to Google that it's dealing with a legit website and the information given about the address, name, and the number is real and accurate. This info helps to build trust in Google or any other search engine so that they can show in their searches.
Google will doubt if your site is legit if you don't provide citations or if the info keeps changing all the time. This will ruin all the other SEO efforts that you have put on your Website. Always ensure that you have proper citations on your local business listings that are accurate and up-to-date.
22.   Have your Google My Business Optimized
If you are running a small business, then you need to optimize your Google My Business. This is a powerful local marketing platform that allows users to see your business when they search for local businesses near them. Your business will also show on their searches when they type its name.
Google My Business allows you to add all sorts of info about your business that you want to optimize. Vital information that you can add include your Website's name, address, and phone number. You can also include links to your other pages or websites, posts that promote your business, business description, and more.
Always have the right business categories selected, as it's also very important. Pick the most relevant ones since you can only select up to 5 of them.
Promote and Build your Links
The last big step that you need to take in your small business SEO is building and promoting your links. When you do this, it will help you to drive more traffic to your site. Your website authority will also improve, and this shows that Google can trust your Website to give it a high rank. If you don't know where to begin to optimize your link building, here are steps to help you:
23.   Acquire Relevant Links From Known
Search engines rely heavily on backlinks when ranking sites. It shows that people trust your Website when it's linked to or from popular websites. Users are willing to click on your link since they believe that they will gain from the info you are providing. You should also know that not all backlinks are the same, and Google won't treat them as the same.
To rank high, you need to have many relevant links that are of high quality. If you are selling jewelry and you are linked to a website that sells chocolate products won't help you improve your rank.
See More:- What are backlinks and why are they beneficial to SEO?
24.   Look for Local Businesses Links
Links from local businesses will help you win to attract your local audience. You need to get links from other local ventures in your locality so that they can link to your Website.
You can also ask other businesses that you buy stuff from to link to your Website. If you feel like your clients have quality content, you can also ask them to link to you. This will help your business rank better in your local area, which is crucial when you are running a small business.
25.   Look for Sites That Are Linked to Your Competitors
Spying on your competitors is another way to know whether you are doing the right thing or not. You can do this by finding websites that link to your competitors. To help you find such websites, you need competitor analysis tools. When you have such a tool, all you need to do is add a list of all the domains that are linking to all your competitors.
Reverse engineer what these websites did to get those links once you find such websites. Whether they contributed to a study or write a guest post, try to find out what they did and offer something better.
26.   Focus on getting reviews from customers
Having reviews on your Website is one of the ranking factors that Google looks at. Users always search online for positive reviews before buying. This ensures that they get the right products that they are looking for.
That is why a study revealed that 97% of consumers rely on reviews to make a buying decision. If you want to get reviews easily, there are plenty of online tools to help you. Asking your customers to leave reviews about your products on social networks, Yelp, or Google, is also a good idea.
27.   Use High-quality Images and Videos
New content is important; however, don't just use text to convey your ideas. Images and videos are also effective ways to engage with your Website. Most users find it easy to grasp content with images, videos, and other visuals like charts, tables, and graphics. You stand a great chance of getting relevant links when you use visuals.
28.   Combine Paid Ads with SEO
The final step when you want to improve your SEO is to use PPC ads. How Google decides to rank your Website depends on how you juggle both paid ads and SEO. Both depend on keywords, and they also give you useful insights into organic and PPC users in terms of clicks and conversions.
You can also set up retargeting PPC ads for users who've already clicked on your Website. For leads that are likely to lead to conversions, you can personalize what kind of pages they look at and what action they need to take.
Conclusion
If you are a small business and you want to compete with larger enterprises, it can be quite hard to match up with them. The reason being that they have the time, resources, and manpower to make things easier. Not mentioning that they can hire the best experts to handle their SEO and digital marketing. They can't always understand what problems their customers face.
What makes a small business easier to manage is that it has its own experience, expertise, services, and products. The need to solve a problem was what drove you to start that small venture you have. When you talk to your customers on a personal level, you know what you need to improve your services or items. SEO takes all this information and puts it into search engines in the most friendly way possible.
With this checklist, you can achieve your SEO and marketing goals with ease. The actionable items we have given you are enough to make your small business succeed. With it, you can also decide to hire SEO experts like us to help you, or you can do it on your own. Either way, you always focus on solving the problems that customers face when using your products.
Here are a few more topics that you shouldn't miss:
Myrtle Beach Web Design Company
San Diego SEO Company
4 Awesome Tools to Find Long-Tail Keywords in Any Niche
Like this post? Don't forget to share