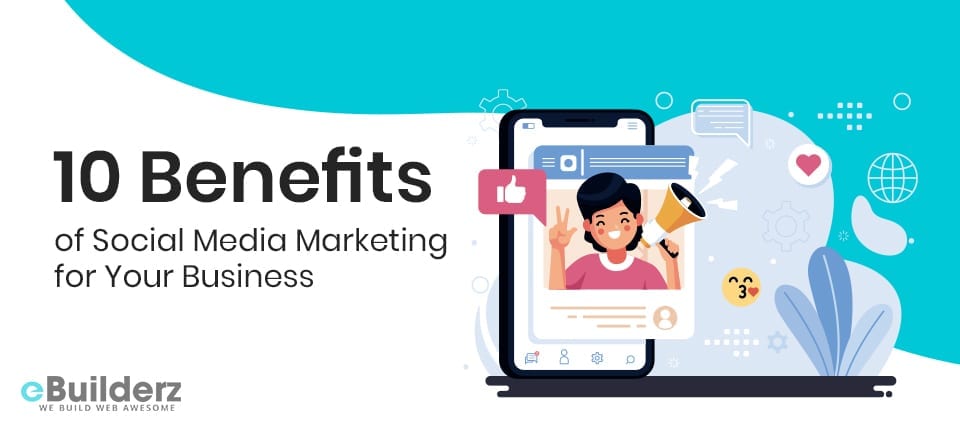 You only need as little as 6 hours a week to extend your market reach with little cost, thanks to social media marketing. This is the new age marketing technique that has received praise to many marketers who claim that it has immensely helped them boost their exposure, traffic, and sales. If you have not yet tapped into this influential marketing technique, you are doing your business a great injustice.
Since there are social networks and methods to boost any kind of business, the majority of business owners are not so sure of which one to use to improve their businesses. Going by Social Media Examiner founding, although 96% of marketers are actively using social media Influencing channels, only 11% of them are certain of which tactic to use to make the process successful. In this article, we are going to give you 10 advantages of social media as a marketing channel.
Increased Brand Awareness
One of the best ways to reach out to a new audience is to increase brand awareness and no marketing channel has the best reputation to achieve this than social media. This is the best marketing channel since it helps marketers to reach out to a massive audience by engaging them in direct or indirect conversation about a product. All you need to do is create social media profiles and start mingling and interacting with people you feel may be interested in your products or services. The next thing is to reach out to your employees, business partners, and sponsors and ask them to share or like your page increase your brand's recognition.
More Inbound Traffic
Your business won't grow if you only your loyal customers. With new products popping up every day, you need a marketing channel that allows you to stay ahead of your competition. With social media marketing, you will have an easier time reaching out to consumers who are outside you're your loyal customer circle. For your business to excel, you need to maintain your loyal customers as well as convert new ones. By adding social media marketing to your marketing strategy, you create an entry point for people to discover you and what you are all about. Since this channel allows you to reach out to a massive audience with different backgrounds and behavior, you will find new consumers who are interested in what you are selling.
Improved Search Engine Rankings
You will need to put more effort into posting on social media if you want to make your business successful. Optimizing your site for search engine is a great strategy for higher ranking. Although you can't expect social media to directly increase your website ranking, you will see a gradual change in traffic if you continue using social media for business as a marketing channel. If you are wise enough to incorporate targeted keywords in your social media posts, they will help your website rank higher. The fact is that everyone relies on Google to find information online and to rank better on Google you need to use quality content and effective keywords that will make your site secure a position on the first page since that is most people find what they are looking for.
Also read: Use Targeted SEO Strategy with our Los Angeles SEO Services
Higher Conversion Rates
By making your business visible to search engines and potential consumers, you allow it to create more opportunities for conversion which is a crucial element for a thriving website. You can do this by using blogs, images, videos, or comments on your social media posts. All these easily lead consumers to your website if placed strategically in your social media posts, giving you sufficient traffic. By using comments, sharing content, and updating your social media status, you give your business a human face which makes it easier to convert your prospect, since people prefer doing business with fellow people and not companies.
Better Customer Satisfaction
Most marketing channels are all about marketing and bombarding consumers with endless ads about a product. With social media, things are a bit different as besides being a marketing channel it is also a network and a communication platform. This means that it gives consumers a platform to give their honest opinion about a product or service. Social media also create a voice for your company allowing you to personalize your response which produces customer satisfaction.
Improved Brand Loyalty
Winning consumer loyalty is every business dream. Customer loyalty means increased and guaranteed sells and it's hard to earn consumer loyalty without satisfying them. Engaging your customers regularly allows you to bond and create rapport between you and them. Social media is more than just a tool to promote products and or introduce to customers, it is also used to communicate directly to your customers informing them why they should opt for your products or services. If you manage to convince them, then you've got yourself some loyal customers.
More Brand Authority
To cover more ground and make your business more authoritative, you need two vital elements. These are customer satisfaction and brand loyalty. Consumers will trust you more if you constantly post on social media, responding to their queries, and posting not just quality, but also original content. This demonstrates that you are not only after money but also solving their problems. When you have a good number of satisfied consumers, they can help you spread the word about your product through social media.
Cost-Effective
You won't get a more cost-effective marketing channel like social media. Compared to other marketing channels, paid promotions are quite affordable and any kind of business including startups can promote their products using social media. As a business owner, all you need to do is sign up and create a profile – which is free for most social networks and start promoting your products by sharing your posts and asking your followers to share or like them. With lower marketing costs, you will have an increased return on investment.
Gain Marketplace Insights
Besides helping you to market your products and services, other benefits of social media include helping you to understand the market and strategize. You will first-hand information on what is trending and what your consumers are looking for. Like I said, social media offers more than just marketing as you are also able to communicate with your customers to find out what is trending and what they prefer.
Thought Leadership
One of the best ways to become an industry leader and an expert in your field is by writing insightful content on your social media page. There is no other better way. People will trust your brand if you show them that you have experience of what you are selling if you. And this can be proved with your content on your social media posts. Online presence is built by offering quality well researched and laid out content. If you can accomplish this in your social media content then you will have an effective marketing campaign.
Conclusion 
Well, what are you waiting for? We have provided you with the best tips to help you make your social media marketing campaigns effective. As you plan to post your social media updates or promos, don't forget to share with your friends and ask them to share or like your social media pages for effective reach and brand awareness.