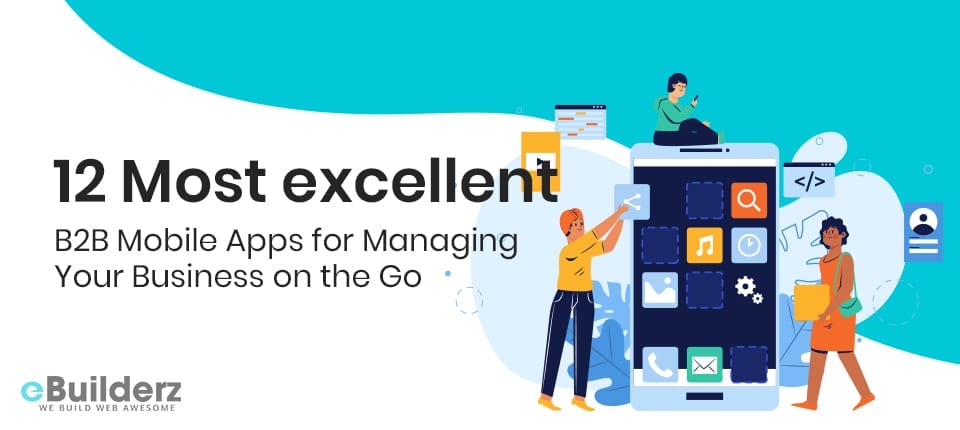 No matter how experienced you are as CEO, you will always come across huddles while running your B2B business. There are a lot of things you need to take into consideration including attracting new businesses, financing your venture and hiring new employees. Don't forget the hectic scheduled meetings that you need to attend from time to time. It is difficult to handle all and tract all these activities for effective performance. That is why you need the right mobile app to help you run your B2B business efficiently. This article will discuss 12 of the best mobile apps for business especially in running a B2B business.
Asana
If you need help managing a project, then the best app will be Asana. The beauty of this tool is that it's available for iOS, Android, and desktop devices. Using Asana will help team members stay organized for better performance and productivity. As a project manager, you can easily assign tasks to anyone on your team through email and can also create entire projects with subtasks, due dates, and notifications. This is to ensure that all the employees or team members are updated on the project's progress and if there are any new developments.
Google Analytics App 
Analytics is an important aspect of running an online business. It is crucial since it helps you keep track of traffic and everything about your website. The best solution would be Google Analytics and if you are wondering if it is a good choice for running a B2B business, the answer is yes since Google has come up with a Google analytics mobile app for both Android and iOS users. Just like the desktop Google Analytics, you will get everything from real-time data, acquisition data, audience insights, behavior, to conversions.
HootSuite
You should also monitor closely what goes on in social media even though it is not the biggest concern of a B2B business owner. It's good to track user feedback and other concerns that may affect your B2B business. For larger B2B business, you will probably have an in-house or agency-based social media marketing team to handle these issues. HootSuite is the best tool if you are running a small business and want to track what goes on in your social media accounts. The app allows monitoring your social accounts like Facebook, Twitter, and LinkedIn.
LinkedIn Pulse
If you are looking for a mobile application for business to help you gather newsworthy information that affects your industry in an organized manner, then the proper tool will be LinkedIn Pulse. It allows you to gather all important facts that affect your B2B venture and presents them in an understandable format. The app gives you total control of your feed and you can choose which market influencer you want to follow personally. Influencers can be those sources that have informative content that relates to your business or other individuals within the field.
WebEx
Meetings are hectic sometimes and if you are not organized enough, you will find yourself failing to attend some of them. If you want to avoid missing these meetings, then the best tool to help you will be WebEx. No matter where you are you will always get notifications of the next meeting. This is a nifty app that allows you to organize online events, host and attend meetings from your mobile phone or any other mobile device. The app also allows you to share important files, messages, and video conferences to keep you synchronized with your team or employees.
Salesforce Mobile
If you are running a B2B business you should have an effective CRM to help you make your business effective and profitable. Salesforce is a stable CRM that is available on both desktop and mobile apps. You will access everything that you need to make your business more efficient and productive by increasing sales. As a B2B business owner, you won't be disappointed by the great features that this great app brings.
DocuSign
Part of the daily task of a B2B business owner is signing contracts with vendors, clients, and employees. It gets harder when you have to attend a business meeting and you and you also need to sign a contract at the office. If you are always on the go, you require an app that will help you accent your signature no matter where you are. The perfect app for this task is DocuSign. What this app does is take any scanned and allow you to apply your signature digitally to any contract that requires it. You can even use it on other sensitive documents like receipts and invoices.
EverNote
Another important daily routine on any CEO is keeping notes. You need to move on to other daily activities, therefore, your notes have to be jotted down quickly. You can later come back to them when you are not so busy and emphasize important points. Evernote is a great notes app that allows users to write all the notes they need and also allows them to capture images of handwritten notes, clip web articles, and keep photos of physical and digital details of your projects. It also makes it possible for users to search through photos and notes for individual words.
Google Drive
Securing and protecting your important business file is also a critical process of any B2B business and that is where Google Drive comes in. This is a great mobile app that is also available for desktop users and allows you to keep both your files and team members' files safe outside the physical office so that you can access them no matter where you are. You can store any type of file including photos, designs, charts, documents, recordings, and videos. You can start with free storage that gives you 15 GB of cloud storage.
Flipboard
If you are running a B2B business it is also good to stay updated with the latest news concerning your field or industry even when you are always traveling. The best mobile app to help you with this will be Flipboard. If you are always on the road, you may miss out on the latest developments or breaking news that affects your business whether directly or indirectly. With Flipboard, you can gather up content from news publications, social networks, and blogs. You can later use the information to display in a magazine-like format.
Dropbox
It's challenging when you are running a B2B business and you have to bridge the gap between desktop and mobile. You need to ensure that even though you are not at the office, you can still access your word documents, images, and spreadsheets exactly as you would on your desktop. That is why you need Dropbox. This is a platform that allows you to store any desktop content in one place and you can present it anywhere you are.
Voice Text
Voice Text is the best fun mobile app that transcribes your voice into a text or email. You can later send or post the content on your social networks such as Twitter or Facebook. The app also has a clipboard that allows you to paste your text into any other mobile app. The app supports 23 different languages and dialects and has various editing features to help you express yourself 5 times faster than typing. It also has features to help you correct your grammar and improve your precision and delivery over time.
Conclusion  
With all these business apps, you can easily meet your goals when running a B2B business. You don't need to do everything manually in this fast-paced world when you have the tools to help you achieve your goals faster and efficiently. Although their other tools that you can try out in the market, these twelve will give you great services in managing your B2B business.