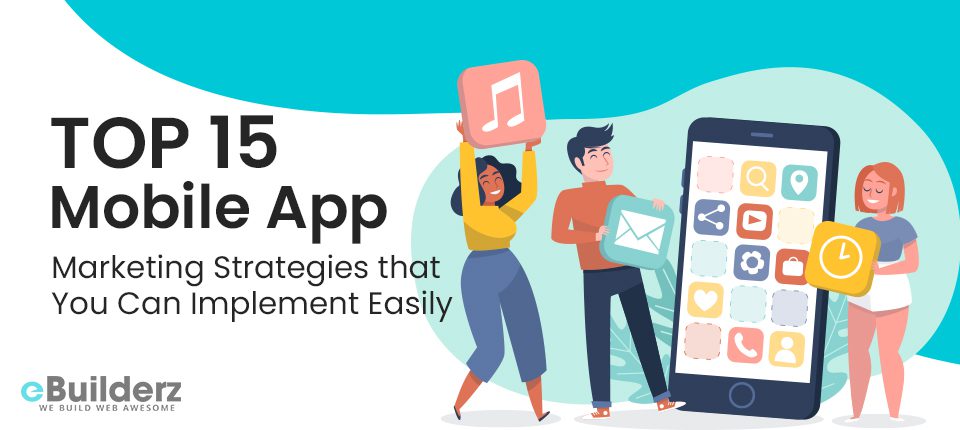 Introducing a mobile app to an already saturated market is quite a challenge. Google Play store has approximately three million applications on its platform, and the second most popular platform – the Apple App store – hosts two million apps.
Developing an app is only the first step. Your goal is to make it accessible to the users, simultaneously competing with others in the same business.
So, how do you capture the interest of your audience?
The first step is to have a dedicated marketing plan. Chalk out a robust marketing plan for when you launch the app officially. The impression you make during the first few days is crucial, and the following steps will help you strategize the right plan.
1. Pay Attention to the App Interface and Appearance
There are several options available to the user. So, the first impression that your application has on your audience is of paramount importance. The first thing that grabs the attention of your audience is the design and appearance.
For your app to perform well, it has to generate enough interest appearance-wise too. Nobody likes a cluttered and tough-to-navigate interface.
For a start, keep it minimalistic while not making it too drab. Having built-in features such as text to speech or additional customization options is a bonus too.
2. Make Sure to Specify What Your App Stands For
Your target audience needs to know what purpose your app serves. Hence, it is beneficial to state in brisk terms under which category your app belongs. Is it a productivity app or for entertainment?
Mentioning the function in the title space is a good idea; it helps the audience find your app. Also, each time they type the keyword – for example, "productivity"- your app will be auto-suggested by Google's search engine.
3. Ensure Your App is Getting an Adequate Number of Reviews
Reviews are instrumental in increasing your credibility in the eyes of the customer. As per recent reports, 77% of users consult app reviews before installing them. There are a lot of malicious apps, which when downloaded, can compromise the phone's security.

Customer reviews ensure what the user is downloading is legitimate and authentic. Ratings and reviews also decide how your app ranks and Better-rated apps are more easily discoverable.
4. Create a Landing Page for Your App
A landing page differs from a home page because it is more action-focused, has minimal links, and usually ends with a call-to-action. You can even use landing pages for offers or discounts.
Make sure your app's landing page is sleek and concise. It cannot be too crowded. App landing pages generally highlight the top features of the application. In the end, it provides a direct link to the app stores for download.
See More: 6 Features to Consider for Your Next Mobile App
5. Use SEO for Your App
To reach the maximum number of people, you need to improve your in-app tactics. It is a well-known fact that content optimization influences search engine results, and it works for in-app results.
Add a meta title with the relevant keywords. Make sure you add a brief description as well, in simple and easy terms.
List the features of your app in bullet points, making it easy to read. If you have added new features, mention that under an added features banner. Adding a preview video highlighting the usability of the app, along with screenshots, is also helpful.
6. Create a Social Media Presence
For using your application, your prospective customers need to be aware of it. The easiest way to create awareness is by reaching out to them through social-media forums, and people from all generations have social media account in the present day.
Once you discover your target audience, you can tailor your content according to their needs and present it. Facebook and Twitter are helpful platforms.

Build an informative and eye-catching business page that enables your audience to connect with you. Update your page regularly and try to take it visually appealing. If you can establish a good rapport, customers will more likely choose your product.
7. Use Social Media Influencers to Build Brand Reputation
Approach reliable influencers to advertise your brand to their followers, and it is a popular way of familiarizing the audience with your product. If your app is something related to productivity or education, approach a book blogger or book-tuber.
In this way, you will get in touch with the right audience who will be more inclined to use your app, says Neil Rollins, Operations Manager at Haitna.
You can provide discount codes to the audience when they use the link provided by the influencer. You can also organize giveaways with your collaborators. It brings us to our next point.
8. Use App-Only Coupons or Promotions
You can offer deals and promotions to the users that they can avail of on downloading the app. It automatically increases the rate of downloads among customers. For instance, you can give first-time users a discount or even give them a free trial.
A lot of apps have a seven-day free run before they start charging the users for their services. You can also keep your services free initially to gauge customer reaction, and you can decide to monetize it later based on user opinion.
9. Run YouTube Advertisements for Your App
Opting for digital marketing methods to promote your mobile app is not only cost-effective but also efficient. People are more likely to come across a YouTube advert than any other traditional means of advertisement.
That is not to say that conventional adverts are ineffective. But it is an era of the smartphone with approximately six billion smartphone users across the globe. Also, there is a lot of flexibility with YouTube.
For instance, you can choose the length of the advert and when to show it. You do not have to pay for it if the user skips over the ad, making it an inexpensive method.
10. Make Use of Traditional Methods of Advertisements for Promoting Your App
Using billboards, newspaper, or magazine advertisements are also a good option. Even though the reach of such advertisements is less compared to digital marketing, they still work.
You have to make them visually appealing so that they grab the attention of prospective customers at once.

Compared to digital modes, they are not very flexible, and there is no way of rectifying them once done. They are also more expensive, and there is no guarantee they will reach the right audience.
11. Use Cross-Promotion to Market Your App
Partnering with other apps is a great way to familiarize your audience with your app. We often come across social-media interactions between two companies, which might be in the form of a casual conversation, which are subtle marketing tactics. There are also direct means of marketing.
For example, if you are a food-delivery app, you can partner with fast-food chains. You can promote their apps on your platform in exchange for the promotion that they do for you.
If done correctly, both parties can increase their exposure and reach a large audience base.
12. Run In-Store Advertisements
Make use of app store advertisements to promote your app. When the user searches for "entertainment" apps, you can ensure your app displays as the first result. So, even if they aren't looking for your app specifically, they will come across it.
Paid promotion of your app makes it appear in the dashboard as soon as the user logs in. In this way, it makes the app more noticeable for the customers.
Also, You Can Read 12 Marketing Tools That Will Help to Achieve Business Goals
13. Carefully Research Your Competitors to Devise a Marketing Plan
Researching your competitors helps you determine a proper strategy. You have to make sure that you stand out among all the similar app producers. Assess their advertising strategies and how they appeal to customers.
Make sure to pay attention to their strengths and weaknesses. Additionally, consider their pricing plans, market share, and target audience. Based on your research, try and improve your marketing plan.
14. Create Video Content to Reach New Customers
Videos are a trend nowadays and a very effective way to capture new audiences. Make informative videos that are visually appealing. Sites like Biteable allow you to create videos for free and also provide an array of templates that you can choose for your video-making process. It has to be short and to the point, so enlisting all the features is not a good plan.
Focus on how your app is different from the rest, and offer an incentive to urge the audience to act urgently.
15. Always Remember to Monitor Your Mobile App KPIs
Keeping an eye on your KPI metrics helps you improve the performance of your app. The factors that you need to measure are daily and monthly active users in particular. The metrics indicate how many users use your app on a single day and every month.

Apart from that, it is necessary to track the customer retention rate. It helps you gauge the customer's opinion. You can also measure the number of people who return to your app, again and again.
Frequently Asked Questions (FAQs)
1. What is App Marketing?
App marketing refers to the marketing of a mobile app across all internet platforms. It employs a set of tactics that familiarizes your application with users and improves its app store ranking.
There are paid methods of marketing, such as through PPC adverts or social media. Companies can also aim to grow their customer base more organically – for instance, through SEO, blog posts, and others.
App marketing uses several channels for promotion—for example, social media, app stores, etc. There are also more traditional methods such as billboards, newspapers, and magazine advertisements.
2. What Are the Best App Marketing Strategies?
Some of the best app marketing strategies are –
1. Social media marketing – Using channels such as YouTube or Facebook, and other platforms, they prove to be very effective for marketing your app.
2. By collaborating with influencers – Promote your app with the help of influencers since they have an organic base of customers who can be prospective leads.
3. By using online advertisements – Place short advertisements with necessary keywords. When the customer is searching for similar apps, the search engine shows your app as well.
4. By monitoring the KPI metrics – You need to understand the customer's reaction to your app. Depending on the feedback you receive, you can fix any app drawbacks.
3. What is the Estimated Cost of Mobile App Marketing?
It depends on the channels of advertisement that you use. The average cost of social media advertising can range between $15-$200 a day, and the minimum rate of YouTube marketing is around $50. But it is also a more cost-efficient option since you do not have to pay when the users do not click on your advert.
Press releases cost about $150. Television advertisements do not cost as much; the rate is around $17 per day. However, the reach of digital marketing platforms is wider. Hence, it is a better choice.
4. How Can You Promote Your Mobile App with Digital Marketing?
There are some common channels for promoting your app through digital marketing. They are:
1. Prepare attractive videos and other promotional content. Advertise them across all digital platforms.
2. Find collaborators to promote and advertise your app.
3. Apply cross-promotions with other companies and advertise each other's apps.
4. Ask for app reviews as they increase the credibility of your app.
Check Out the Quick Video Review On Mobile App Marketing Strategies
Source: Evan Carmichael
Conclusion
As already stated, promoting an app in a digital age with so many options available is quite tricky. You need to capture the audience's attention and convince them to select your app over the others. However, the channels of promoting your app are several as well. With the correct marketing strategy up your sleeve, you can turn it into a popular venture.
Here are few more topics that you shouldn't miss:
12 Most excellent B2B Mobile Apps for Managing Your Business on the Go
6 Features to Consider for Your Next Mobile App
How Mobile Apps Impact Peoples' Lives in 2021
Like this post? Don't forget to share