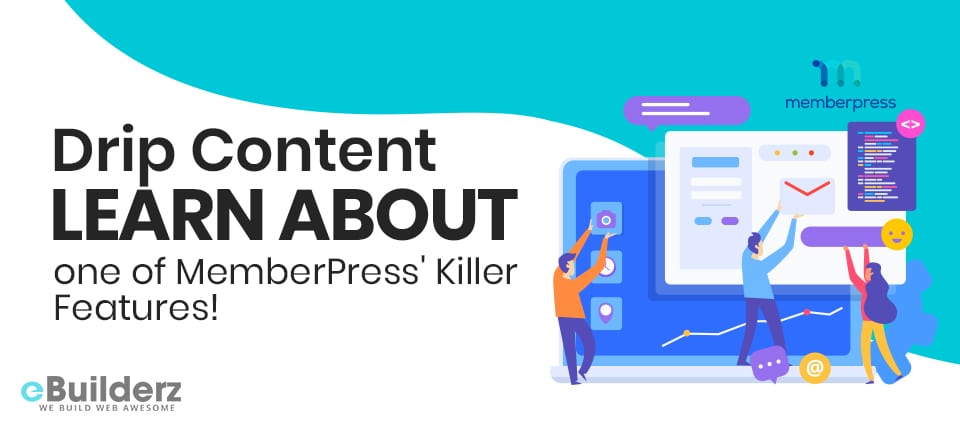 Running a membership website is as easy as it seems. When you want to set up one, you have to set it right. This will help you benefit from your venture, business, or community. Failure to do so will lead to the loss of recurring income. This applies to your clubs and other member sites. Running a website requires effective tools and plugins. One of these plugins is the MemberPress WordPress plugin. This is the best tool to help you monitor and manage your member site properly. Today, we are going to explore the various features of this plugin that makes it powerful. In the end, you will have the right information about this tool to make an informed choice. Let's get straight to our MemberPress Drip Content review.
This WordPress plugin is a powerful tool for starting and running a membership subscription site. It's a great way to restrict user's access to content. This plugin can help you create a unique member website for your site or business. It is a premium plugin with a starting price of $129.
It is one of the easiest membership plugins and a perfect tool to create membership sites. It has a great support team to help you set it up and run it. This is what makes it the best plugin in the industry. It is also quite easy to use and clear compared to other similar plugins.
It offers many options to easily manage and decide who should access your content. Once you start using it, it will allow you to restrict access to certain tags. This means that only members with particular price plans can access the tagged content. You can also restrict your content according to a specific page or post.
MemberPress is suitable for you if you are running the following member websites:
Magazine website with restricted content
Course-based websites with paid access to stuff such as videos
Digital downloads site
Dating website
A club site
It also allows users to sell digital downloads and virtual product that requires members to sign up. It also integrates with other plugins some of which are included in the package. They need to be activated first to give you total control of your website.
Developers who want to install MemberPress on clients' websites can purchase the highest-tier plan. This plan allows them to do that and offer other advanced options. They will have to offer support to the clients if issues arise. If they cannot offer solutions, they can hand them over to the MemberPress product manager.
For clients with licenses, support is offered directly to them from the support team. Users can also view info about their accounts. They can check for details such as their active members.
Killer Features of MemberPress
Content Dripping Feature of Memberpress
One of the best features of this tool is content dripping. This is where the user releases protected content to members at different set times. The Drip feature makes it easier for users to apply their own rules when releasing content. This applies to any content that is restricted including videos, articles, and audio.
You can set up a drip feature rule using these basic steps:
The first thing you need to head to your WordPress dashboard >MemberPress> Rules.
You can edit an existing rule by clicking on it. You can also create a new one by clicking on the 'Add New' button. Next, scroll down until you come across the section 'Drip / Expiration'. Click the checkbox next to 'Enable Drip'. Lastly, set the Drip trigger.

The Drip trigger has several options which can be accessed from left to right:
First Drop Down – In this drop-down, you need to enter any whole number that corresponds with the second drop-down.
Second Drop Down – In this section, select either day(s), week(s), month(s), or year(s).
Third Drop Down – The third drop-down allows selecting the event that triggers the drip.
Member registers – This where you enter the time where a member registers on your site, irrespective of the level.
Fixed date – Here, you need to enter the date you set your drip. There is an additional box on the right side when selected.
Member purchases rule – Members who have purchased goods or subscriptions will access a set of rules her – 'Rule Options'.
Member purchases – You need to enter the name as a new member here after purchasing the membership. For every member level created on your site, a separate option will be created.
Also, you can read 4 Best Membership Plugins
Sequence Dripping
You should note that there is no feature to set one rule. This means you can't control several pieces of content at a time. The reason being there is a unique rule for every unique drip feature. The plugin also allows you to create a page for dripped links to your dripped content.
Drip Partial Content
As a user, you may want to drip particular sections of your content. You can do this by creating a partial content rule with a drip feature. You are only allowed to set up one unique drip feature per-rule. Therefore, you are required to create a unique and partial content rule, for unique dripping triggers.

Once you've set up a drip trigger, you will be provided with simple shortcodes to wrap the content. To hide your content, add a custom message in its place. Just use this shortcode [mepr-active].

Notifying Users of Drip Content
Currently, there is no feature for triggering emails to alert members of dripped content. Users can automate their workflow with many email marketing add-ons. To check whether MemberPress supports your email marketing add-on, contact its support directly.
You can use MailChimp, for instance, to automate your workflow. This is done by setting up an Automated Workflow. This automation allows you to set your first trigger when a member signs up. You can also set it after they subscribe to your services. If you feel that the process is hectic, just contact the MailChimp help center directly.
Its integration with MailChimp allows users to add members to the list after subscribing. This applies to specific members or any of your member websites. This makes it easy for you to send emails to users when there is a drip content. To ensure that this works, just set up the integration properly. After that, create an Automation Workflow in MailChimp, and add drip triggers to your rules.
Expiration Feature
This feature allows you to expire access to content if it's a limited edition. This feature is only available for paid subscribers. This means that you can apply the expiration rule to a certain date. When it reaches, the content won't be available anymore. This applies to all the members on your site. The expiration feature and drip feature works the same way. If you want to set it up, refer to drip feature settings.
Checkout quick video review on Drip Content Feature
Source:- Slocum Studio
Conclusion
To fully benefit from your member website and increase your income, you need the MemberPress plugin. With its many features and simplicity, you have an easy time managing your member website. Some of the notable features are content dripping and the expiration feature.
Here are a few more topics that you shouldn't miss:
How to Easily Track Events in WordPress with Google Analytics
What is a .NET Developer? Learn the Facts, Skills & Duties
Like this post? Don't forget to share