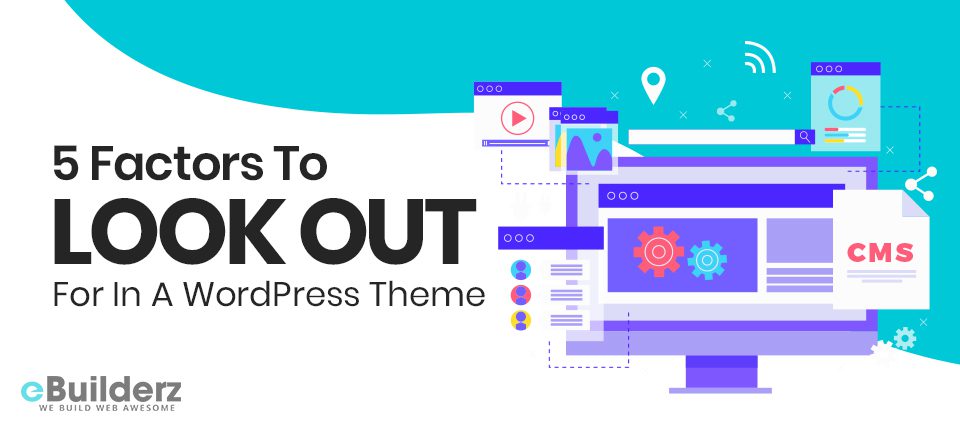 Technology is supposed to make our lives easier, which is one of the core reasons WordPress is so popular globally. You can get it for free, which is more accessible than paying for a CMS. You can install it in one click, which is easier than going through a confusing setup. You can install plugins to add features, which is certainly easier than developing them.
But what about customizing your site? Of course, getting your website to look great does take some time; however, with the number of high-quality WordPress themes available, you can choose and install an existing theme. But how do you pick the right one when so many great themes are available? To ensure you make the right choice, let's go through five essential elements you should consider:
Getting started
Your website says a lot about your brand; if the two aren't in sync, this can confuse you. It's completely normal to do a little trial and error before deciding which design is the best fit, and hosting providers such as Cloudways makes it easy to create a staging environment where you can test themes/plugins and any other code-level changes on the staging site before pushing changes to your live WordPress site.
You don't always need to hire a WordPress developer, as ready-made themes make it easy to customize the aesthetic part of your site. Consider what impression you're trying to create, and don't be afraid to test a range of options before settling on the best choice.
Five factors to consider when choosing a WordPress theme
1. The intended purpose
Why was a given theme designed? Possibly to make websites look slightly likable, but often to suit a particular industry, purpose, or type of content. Take something relatively nascent such as 360-degree video: WordPress natively supports video embeds, but if you want to show a lot of VR video on your site, you'll need to build the layout around it. A VR theme can do this.
Thinking about this kind of thing is very important if your WordPress site is for business: online retailers, in particular, are always looking for new ways to reach fresh audiences, and keeping up with the latest features is an excellent way to get ahead of competitors. This isn't to say that, for instance, you need to choose a charity-centric theme if you're running a charity site — just that you should look out for themes designed for your desired purpose.
In some cases, this is mission-critical. Take eCommerce, for instance. It's easy to run an online store on WordPress using the WooCommerce plugin, but it makes it slightly trickier to pick a theme because not all themes were developed to work with eCommerce features and layouts. If running such a store, look for themes explicitly created for WooCommerce.
2. The developer's reputation
As much as you might want to judge a theme solely by its evident quality, that kind of review isn't adequate. You don't know what else might be included with a theme. Junk code that could slow your site down unnecessarily? Malicious code that could steal your data? What you don't know about can hurt you in significant ways.
Because of this, you should look past your impressions of a theme — and even past other user reviews — and look into the developer behind it. Does it have a good reputation? Are its different themes and plugins also worth using? If there's a clear track record of excellence, then you have good reason to consider that theme worth investing in.
3. The level of responsiveness
When you look through the images of your prospective theme, do you get a full array of screen sizes and device types? To prove that it can respond easily, it should be pictured being used on a laptop and a smartphone, at the very least. Some themes (particularly older or more elaborate ones) are designed solely to be viewed on large screens and should not be used if you are interested in serving a mobile audience.
Furthermore, does the theme load and operate quickly while looking good on every device? Plenty of things can slow a website down, and theme elements indeed count among them. There's no point in having a slick and appealing website theme if it slows your site to a crawl. It would help if you had the right combination of form and function.
It used to be that a lack of mobile responsiveness wasn't a dealbreaker because specific industries didn't need to reach mobile users, but things have changed. If a theme you're considering doesn't appear to look at least as good on mobile devices as it does on a laptop screen (and works just as well), then stop considering it and look elsewhere.
4. The frequency of updates
WordPress themes don't operate in isolation. They apply to WordPress installations, making key alterations to their settings to achieve their desired effects. So what do you think happens when WordPress is updated, and the workings of some of those settings are heavily adjusted? Themes stop working, either partially or entirely. Websites suddenly look bare or bizarre.
When you find a theme that looks good, you must take a look at the update record to see how frequently it's updated. If the last update follows the last WordPress update, and it's clear that the developer is on top of the matter, then you've no reason to be concerned. If the last update was eight months ago, you might want to stay away: it's a bad idea to commit to a theme that might stop working within weeks.
5. The number of variants
Whether you get a free theme or pay for it, you're still committing. This is because all the content you add to your site after configuring your theme will be shaped to fit, and if you switch to a different theme, you might find that your content no longer looks as crisp and clean as intended.
Despite it being easier to stick with one theme for the long haul, there is value in changing things up on occasion, mainly when you want to rebrand (though that's something to be handled carefully) — so what's the answer? Theme variants. A once-installed theme might have anything from a few different versions to dozens of them. They could change the colors, rearrange containers, and mix things up while keeping the exact sizes.
These factors can make a big difference in determining whether you really want to use a WordPress theme, so don't just go for whichever theme catches your eye. Confirm your choice is truly worthy, and you'll have a better experience.
Here are a few more topics that you shouldn't miss:
The Ultimate Guide On WordPress Poll Plugin (with Images)
Everything You Need to Know About Websites and Privacy Laws
Creating a Perfect WordPress Website 15 Approaches Elucidated
Like this post? Don't forget to share