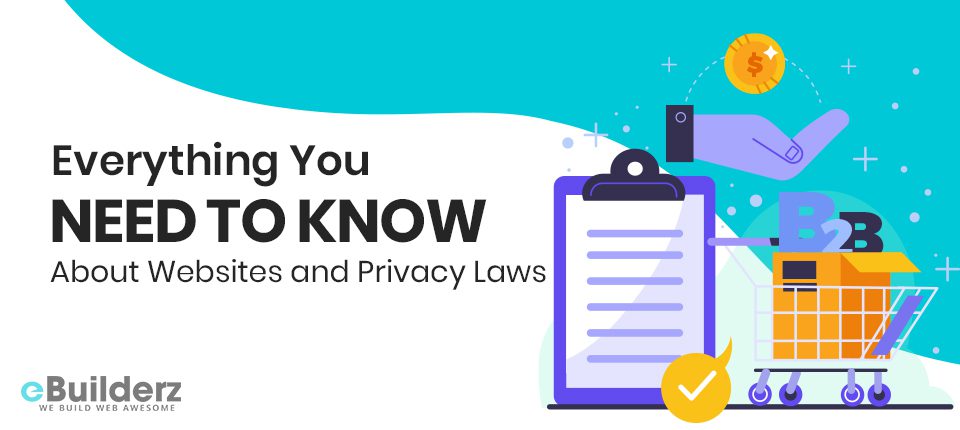 Privacy is exceptionally valued globally, and it extends to sensitive information users upload on websites. Businesses and websites collect data for various reasons.
For example, companies use their sites to gather data about users to provide them with targeted advertising. On the other hand, organizations use consumer information to help them understand their clients better to improve the overall customer experience.
Several laws have been put in place to ensure this personal information is protected and kept private from external, opposing forces, such as hackers, malware, etc. This article will guide you through everything you need to know about websites and privacy laws.
What are privacy laws?

Privacy laws are those international, national, state, or local codes that regulate personal information processing. It requires websites and web developers to protect users' sensitive data and honor their privacy needs. This is why the law mandates websites to have a privacy policy.
A privacy policy is a statement or legal document that dictates how a website collects, handles, and processes data from customers or visitors. Also, it discloses some or all the ways the website plans to use and reveal the customers' data or personal information.
The privacy policy describes whether the information will be kept confidential or shared with third parties. Personal information is anything used to identify an individual. Osano provides a personal data guide, and it addresses information like the following:
Full name
Date of birth
Postal address
Email address
Marital status
Payment details/credit card information
Financial records
IP address
Medical history
Social Insurance Numbers
Apart from detailing how a company or website intends to use the information, a privacy policy mentions how the website will meet its legal obligations and compensate users if there is a breach.
Top Three Privacy Laws

Privacy laws vary according to country, state, and region. But there are some general regulations that websites must comply with. We discuss the top three below.
General Data Protection Regulation (GDPR)
The General Data Protection Regulation is the world's most important data protection law. It replaced the 1995 data protection directive on the 25th of May, 2018. This body of regulations enhances how people can access their personal information.
Also, GDPR limits what organizations and websites can do with users' data. The GDPR has seven principles that act as its backbone, and they are:
Lawfulness, Fairness, and Transparency
Purpose limitation
Data minimization
Accuracy
Storage limitation
Integrity and confidentiality
Accountability
GDPR is majorly concerned with protecting personal data, which is the information that directly or indirectly identifies a person. These include names, location data, online usernames, IP addresses, race or ethnic origin, sexual orientation, etc. So, if a website collects any of this information, it must remain compliant with the GDPR.
California Consumer Privacy Act (CCPA)
The California Consumer Privacy Act is a state-focused data privacy law that improves California residents' privacy rights and consumer protection. It regulates how businesses worldwide handle and manage Californians' personal information (PI).
The CCPA came into effect on the 1st of January, 2020, and it has three thresholds for businesses and websites. CCPA applies to for-profit organizations that:
Sells the PI of more than 50,000 Californians yearly
Derives more than 50% of its yearly revenue from selling the PI of California residents
Have an annual gross income of over $25 million
Also, under the CCPA, California residents enjoy certain privileges. These include the right to:
Opt-out of having their data sold to third parties
Request deletion of data gathered
Request disclosure of information already collected
Be notified
Equal services and price
Websites must inform visitors before or at the point of data collection of the various categories of PI they would gather and the purposes. Also, it is crucial to pay special attention to minors.
For instance, for those below 16, websites have to obtain opt-in consent before selling or disclosing personal data to third parties. But for those who are under 13 years, a parent (or legal guardian) must opt-in for them.
See More: How to Quickly Make Your Google Analytics CCPA Compliance
Virginia Consumer Data Protection Act (CDPA)
The Virginia Consumer Data Protection Act (CDPA) is similar to the EU's GDPR and California's CCPA. The CDPA expands consumer rights to access, delete, correct, and even obtain a copy of the personal data collected by a company or website.
Customers can also opt out of processing their data for targeted advertising or sale reasons. Also, the CDPA broadens the definition of personal data to include sensitive information like race, religion, sexual orientation, physical or emotional health diagnosis, precise geolocation, etc.
The CDPA applies to businesses that carry out operations in Virginia or produce products that target Virginia residents. Also, if a company controls or processes the personal data of at least 100,000 consumers in a calendar year, they have to comply with the CDPA.
Furthermore, if an organization controls or processes the personal data of at least 25,000 consumers and gets over 50% of gross income from selling such information, the CDPA applies to them.
When a website fails to comply with these privacy laws and regulations, there are penalties. This includes fines, lawsuits, reputation damage, loss of consumers, loss of money, regulatory scrutiny, and even imprisonment.
Key reasons websites need privacy policies
The inclusion of privacy policies on websites has become a vital issue. This is a result of many factors. Below are the top reasons why websites need to have privacy policies.
It builds trust
Website owners with privacy policies indicate their transparency to users. When your site provides a clear picture of how and why you collect their personal information, they will feel safe and comfortable. It shows current and potential customers that you care about their privacy and consider them a priority.
Also, with a well-constructed and easily accessible privacy policy, customers' trust in you and your website increases. Unfortunately, many people don't read privacy policies because of the complexities and legal jargon. As a result, recent privacy laws require that policies are written in simple language so that a layperson can read them.
It's the law
The most significant reason websites need to have a privacy policy is that privacy laws demand it to guide data collection and management. Also, business owners build websites to expand their reach globally, and as such, it is crucial to get acquainted with the data privacy laws in the countries your website operates.
Third parties require them
Apart from the law, third-party parties also require websites to have privacy policies. For instance, if a website uses a third-party service like Google Adsense or Google Analytics to display ads or collect website data, you must present a privacy policy.
In the Google Analytics Terms of Service, it is written that the websites they work with must-have and post an appropriate privacy policy. Since these third-party apps require business partners to disclose how they handle private information, it ensures a closed chain of protected data from the vendors to the end-users.
What should be in a website's privacy policy?

Below are the crucial sections to include in a privacy policy.
The data your website collects
There are several types of data a website might collect from users, so you must specify which information, in particular, your site gathers. Some of the most common categories of data websites collect are:
Personal information: Mention that your site will collect PI like names, addresses, phone numbers, email addresses, etc.
Usage and analytics data: Let users know if you collect information on how they access and use the site. This data helps the company or website with internal processes like troubleshooting and improving functionality.
Cookies: If your website uses cookies, your privacy policy should disclose that. Cookies make a user's online experience easier by saving browsing information. It also helps to enhance a website's functionality.
Mention how your website plans to use the data
Website owners have various plans for the data they collect. For this reason, it is of utmost importance that a website's privacy policy mentions how it plans to use the information.
Some of the ways websites use consumer data are:
Shipping information: If the website is an e-commerce store, it will collect user information to ship products.
Customer service purposes: When a website provides a product or service, user information comes in handy for customer service purposes like guarantees, returns, repairs, cancellations, repairs, payment issues, etc.
Third-party service providers: Your privacy policy should include that there is the possibility of sharing customer information with third-party services like Google to improve the user's experience.
Also, You Can read How to Build an eCommerce Website Using Zyro
Security measures
Your privacy policy has to assure users that the company will do everything within its power to ensure the protection of their data. However, you should also include that it is impossible to provide 100% security against malicious attacks or compromise.
Other important categories that you should mention in your website's privacy policy are:
Whether or not your company shares user data with affiliates or regulatory bodies
Methods of data collection
Provisions for minors
Possible changes to the privacy policy
Legal basis for the collection
Data transfer
User's rights
Check Out the Quick Video Review On Website Privacy Policies
Source: Flux Academy
Conclusion
Websites have several obligations to their users because numerous privacy laws govern collecting, storing, handling, and managing users' data. So, stay compliant with these laws and avoid legal damages to your organization. This article provided everything you need to know about websites and privacy laws.
Here are a few more topics that you shouldn't miss:
WordPress SEO: How to Improve SEO to Rank Higher
Is Software Development Crucial For Business Success?
Tips on How to Successfully Run Your Online Business
Like this post? Don't forget to share