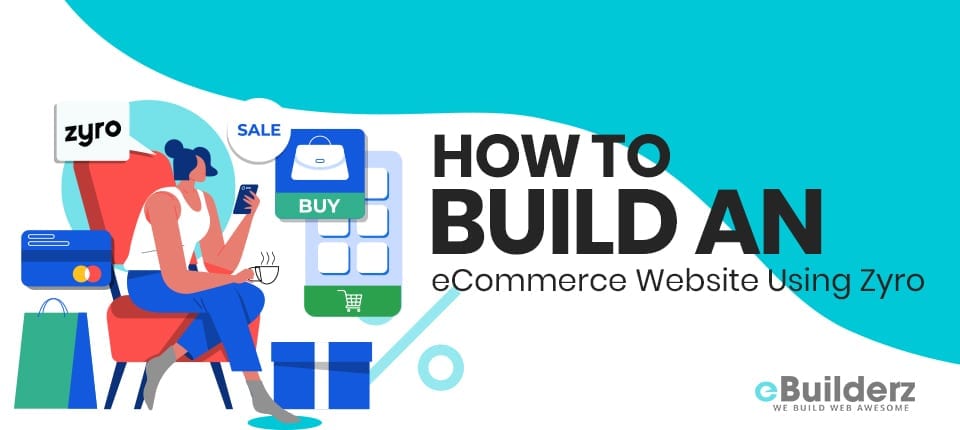 You want to start an online store, and from all the various choices of eCommerce builders out there, you've decided to use Zyro.
Now you're looking for a guide on how to make an online store using Zyro. Well, you've come to the right place.
In this article, I'll explain what features make Zyro different from other eCommerce builders. I'll also give an easy step-by-step guide to create an online store using Zyro.
Let's get started.
What Makes Zyro Different?
Zyro is an easy to use website builder that allows you to create aesthetically pleasing online stores and websites quickly and easily. What makes Zyro unique is their AI-driven tools, meaning they use various AI tools to assist you when making an online store.
Here are some of the AI tools that Zyro provide:
Business name generator.
AI writer.
Logo maker.
AI heatmap.
Slogan generator.
Not just AI tools, Zyro also provide various more features to make creating a website more comfortable, which are:
Drag-and-drop editor.
Designer-made templates.
Marketplace integration.
Social media integration.
Search engine optimization integration.
Included SSL certificate.
Adding to that, when you build a website using Zyro and pick a plan you want, the domain name and hosting you'll need to run a website is all-inclusive.
Now, let's take a look at how to build your store using Zyro.
1. Decide on Your eCommerce Business Model
Your eCommerce business model essentially explains how you intend to make money. There are plenty of business models out there, but here I'll instead explain the four basic business models that you can consider as a beginner.
1.   Product/Service – A business will make and sell its products and services. This is the most common model used by companies because it is the most straightforward to do.
2.   Reseller – A business purchases products or services and resale them for a profit. Affiliate marketing falls into this category.
3.   Broker – A business that focuses on bringing buyers and sellers together and take a transaction fee. For example, real estate agents or Fiverr, a place to find freelancers.
4. Aggregator – It's a network model where you gather service providers under one brand name. Examples include Uber and Oyo.
2. Head Over to Zyro and Choose an eCommerce Plan
Once you have a business model, pick an eCommerce plan for your business. Zyro offers two different plans that focus on the online store, which are eCommerce and eCommerce Plus. You can see the difference between them below:

Click here to check out the full list.
Most businesses will find the eCommerce plan sufficient for them, and I would recommend you to use it as a starting point. You can always easily upgrade to their Plus plan when your business grows.
See More: 12 Marketing Tools That Will Help to Achieve Business Goals
3. Register Your Domain Name
The next step is to register your domain name. It's the address of your website which people will use to type in their browser URL bar.
Since you already picked an eCommerce plan, you can register your domain name for free. But you need to keep in mind a couple of things when creating your domain name to reflect your brand and business.
Here are some tips when choosing the right domain name:
Keep it simple – Avoid using numbers, hyphens, and doubled letters.
Make it recognizable and brandable.
Try including a keyword.
Use a country domain if you're aiming for a local market.
Great domain names aren't available for a long time, so once you found a domain name that fits, you should immediately register it.

But if your domain name is already registered by someone else, worry not. You can use Zyro's domain name generator to give you new domain name ideas. All you need to do is type in a keyword or two, and the generator will provide domain name suggestions for you to pick.
4. Pick a Template
Now you can pick a template from the various types that Zyro offers. Here are a few examples of Zyro's designer-made eCommerce templates.
1.   Tixly

2.   Haven

3.   Safa

There are two main things to consider when choosing a template, which is design and features. Design refers to the layout and appearance of the template. Does it suit your brand? Features refer to the functionality that the template can provide.
With Zyro, besides picking various kinds of templates, you can also add new features to your site by clicking on the Add Elements button on the top of the page. Thus versatility is another thing that Zyro offers.
5. Customize Your Website
Now is the part where you can customize your website to your liking. Here, Zyro's tools are a big help for you.

The AI heatmap tool can accurately predict how your potential visitors will see and navigate your page. Thus, using the AI heatmap, you can arrange the elements on your site to maximize conversions based on which sections the readers will see first.
Zyro also has Unsplash integration. This means you can get thousands of free high-quality images you need to design your site.
You can also edit your mobile site separately from your desktop. Typically, Zyro will optimize it for you, but you can also customize it to your liking.
6. Upload Products and Content
The next step is to upload your products and fill your site with content.
The AI writer can be beneficial, especially when creating the first content on your site. You can just type in a few keywords and click on the categories you prefer; then, the AI writer will create search engine optimized content.
Since all of the templates are already optimized for search engines, you can just upload your products on the template's product catalog and write down the product descriptions to describe the product's benefits and features.
7. Configure Payment and Shipping
One of the reasons potential customers leave online stores is due to a lengthy and complicated checkout process. Luckily, since Zyro's templates are all optimized already, you don't need to worry about it. You can just straight away configure the payment and shipping options.
Included in Zyro's eCommerce plans are 50 different payment methods, from PayPal to credit cards. So you can have all of the options on the checkout page for faster transaction.
When it comes to shipping, Zyro also supports plenty of major carriers like FedEx and UPS. It also gives access for you to add or block other shipping options. This allows buyers to pick the shipping method they're most comfortable with.
Also, You Can Read Increase Conversion Rate by Adding a Multi-Step Form In WordPress
8. Launch
Once everything is in place, you can go ahead and launch your new online store. But remember, people aren't just going to come to your site. You need to run some promotions.
Zyro makes it easy to apply discount codes and coupons directly to your cart. It'll even promote the discounts as visitors are scrolling through your site, thus increasing sales chances.
Buyers can also easily buy and apply gift cards from your site. Thus a customer can give a gift card to their friends, which they can then use when they're shopping at your store.
9. Sell on Other Online Marketplaces
To get traffic faster and increase conversions while also reaching a wider audience, you should also sell and promote your products to other online marketplaces.
Zyro has the feature that allows you to sell on eBay, Amazon, Facebook marketplace, and various other online marketplaces directly from your site. You can also manage your stock using their integrated stock management system, making it simple to monitor your inventory and sales from various platforms.
All of this can be directly managed from Zyro's dashboard.
10. Market Your New eCommerce Store
Simply promoting your store by providing coupons, discounts, and gift cards may not be enough. To help with marketing, you can use Zyro's automated tailor-made ads on Google Shopping and Facebook.
Zyro also has social media and email list integration, giving you easy access to promote your site through your social media accounts and existing email list by just a couple of clicks.
Check Out the Quick Video Review On Build an eCommerce Website Using Zyro
Source: Sam Dey
Conclusion
Now you know what makes Zyro different from the rest, as well as the steps to create an online store using it. All that's left to do is start building your online store.
Remember to thoroughly research your business model before starting and taking your time when choosing your site's right template. You can preview the templates and see how they behave. Good luck!
Here are few more topics that you shouldn't miss:
How to Add Killer Google Analytics in WooCommerce Now
How to Easily Set Up Form Conversion Tracking in Google Analytics
New eCommerce Features from Formidable Forms Plugin
Like this post? Don't forget to share