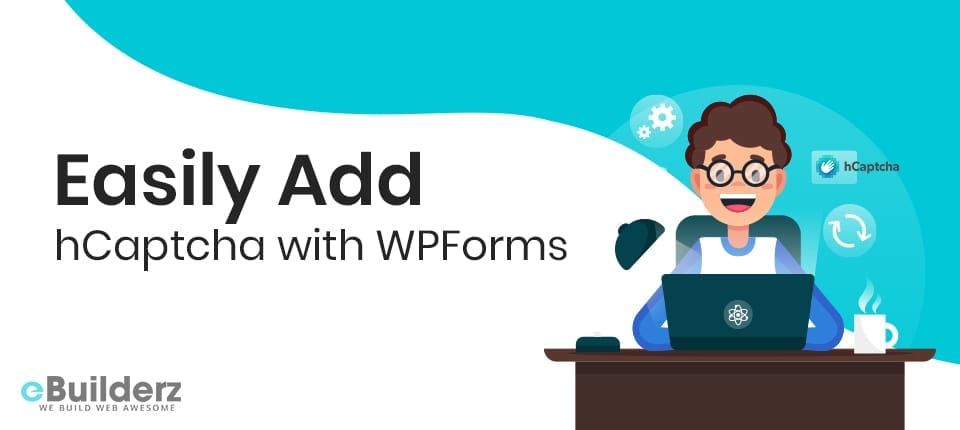 Cybercrime and identity theft has increased in the past few years. And for these reasons, websites are taking extra precautions to keep their sites safe from hackers, spam, and malware. As you think of keeping your website secure, don't forget that your website forms are also at risk and need to be kept safe. There are many tools and software that help you secure your website, but you can hardly find software or an integration that protects your website forms.
In this article, we are going to explore an integration called hCaptcha. This integration is meant for all WPForms v1.6.4. Users. Read on for more insights about this nifty integration that helps to keep your website forms secure.
As many website owners have tried to keep their website safe with several efficient security software, an extra layer of protection never hurts. Leveraging software that uses advanced AI technology will give your website the protection it needs. The CAPTCHA services are the best when you are considering additional layers of security on your website. There is a new CAPTCHA service called hCaptcha integration that provides security for your web forms.
What is hCaptcha?
hCaptcha is a new security integration from WPForms developers that is meant to keep your website forms safe. It is a free tool that helps to keep spam and bots at bay. Before a visitor is allowed to fill out the website forms, hCaptcha will ask a few simple questions to prove whether the visitor is human. This security software helps to identify spam from human users using advanced machine learning and AI.
The hCaptcha integration offers a great alternative to reCAPTCHA by Google. However, reCAPTCHA puts more emphasis on privacy. The recent CCPA and GDPR have changed, and reCAPTCHA's privacy policy is compatible with it. Privacy issues and site conflicts are among the things that you should be concerned about whether you use or not a Google account.
With hCaptcha integration, you can easily block malicious traffic and spam from your forms. The best thing about this tool is that you can also add it to your forms with ease. If you have the WPForms installed on your website, all you need to do is to settings, and you will see an option to use either hCaptcha or Google's reCAPTCHA.

You can always choose to use hCaptcha if you don't want to use reCAPTCHA by Google. Doing so will provide the end-user with a seamless experience while submitting the form. Besides keeping your information private, hCaptcha also secures your web forms from bots and spam that present a constant threat to your forms and to your website. These nifty integrations from WPForms also protect your web forms from break-ins.
Just like in Google's reCAPTCHA settings, hCaptcha by WPForms allows you to enable No-Conflict Mode, adjust your Fail Message, and get a preview of your CAPTCHA. All these are performed by the hCaptcha integration while keeping it professional on the frontend of your website form.

Since more options were added to the hCaptcha integration, the settings are made easy to understand to tweak things to get what is desirable. The CAPTCHA button in WPForms has more details than before.
See More: Simple Order Form for WordPress in 2020 [WPForms]
The moment you select your CAPTCHA service, you will see your choice straight from WPForms. This way, you can just hop into one of your forms once you have enabled your settings. To access its settings, all you need to do is click on the hCaptcha button.

Adding hCaptcha to WPForms is made even easier, and users can rely on this integration to keep their website forms safe. There is also an extra option to help users create smart contact forms that match your website requirements.
Integrating WPForms and Sendinblue Email Marketing
With WPForms, you get more options to make it easier to create your web forms. Their brand new integration is between WPForms and Sendinblue addon. This integration helps to enhance your email marketing. The Sendinblue addon makes it even easier for users to connect your forms to your email marketing provider.

The integration between WPForms and Sendinblue allows you to maximize your email marketing potential using both services. With tools such as chat, SMS, and email marketing, you can combine these services with the robust Sendinblue digital marketing superiority to improve the relationship between you and your customers.
Also, You Can Read How to Choose a Marketing Agency
This integration also sells more products by improving the communication with your lead. With this integration, you can subscribe users, subscribe users to lists, track events, and delete users.

Check Out the Quick Video Review On Add hCaptcha with WPForms
Source: SERT Media – WordPress Tutorials
Final remarks
That's all we had to share with you for today about the hCaptcha feature in WPForms and the Sendinblue integration. We hope that this article about adding hCaptcha with WPForms was helpful, and you are willing to try it out to improve how you run your small business.
Here are a few more topics that you shouldn't miss:
Best Form Builder for WordPress [2020]
How to Easily Set Up Form Conversion Tracking in Google Analytics
What is reCAPTCHA, and how can it Help You?
Like this post? Don't forget to share