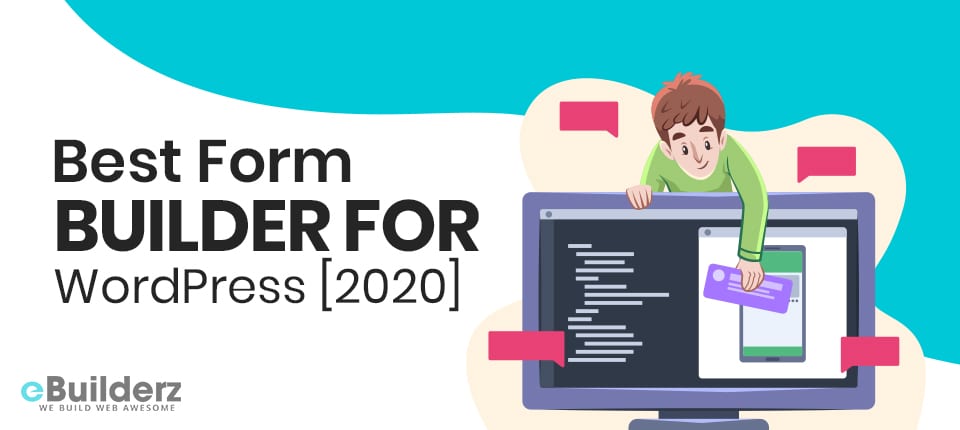 WordPress is a wonderful platform, but only if you are using it with effective plugins. Fortunately, there are dozens of plugins available on the WordPress repository. If you've just started your WordPress website and want to build forms on it, you will need a reliable form builder that doesn't bloat your website.
If you've never tried it yet, let me introduce the best form builder known as WPForms. In the WordPress ecosystem, WPForms is the most popular form building plugin capable of creating numerous WordPress forms without clogging your website.
This WPForms review will explore the various features and add-ons that make this plugin the best form builder than other builders in the market.
Why are FormBuilders Important on your website
No matter what kind of website you are running or how much traffic flows in, a contact form plugin is a vital tool if you want to succeed.
Hackers and spammers are a nuisance to every web owner. Installing a form builder will protect your site from such online parasites. Your site is safer with a contact form installed on it because it prevents you from displaying your email address. Since spammers can't see your email address, they can't send you spam or phishing emails.
Time is always not on our side. That is why we need to find ways to save it. You will save a lot of time when you use forms on your website. How does it do that, you ask? When potential clients or visitors reach out, a contact form will specify the necessary details.
The best form builder also makes it easy for you to integrate other useful features. For example, integrating your contact form with an email newsletter checkbox helps to follow up and build a long term relationship with your prospects.
The best form builder in WordPress makes it easy to form in minutes. Unlike other form building plugins, WPForms makes it super easy to create all kinds of forms. To make it even better, anyone can use it to build forms on WordPress with or without technical knowledge. Not a line of code is needed while creating forms using WPForms. Building simple and complex forms takes minutes using the best form builder.
Let's look at some of the features that make WPFormsbeginner-friendly:
It has a Drag and Drop Editor
Since coding is not needed, users can build forms within minutes using the drag and drop editor in WPForms best form builder. With a single click, you can add or remove fields on your form. The drag and drop feature also makes it easy to rearrange fields in your form.

Numerous Form Building Templates to Select From

Another awesome aspect of WPFormsis that you don't need to waste time building a form from scratch. WPForms has several pre-made templates to help users build forms faster. The templates come in their hundreds. Examples of these templates include:
Simple Contact Form
Request a Quote Form
Newsletter Signup Form
Blank Form
Poll and Survey Form
Donation Form
Billing / Order Form
And many others…
If you want to cut to the chase when building a WordPress form based on your niche and industry, you will first need to install the Form Templates Pack addon.
With the Form Templates Pack addon, users can be spoiled with a wide selection of prebuilt templates that they can select from based on their industries. Using the best form builder will simplify the form building process by finding the right template for your industry. No need to start from ground zero!

You need to search for your preferred template, and the moment you find it, select it by clicking on it. Your form will be created immediately once you click on that particular template. Proceed to make changes and when you are done, move on to publish your form.
The Post/Page Editor makes it Easy to Embed Your Form
When you use WPForms to create your form, you can easily embed it in a post or a page—no need to copy-paste the shortcode. Instead of doing that, WPFormsallows you to use the post/page editor. Just above the text editor, you will see the Add Form button. Click on it, and a modal popup will appear, prompting you to select the right form. Once you are done choosing your form, click on the Add Form button.

Create Advanced Forms in Minute with WPForms Best Form Builder
The only WordPress form builder capable of building advanced forms is WPForms. While others take hours to build forms, WPForms takes minutes. Here are a few examples of how WPFormsallows users to build advanced forms fast:
Building a Poll / Survey Form
With a survey or Polls addon, users can easily and quickly use their websites to conduct a poll or a survey. Moreover, WPForms also allows users to get best-in-class survey reports.

The conditional logic feature in WPForms form builder lets users personalize their survey questions according to users' responses. Polls are shared publicly using social media platforms.
Building a Registration or Custom Login or Form
Creating a custom login or registration form with the best form builder is vital if you are running a website that requires users to register accounts. Examples of these sites include niche social networks, forums, or membership websites. With WPForms, once you are done creating your registration or custom login form, you can embed it anywhere on your site.

Directing users to a default login page is quite annoying. WPForms eliminates this process by making the registration form available on the same page. It also makes your site have that professional look by displaying your brand consistently to your audience.
UseYour Form to Receive Payments
WPForms also makes the process of accepting your nonprofit's donations or collecting digital downloads payments easy. This is done using the Stripe or PayPal Standard integration.

Do you want to show your users what you are selling? With WPForms, you can do that since it allows you to order forms to display your offering.
Building a Post Submission Form
With WPForm's best form builder, you can also accept content from your users on your website. You can do this with the post Submission addon, making it easy to accept user-generated content such as reviews, guest posts, and testimonials. Backend user permission is not needed when using this addon. If it's a post, it will display in your post editor for your review once it's submitted through your post submission form. The post will appear as a pending post.

This allows you to make changes or discard the changes if you want.
See More: How to Make a Quiz in WordPress with Formidable Forms
Out of the box features of WPForms
Unlike other form building plugins, WPForms has a set of features that don't bloat your website. 3 separate sections are used to categorize all types of fields. These sections include Payment Fields, Fancy Fields, and Standard Fields.
Payment Fields – Some of the fields that make up the Payment Fields section include Multiple Items (payment), Single Item (payment), Credit Card, Total (amount), etc.
Fancy Fields – In Fancy Fields, you will get fields such as File Upload, Page Break, Phone, Website / URL, Captcha, etc.
Standard Fields – In the Standard Fields section, you will get basic field types such as Name, Email, Dropdown, Single Line Text, Multiple Choice, Paragraph Text, etc.

What makes the best form builder is its fast performance since it is highly optimized for server and web. Users can also boost site speed by deploying CDN services. Your forms will display well on all manner of devices since each form is 100% mobile responsive.
Additionally, embedding your forms in your blog posts, pages, footer, sidebar widgets, or anywhere on your website is easy using the best form builder. This is done using either a built-in widget or getting the shortcode and pasting it anywhere you'd like to embed the form.
With WPForms, the possibilities of creating forms are endless. With this best form builder for WordPress, it is also possible to create multi-page forms, upload files to your forms, use conditional logic to hide or show fields, and much more.
Numerous Addons for Easier Integrations
In WPForms, built-in functionalities are extended using a wide range of addons. Providing these addons makes it easy for you to integrate with other services such as cloud apps and email marketing tools.
Below are some of its addons:
Email Marketing Integrations
Using forms made by the best form builder, adding subscribers to your email list automatically from any form, is a breeze. These are some of the email marketing tools that WPForms can integrate with.
Constant Contact (no addon needed)
AWeber
Campaign Monitor
Custom Captcha
By activating the Custom Capture addon, you can get rid of spam form submissions. You can use either random math questions or your questions in your Capture.
Geolocation
This addon allows WPForms users to gather and keep their visitors' locations as well as form entry.
Payment Processors
This integration is useful because it makes it easier for you to integrate PayPal and Stripe with your form. You can also use it to build order forms and donation forms.
Post Submissions
Once you are done creating your order post submission form, you can start accepting user-generated content without logging in. These types of content include reviews, guest articles, testimonials, comments, and so on.
Signature
Your users can sign contracts and agreements online with the signature addon once you have built a contract form. This will work on desktops as well as mobile devices.
User Registration
Your visitors won't need to go to a default page once you have a custom user registration form embed in any area of your website.
Zapier
The possibilities that Zapier addon offers are endless because it allows you to connect with over 500 web apps.
Also, You Can Read Simple Order Form for WordPress in 2020 [WPForms]
WPForms Pricing and Support
People love WPForms' best form builder because it accommodates all kinds of websites and budget sizes. You can use WPForms to create forms on websites such as nonprofit organizations, blogs, e-commerce websites. Many startups may not have money set for a contact builder plugin. This doesn't mean that they can use WPForms. Some want to try various features of the plugin first before they decide to purchase the premium version. The lite version allows you to have limited features but is free to download from the official WordPress plugin repository.
The basic version is the lowest paid plan for a single license website, and it is available for $31.60. Besides that, you'll get access to the Form Templates Pack addon.
The most popular plan, which is available at $159.60, is the Pro plan. You can use this plan on 25 websites, and you will also have access to all addons and a year's priority support.

The highest tier goes for $239.60, which is the Elite plan. With it, users will get multiple support and client management features, and they can also use it on multiple websites.
For support, WPForms offers a ticket-based email support system. The support team responds to user's queries very fast, and the positive user reviews can attest to this claim. Documentation is available for those who want to understand what each add-on does. Easy to follow guides and step by step tutorials are also available.
Check Out the Quick Video Review On Best Form Builder for WordPress
Source: Josh Hall
Conclusion
These are among the many features that make WPFormsthe best form builder plugin of all time. Web owners love it because it brings everyone on board when building effective forms on your WordPress website. Both novice and expert can use this drag and drop form builder. You don't need a web developer to install and use WPForms' best form builder.
High speed and SEO optimized forms are what you should expect from this powerful form builder, forming a breeze using the drag and drop editor. If you need the best form builder that offers endless possibilities when creating forms, WPForms is here for you.
Here are a few more topics that you shouldn't miss:
How to Choose a Marketing Agency
How to Boost Sales with Countdown Timer Popups
5 Social Media Trends to Integrate to your Social Media Strategy
Like this post? Don't forget to share