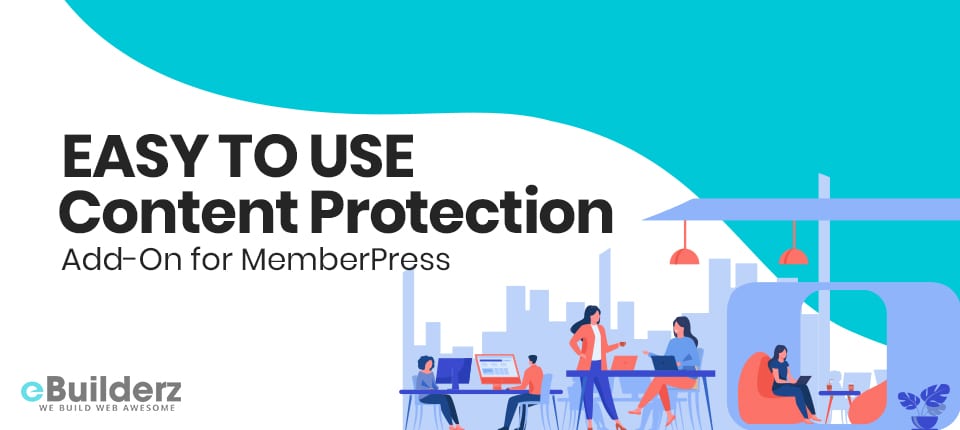 If you are running a membership website, you need an add-on that gives you total control on what your users see. Introducing a WordPress page builder content protection add-on for MemberPress users.
The number of WordPress plugins that allow you to manage your membership website freely is quite little. One of these plugins is MemberPress. The reason why many people prefer this plugin is for its flexibility when managing a running paid website. MemberPress is proud to announce an add-on that allows you to connect your site with page builders. This add-on for WordPress Page Builders makes it easier to manage what users see at various levels on your website.
In this post, we are going to explore what this add-on does and how it helps users control the content on their websites. Before we proceed, let's first define what a page builder is.
What is a Page Builder?
Running a WordPress website is not that hard since the platform offers plenty of tools and plugins to do so. Not all who run  WordPress websites are fluent with HTML and other web design aspects. If you are one of them, you must be using a page builder right now. A page builder has many features that allow you to create a WordPress website page without code. Such a plugin allows you to use the drag and drop editor on its simple interface to build a site with little or no coding skills.
The best page builders make it super easy for anyone to create a website due to their seamless integration with other plugins. One such plugin is called MemberPress. What makes page builders awesome is their ease of use when it comes to creating websites. With this WordPress plugin, users have it easier to run their paid sites. This plugin has gone a step further to allow users to have full control of what members should see on their websites. All MemberPress users can access this new Content Protection Page Builder Add On.
Also, you can read:- Drip Content – Learn about one of MemberPress' Killer Features!
Benefits of Having a Content Protection Add-On
Those running WordPress websites using page builder plugins will find this add-on great. With this add on, you can earn the power of a WordPress page builder and MemberPress. This will make it easier for you to craft content based on the user's interest or entice higher level users to have a perfect time.
Below is a list of web users who can benefit from this add-on:
Those who want to create WordPress websites using page builders like Divi, Beaver Builder, or WP Bakery.
Anyone who wants to enhance the user experience for those who are on higher tiers without much effort.
If you want to entice your free or lower-tier members by building member-only sections or pages.
Those who have MemberPress websites and want to increase control and functions on their websites.
With this add on, you can achieve anything you plan to with your website no matter your reason for using it. If you want to fully benefit from your paid websites, you need MemberPress. This plugin allows you to filter and control any content on your website. You are also going to love the new content protection add-on as it gives you more control. No page builder is left out with this new add on and you can easily integrate with Divi, Beaver Builder, and WP Bakery.
Here are some of the things that you can do with the new page builder content protection add-on:
See More:- 5 Popular Free & Paid Form Builder Plugins for WordPress
Segment Content with Ease
Without full control of what goes on in your membership website, you are not going to fully benefit from it. MemberPress gives you full control when running a membership website. That is what makes it the best plugin for membership websites. The plugin now makes it even easier to fine-tune content access across multiple websites. With MemberPress, you can now:
Edit Access using Rows – The new content protection add-on for page builders allows you to tease your free or lower-tier users with a sneak peek of what you are offering. This will entice them to pay or move to higher tiers. The new add-on allows you to access it within the row options. If you are targeting certain users or members, they will only see the selected row when they are active. Your users will see what they are missing since you can build more custom pages.
Flexible Content Rules – The add-on also allows you to set parameters based on the rules of each section of your website. As the owner, you can highlight what the free or lower-tier members are missing or show your users what you are about to upgrade. You can also give free users a tease of the features they are missing on the paid plans.
Tell what happens to those accessing the site without permission – With this new add-on, you can tell MemberPress how you want them to deal with unauthorized access. Using a special message that shows on the screen for users to see, you can tell them what will happen if they violate the set rules.
You are missing a lot if you are running a membership website without the MemberPress plugin. This is a great WordPress plugin that makes it easy to run your membership site. What we like about this plugin are the unique ways they offer their users when running their sites. Their latest is the content control add-on that gives users all the control needed to run a website. The best thing about this add-on is that anyone using MemberPress can use it, including those on the basic plan.
Final Thoughts
As we have seen, the new add-on that MemberPress offers gives enhanced control for users to protect their content. You don't need to struggle to manage a membership website when using this plugin with a page builder. It doesn't require coding plus you can give your users a sneak peek of what they are missing on upper tiers. We hope that this article about the new Page Builder Content Protection Add-On was helpful and you are now ready to use it on your MemberPress website.
Here are a few more topics that you shouldn't miss:
How to Make a Quiz in WordPress with Formidable Forms
InstaBuilder Review: Best Landing Page WordPress Plugin
12 Essentials of a High Converting Landing Page
Like this post? Don't forget to share