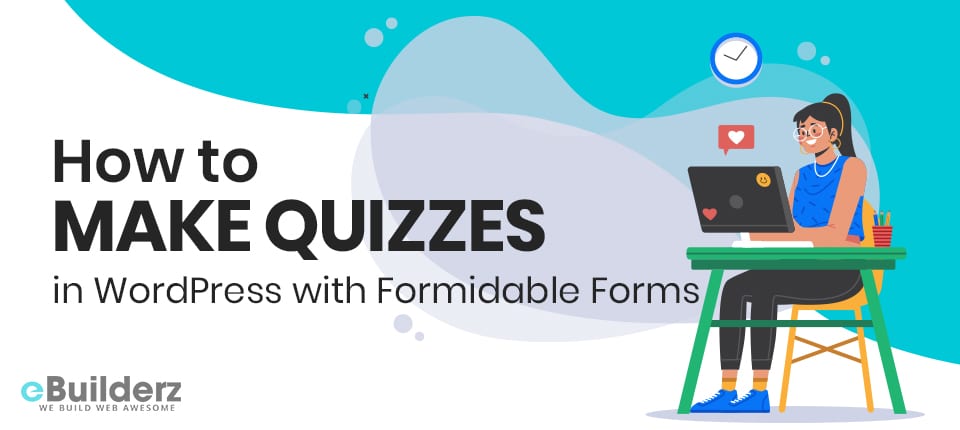 I love quizzes because they are fun. They make you break the ice when you are trying to engage with your readers. Whether you are trying to make content go viral or you want to educate your users, it's a great way to interact with them. For those who don't know what online quizzes are, these are forms used to gather user input, calculate responses, and show results. If you like to test how smart your readers are, this article will show you how to make a quiz on your WordPress website.
Why Do You Need Quizzes in Your WordPress Site?
If you are running a WordPress website, you need to engage with your readers if you want to win them over. Since quizzes require feedback from your users, they are quite interactive. Quizzes are more fun and exciting compared to other types of forms. This is not a new concept in the online industry and marketers have been using them since the internet began. They provide more than one way to attract visitors to your site. They help brands to lure visitors, add interactive features to their sites, and gather data about their audience. You can increase site traffic from social media through viral quizzes. A good example of viral quizzes is BuzzFeed. There are many types including:
Educational quizzes for different online courses
Quizzes that gauge the different needs of your customers
Quizzes for users to subscribe for email newsletter
And more
Now that you know what quizzes are and what they are used for, let's head straight to creating a quiz on a WordPress website.
How to Create a Quiz in WordPress Quiz Using Formidable Forms
Why have we fallen in love with WordPress? The answer is quite simple. Because it has the necessary plugins and tools to help you run it. There is almost any plugin for everything you want to do in WordPress. However, installing any plugin that comes your way is not good. If you are going to install a WordPress plugin, it has to be the best and necessary to help you do what you want to do with it. In this article, we have chosen the best plugin for creating quizzes in WordPress and that is Formidable Forms.
The reason why we believe that Formidable Forms is the best form creator is due to its advanced tech used to make online forms.it helps you go beyond contact form creation thanks to the drag and drop builder. Formidable Forms has a cool interface that has the power to build forms like surveys, quizzes, calculators, registration forms, and more. This awesome form builder has an add-on called Quiz Maker. This add-on is used to create quizzes in WordPress. You can create quizzes with ease and insert then on your site. Curious to know how to do that? Let's get into it.
Installing the Formidable Forms and Quiz Maker Add-on
The first thing that you need to do is install and activate the Formidable Forms plugin. The least plan that allows you to a quiz, is the 'Business' plan. Lesser plans will not allow you to include the Quiz Maker add-on. What follows is installing the Quiz Maker add-on. To do this, just head over to Formidable >> Add-Ons >> Quiz Maker add-on and click on the Install button. In a few seconds, it's going to install the add-on. You will see the add-on as 'Active' once you are done. That's it, you are now ready to start creating a quiz using Formidable Forms.
Also, you can read How to Create Custom Calculators with the Formidable Form Plugin
Using the Quiz Maker to Create a WordPress Quiz
You can now go-ahead to create your first WordPress quiz since you have installed the Formidable Forms Quiz Maker. To do this go to the WordPress dashboard >> Formidable >> Forms and click on the 'Add New' button. The opened page will display different methods for creating a form with Formidable Forms. There is an option to use a blank form, import from an XML file, or use a form template. In this tutorial, we are going to show you how to create a quiz using a blank form as an example.

Proceed by clicking on the 'Create with a blank form' button. After that, you'll be provided with a building interface. There are three steps for creating a quiz form. Naming your quiz form is the first step. The next step is adding fields into your form, and the last one is to save your form. You can use quizzes to have several uses including personality quizzes, knowledge tests, satisfaction tests, market research, and more. The number of fields will depend on what you need to use the quiz for. Before creating the quiz always have your questions and answers.
As an example, we are going to create a WordPress knowledge test quiz that has different fields. They include single response 'Text' field 'Radio Buttons', and multi-response 'Dropdown.' First, we are going to start with the name of the quiz form. After that, just add use the drag and drop builder to add other fields. For our sample form, we are going to a 'Text' field for our question. You will need to replace the field title with the question.

The next thing is to add a 'Dropdown' Field if the question requires more than one response. The field title needs to be replaced first with the question. You can also add more questions to your form if you want. When you are done, insert the 'Quiz Score' field to the form. This field is important since allows you to enter the correct answers to questions. To open in a new tab just is right-click the 'Add an entry' link. This will open the 'Entries' page.
On the entries page, select answers that are correct for your questions. Formidable Forms will then check users' entries basing it on your entries. You need to check the box next to 'Set this entry as the quiz answer key', the minute you are through. Next, enter a name in the 'Entry Key' field and press the 'Submit' button.
Save the entries and close the tab. Now, after doing all that head back to the form making page and click on the Create button. This opens the form General Settings that allows you to tweak settings for your form. This includes what is shown after a user fills out the quiz form. You have two options: one, you can leave them as default, or you can change them after reviewing.
Next, scroll down to the Messages section. This section allows you to change the message you want your user to see when they finish filling out the quiz. To show the score instantly with this message to the users, just add a shortcode that includes the Quiz Score field ID or field key. The field ID or key is found on the right under the 'Fields' panel. When you are done, use the format below to add a shortcode to the message box with this ID.
[161] – For fraction correct. Example: 5/10.
[161 show=count] – For correct answer count. Example: 5.
[161 show=percent] – For percent count. Example: 50%
[161 show=grade] – For letter grade. Example: F.
Finally, click the 'Update' button and you through with the quiz making process. You are now finished creating your first quiz and it's time to insert it in your WordPress website.
See More:- New eCommerce Features from Formidable Forms Plugin
How to Add Your Quiz to Your WordPress Site
If you want to add your quiz to WordPress, you are going to use the Formidable Forms widget. Let's try to add it to a page. This is done by going to Pages and from the dashboard click on Add New. Before on the 'Add Block' icon, you will need to add a title first to add the Formidable Forms widget.
Go to the widget Widgets tab and click the 'Formidable Forms' widget. This action will insert the Formidable Forms block to the page area. Select your quiz form by clicking on the drop-down in the block. Now, your quiz will load on the page. You are now free to publish the page and it will go live on your WordPress page. All you need to do now is wait for your users to answer your questions
Here is the quick video review on How to Make Quizzes in WordPress with Formidable Forms

Source: Le Nguye
Final thoughts
Quizzes are important if you want to engage better with your visitors. Fortunately, WordPress has made it easy by providing plugins to help you do that. One of these tools is Formidable Forms. As you can see it is not so hard to add a quiz on your WordPress website. We hope that you have learned a lot from this guide on how to add quizzes on your WordPress website and you can now do it on your own.
Here are a few more topics that you shouldn't miss:
How to Create a Formidable Forms using WordPress Calculator Plugin
Drip Content – Learn about one of MemberPress' Killer Features!
Like this post? Don't forget to share