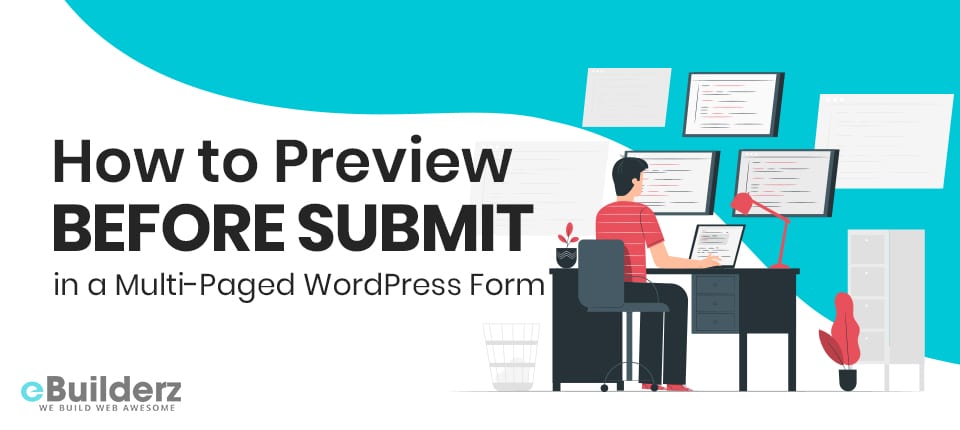 We get a lot of questions on our blogs on how to create a multi-page form in WordPress. Also called a multi-part form, a multi-page form is a form that lets users gather greater info about their visitors without pissing them off. This type of form allows you to split your form into pages to remove the fatigue that comes with filling out long forms. If you are curious about how it works, this form will show you how to create and preview a multi-page form before submitting it.
Benefits of Having a Multi-Page Form in WordPress
If you are looking for the easiest way to gather info about your users then multi-page forms offer the easiest way to do it. You can apply this type form in your contact form, survey, or email capture form. It is also a great way to get in touch with your visitors. If you are going to use long forms to gather information, it's going to bore your visitors leading to them clicking away. If you want to get the desired response from your visitors when you want them to fill out forms then the best way to about it is using a multi-part form. You can easily breakdown your form into sections and pages.
The trick is to make it look shorter with fewer fields with a progress bar on at the top. Users will not feel the burden of filling out such a form. Besides, it improves the user's experience and makes them engage more with your site. Although you will find a lot of tools in the market to help you add multi-page forms in your site, Formidable Forms is the best of them all. We are going to show you how to preview and add a multi-page form using Formidable Forms before submitting it.
Where do you add the summary field?
The Summary field won't be allowed after since you can only use either the summery or the review field. When placed at the end of the form, it will not ease up things. After the summary field, you are allowed to include credit cards, terms field, reCaptcha, or another option. This helps to make the process more flexible. If you want to truly benefit from all these features, then you need to get the premium version of Formidable Forms. That is why many WordPress users prefer this plugin when they want to create forms when need to create forms on their WordPress sites.

The reason why we love WordPress and use it to run our websites is because of the many plugins it offers to help us run our websites with ease. From security plugins to form and page builders, you will get them all when you decide to run your site with this CMS. If you want to build effective forms that guarantee your engagement, then Formidable Forms is what you need. You will get both the free and the premium version with this WordPress plugin. The free version has limited features but can still create awesome forms. With the Pro version, you will get everything you need to gather data of all kinds.
Also, you can read New eCommerce Features from Formidable Forms Plugin
Unlike the popular and free Contact Form 7 with a few features, Formidable Forms is very powerful with cutting edge form building features. With this WordPress form builder, you can create a wide range of data capture changes that lead to great results. If you want to gauge whether this is the tool for you, you can try out the free version first. However, if you want to go straight creating a multi-page form, then you are going to need the Pro version of Formidable Forms.
What makes Formidable Forms Different?
Creating long forms for your visitors to fill out is not advisable. However, sometimes you can't avoid it if you want to create job applications, mortgage applications, in-depth customer satisfaction surveys, or class registration forms. They all require lengthy descriptions plus you may also find checkout forms that tend to be lengthy. You shouldn't compromise user experience just because you have a lengthy form. With the free version of Formidable Forms, users can break up any type of form into manageable sections. It helps to further improve user experience with progress bars, branching forms, and saving drafts.
See More:- How to Create a Formidable Forms using WordPress Calculator Plugin
What is Previewing Before Submitting?
Now that you have finished creating your form, its type to publish it on your website and make it go live. But how sure that your form is created properly? You need to confirm whether everything is fine by reviewing it first before submitting and you can do that using Formidable Forms. You need to do this if your forms need accurate information as a requirement.

Previously, you needed to preview your form manually. This has since changed after Formidable Forms introduced a simple way to do this. This is done by adding a preview page with a simple click. When you add it, it will make detect which fields should appear first in your form and excludes those that most forms don't need. When you are done previewing the form and you feel that everything is okay you can go ahead and submit it!
Check out the quick video review on How to Preview Before Submit in a Multi-Paged WordPress Form

Source:- WPBeginner – WordPress Tutorials
Final thoughts 
If you are going to use lengthy forms then the best thing you can do for your users is to make fun and interesting by splitting up into several parts. It is also good to allow them to preview their forms before submitting to ensure that everything is fine. We hope that this guide on how to how to preview before submit in a multi-paged WordPress form was helpful. If you want to benefit from this feature, then go ahead and install Formidable Forms into your WordPress site.
Here are a few more topics that you shouldn't miss:
How to Preview and Submit a WordPress Form
Angular vs AngularJS [2020]: Which one is Best?
Like This Post? Don't Forget To Share