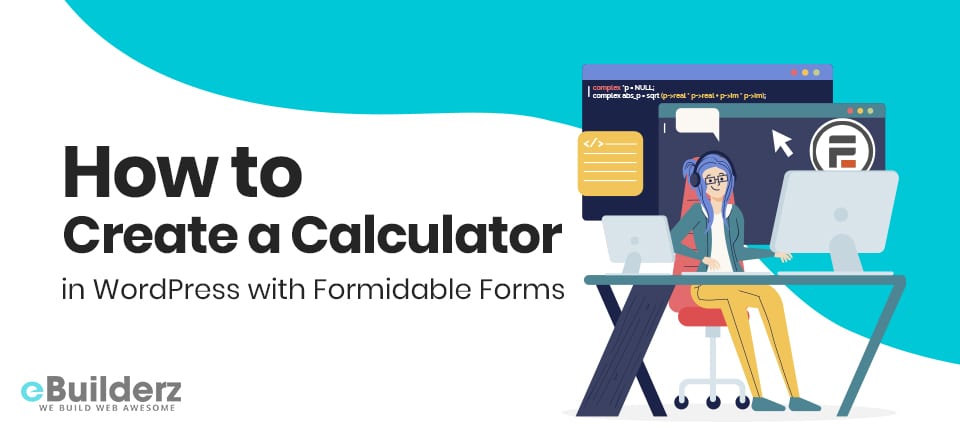 To be sincere, math wasn't my best subject in school, and I am pretty sure most of us felt the same way. Does not matter how much we want to avoid it, it's hard to do without it. Thank God for calculators, which have made things easy for us through technology. You may think that you won't need a calculator to run your blog. Wait till you read this and see if you won't change your mind. Do you know you can add calculators on your website using Formidable Forms? If you are running a WordPress site, you can easily create a Formidable Forms using wordpress calculator plugin on your site. Formidable Forms is the best plugin for building not only forms but for creating these fancy gadgets.  
We have so many ways to add them to our websites and blogs. We are going to show you how to do that in a few minutes. Let's first discuss the benefits of adding calculators on your website. 
Benefits of having calculators on your site
If you are unto real estate, you need to calculate some figures. The reason being, clients and clients would want to know how much they are going to save. They also need to find out what the monthly payment is. You can provide them a free calculator if they're going to buy a house. This also applies to almost any sector. 
Gym trainers need to insert weight-loss calculators on their sites. They are also important when you are running a financial institute. This is to help your clients calculate their monthly finances. Bloggers are not left out as they can also use them to simplify calculate with ease in different niches. For example, if you write a blog about parents, you can help a pregnant mother calculate the number of days before she delivers. 
The aim of having a calculator on your website is to help your users have an easier when they calculate. This improves user experience leading to high conversion rates. The best way to go about this is to add a WordPress Calculator Plugin to your website. 
Custom calculators also help you to gather emails. This is helpful in your email marketing. All you need to have is a custom calculator for lead creation. These gadgets are handy to anyone who has a website.
Custom calculators are better than plugins because you want to reduce the number of plugins on your site that can slow down your site. I know that WordPress offers almost any kind of plugin. This doesn't mean you can install all the plugins you come across. Although plugins are good, too much of these babies can break your site. 
The good thing is that you don't need coding knowledge to create a calculator in your word website. You need an effective form plugin, and you are good to go. In case you had no idea, a drag and drop form builder with various field types is enough to create a custom calculator. You can use form plugins to create loan calculators, cost calculators, quote calculators, and many more.

Adding a calculator to your site using a template
A template is the best way to add a calculator to your site if you want to save time. With this great plugin, you will be spoiled with many templates to help you build your calculator. Here are some of them:
Daily Calorie Intake Calculator Template

Simple Mortgage Calculator

Savings Calculator Form Template

Debt to Income Ratio Calculator

Length Calculator Form Template
No matter the type of blog you are dealing with, this form builder has got you covered. You, however, need to use the Pro version of the plugin if you want to benefit from all these templates. 
Also, you can read Increase Conversion Rate by Adding a Multi-Step Form In WordPress
Creating a Formidable Forms using WordPress Calculator Plugin
The first thing all you need to do is download a WordPress Calculator Plugin and install it on your website. If you are running a WordPress website, head over to your WordPress dashboard and then the plugins page. Type in Formidable Forms in the search bar and download it. The info in the docs will guide you on how to activate this plugin. Once you have linked, a success message will display. 
To access the premium features, refresh the page. The next thing is to create and tweak a few things in your calculator. To do this, go to Formidable then Add New. You will be given a list of calculators. Just scroll down to check for the type you need or use the search bar to look for the right template. 
After finding the right template, click the Preview button to preview it. Or you can skip and go straight to settings by clicking Create Form. Here, you access a few field options that you can add to your calculator. You can add text, HTML, Checkboxes, and more. 
Publishing your custom calculator
It's now time to publish your calculator if you are satisfied with its looks. This form builder allows you to do this using block or shortcode. Using a WordPress Calculator Plugin makes it easy for a calculator on your site. Just select Add New Block where you want your calculator to appear. After that, choose the Formidable Forms feature, and from the drop-down menu, select your calculator. 
See More:-New eCommerce Features from Formidable Forms Plugin
Adding a custom calculator from scratch in WordPress 
You can also add a custom calculator even if you are not running any online business on your WordPress website. It is possible to create a calculator using Number fields and a math formula. Just follow the steps you used before, and you will be able to create a simple percentage calculator, mortgage calculator, or ROI calculator. 
First, you have to install and activate the form builder plugin. Next, go to Formidable >> Add New and create a blank form. Add the needed form fields. For example, for a simple percentage calculator, you'll need three fields – the number, the percentage, and the value fields. No matter the kind of calculator you've created, don't forget to add the number range in case a user wants to enter a period. 
You can also include the Text, Default Value, and Field Description boxes if needed. Once you have done all these, it's time to add the Total fields where the final figures will appear. After selecting the Total Number field, turn on the Calculator option from the Advanced tab. For the specific math, enter the formula needed using the default value. That's it! 
Conclusion 
Calculators are essential when running any business website. As you've seen, it's not that hard to create calculators on your website. This helps you and users to do simple and complex math easily. I hope that this guide was helpful to you, and you can now create a custom calculator using WordPress Calculator Plugin.
Here are few more topics that you shouldn't miss:
Increase Conversion Rate by Adding a Multi-Step Form In WordPress
How to Create a Calculator in WordPress
Like this post? Don't forget to share