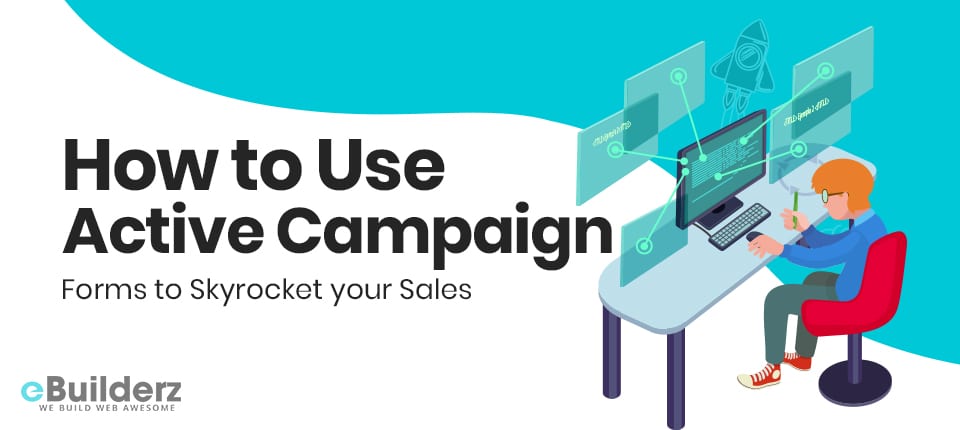 Email is the best way to increase your conversion rate on your website. Sending emails to your target users makes it easy to engage with them. This is the only way you can slowly turn them into loyal clients. There are many email marketing tools in the market, but Active Campaign forms has proved its worth. Combined with WPForms, it makes it easy for users to add contacts to their accounts. You can also record events, add notes to references, and more.
Now, it's straightforward for WPForms users to create many signup forms for ActiveCampaign. Thanks to ActiveCampaign addon, creating a signup form and connecting it to your site is now fast and seamless. You can also add notes to contacts, record events, add contacts to your account, add, and much more. To engage better, you can create an email list using the conditional logic feature. 

Users can also use the WPForms addon to decide which tags to add or remove to contacts inside ActiveCampaign. Besides using this plugin in your subscription forms, you can also use this addon with all your other forms like the standard contact form and request a quote form. Your visitors will have multiple chances to subscribe to your newsletter for great results.
You get full control of your forms, and this helps you to convert more and increase the sales rate. 
Benefits of Creating an Active Campaign Form
For me, Active Campaign forms is one of the best email marketing tool that allows web owners to engage better with their users and create a lasting relationship. This leads to increased conversions and repeats sales. You can connect to this plugin using WPForms if you are running a WordPress website. Doing this allows you to embed your forms with ease. 
Also, you can read Increase Conversion Rate by Adding a Multi-Step Form In WordPress
Benefits of ActiveCampaign and WPForms Integration
If you want to build forms on your WordPress website, then WPForms will give you the best form of building services. Let's now find out what you stand to gain by integrating ActiveCampaign to WPForms. 
Drag and drop builder

 – By linking ActiveCampaign to WPForms, you can use your WordPress dashboard to create forms with a few clicks. 

Logging into ActiveCampaign is not needed

– Once you integrate these two excellent services, you can create unlimited signup forms without logging into an Active Campaign forms account again.

Add a subscription checkbox

 – This integration also allows you to use smart conditional logic to let users subscribe to your list after contact form submission. All you need to do is add a subscription to your contact form with intelligent conditional logic.

Form drop-offs

 – This cool feature allows you to track partial form entries. You can then turn them into loyal users by following them up with leads. 
We have many benefits besides these great ones. Now that we know the benefits of integrating this email marketing tool and WPForms let's now look at a step by step guide on how to connect these two great email marketing solutions. 
ActiveCampaign Form Integration
Before you enjoy these features, the first thing to do is install and activate the WPForms plugin. If you have no idea how to do this, you can check our step by step guide on how to install WordPress plugins. After you've installed the plugin, you can start creating your form. Your template should be Newsletter Signup Form when creating a form to save you time. 
To create a highly effective form with this plugin that can convert, you will have to add the Zapieraddon on your WordPress website. With this addon, you can link the WPForms plugin to over 1,500 web apps. These web apps include Jira and Drip. If you want to install Zapier to your WordPress site, look for our tutorial on how to install and use the addon.
See More:- How to Create a File Upload Form in WordPress
How to connect WPForms to your ActiveCampaign account
The first thing you need to do is log in to your account. Once there, click on the 'Make a Zap' button found at the top. After that, follow the guide on how to create a Zap. 
In the Edit Options step, you need to choose the Newsletter Signup Form, which you had created. Before finding existing entries, you must first have at least one test entry on your form. 
A pop-up message with success will show on the screen. You have to choose WPForms as your trigger app and then Active Campaign forms as an action app. In the search bar, type ActiveCampaign, and select it as your action app. 
After going through all these, you will be required to choose an action. You aim to add new subscribers to your list. You have to pick Create/Update Contact. After that, press Continue.
The next step is to connect your account to Zapier, and you can do that by clicking on the Connect an Account button.
First, look for the API URL and API key in your Active Campaign forms account. When you find them, enter them in a window that pops up. This is to allow this tool to gain access to your account. These keys are found by logging in to your account. Once you are in, click 'My Settings' under your profile name. You will find this information at the top, on the right-hand corner of the editing screen. 
After doing that, select Developer in the left taskbar and copy the keys to Zapier, then click on Yes, Continue button. 
After that, the thing you need to do is set up Active Campaign forms contact. To do that, you will have to connect each form field you've built using WPForms to the required Active Campaign forms field. 
To check whether the integration went well, click on Test. You can also verify the data in your account by clicking on the Contacts tab. You will see the imported contact in your account, and this shows that the integration has worked. 
Conclusion
Without email marketing, the chances of success are little. That is why you need to go for the best Email Marketing tools. As you've seen, the integration between ActiveCampaign and WPForms makes it easy for you to create and manage all kinds of forms. This way, when a user fills out your form, he will be added to the database as a new contact.
Here are a few more topics that you shouldn't miss:
How to Easily Track Events in WordPress with Google Analytics
How to Create a File Upload Form in WordPress
Like This Post? Don't Forget To Share