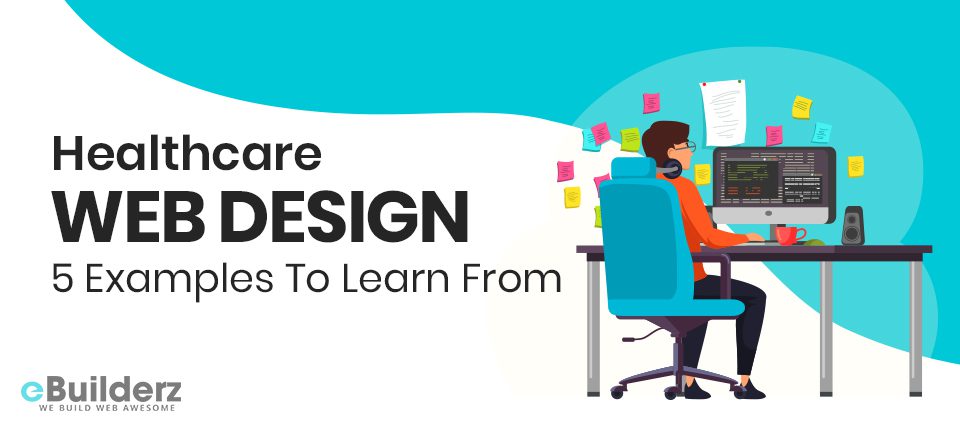 Almost 80% of the digital population uses the internet to research hospitals. That's a huge market waiting to be tapped out there!
Online presence is a big component of contemporary healthcare, whether it's for your health, a doctor, or the reviews of a certain healthcare facility. The healthcare profession has indeed been slow to adopt the digital world compared to others.
However, several medical companies have implemented innovative web design, delighting their technologically savvy patients.
This article will share the examples of five healthcare web designs that will help you create engaging experiences on your website and build loyalty and brand value for your healthcare organization.
Five Healthcare Web Design Examples to Help you Create the Perfect Website
The most common challenges that any healthcare website faces are:
The marketers prefer to play it safe when it comes to the content because of heavy industry regulations
Most of the websites created by the agencies lack accessibility.
The branding of most of these websites is along similar lines.
The next obvious question — how could we solve this challenge and make websites that provide engaging user experiences and are accessible by the patients and medical professionals alike.
Not to worry, we believe in making your life simple. We have chosen five responsive healthcare website examples that deliver a fantastic user experience and highlight some amazing design features and functionalities.

The Centura Health website isn't the most modern, but it's functional. The website's information architecture is simple and basic.
There are just five primary links and two subsidiary icons in the navigation menu. In the top navigation bar of some healthcare websites, more than 20 things are competing for attention.
The usability of Centura Health's website is substantially enhanced by its use of basic, straightforward navigation and the prominent display of the search tool in the middle of the home page.
Visitors to the website don't have to sift through data to find what they're looking for. The navigation and calls-to-action (CTAs) on Centura are appealing to your visitors.
Centura's site also adheres to accessible design best practices by employing large, high-contrast fonts that are easier to read for visually impaired website users.
Key Takeaway: If you're a medical firm, keep the navigation simple and CTAs actionable plus targeted. For example, 'Where to find us,' 'About our doctors,' 'Insurance info,' alongside "Book an appointment" CTA and your office's phone number, should be displayed.
See More: 5 Best UI/UX Design Tools For The Modern-Day Designer

Northwestern Medicine has a fantastic design that isn't as overpowering or daunting as many other healthcare websites. They utilize the menu to filter the traffic through their page and social media channels.
They also use simple CTAs before the page breaking to guide people who already know where they want to go on the website.
Visitors may easily navigate the site and get the information they need to book a follow-up appointment, find a new doctor, or pay a bill.
Their website is straightforward but effective. It recognizes that its visitors are busy; therefore, it avoids bombarding them with large blocks of text. Instead, it uses boxes, icons, and graphics to convey information swiftly.
The website appeals to today's consumers. A major but simple strategy it uses is to keep the website fresh and attractive with modern, polished images and videos.
Key Takeaway: Your site should simply explain your company's narrative while providing an accessible, engaging user experience, whether through graphics or design.

The Mayo Clinic has long been regarded as one of the leading medical institutes in the country. Likewise, it is at the top of their game when successfully conveying medical information to visitors.
The Mayo Clinic has an extensive navigation menu prominently displayed on their homepage for consumers to explore health information about diseases and health issues.
Health difficulties can be studied by using the Mayo Clinic's extensive symptom checker or looking up information in an alphabetical conditions list.
Mayo Clinic additionally has a part of featured material with expert knowledge from their physicians and clinicians on topics ranging from heart arrhythmia to transplantation of organs.
They have kept in mind that visitors often look for action-oriented information instead of academic content. Additionally, Mayo has a blog section that attracts potential patients who want to learn more about the subject by producing and publishing articles centered around that keyword and topic.
Key Takeaway: By attracting readers, you may educate future patients and establish your organization as trustworthy, putting you one step closer to converting them from visitors to current patients.
Here is more information on using surveys to create effective content for your website.

The website of this Australian hospital offers a strong first impression in terms of design and provides a memorable experience. The way the CTAs are extremely structured while also remaining near the top of the page is a crucial takeaway from this website.
"Do You Have an Emergency?" says one of the CTAs in huge letters. This not only grabs the user's attention right away, but it also gives the impression that the hospital genuinely cares about them, which motivates them to learn more about the hospital's other services.
Above all, this site maintains its brand identity and narrative, cutting-edge in the healthcare market. It may seem obvious, but before you begin building your website, you must first determine its goal and revolve your identity around it.
The website has a clear idea about its USP (unique selling point) and uses it smartly to convey the final goal.
Key Takeaway: People aren't irrational. People will see right through you if you put yourself out there solely to earn a profit or enhance your profile. Your website's design is inextricably related to your brand; therefore, it must appear genuine and engaging.
Also, You Can Read How to Build an eCommerce Website Using Zyro
Mercy Health

Mercy Health's website makes it obvious that the organization presents itself as a healthcare leader in Cincinnati and the surrounding areas.
An amazing user experience is the utilization of huge visuals and motion to engage the user. With just the front page, this website perfectly catches Mercy Health's voice and style and effectively carries it across the rest of the website.
They also have a blog with various healthcare-related stories and themes, which they leverage to attract new customers via search engines. Contributing to a blog can also help with SEO, but you'll need to publish regularly to keep it going. Consider putting a long-tail term in the title of each blog post.
Key Takeaway: Just like Mercy, you can go for a blog section as well. But how will potential patients find your content if it isn't optimized for search engines? You may learn what your target audience is looking for in your services by performing extensive market research on the healthcare industry.
Quick Tips to Get You Started
Now that you have seen these fine examples of the best healthcare websites, here are a few tips for you to get started:
Look at the most recent web design trends.
Although web design is constantly changing, there are some common themes that you may learn from. It's crucial to highlight at this point that just because a web trend is popular doesn't imply it's good for you.
As the design is identified as the most significant component of a website by 48% of users, it's critical to take your time and look at what your competitors are doing. Each industry will have its style, so you must decide whether to blend in or stand out.
According to Alex Vasili, a top brand expert, you should always conduct research by industry rather than by age or gender. He told us about web design when we asked him about it.
Research on the best UX/UI tools
Your work environment will be clutter-free and suited for quality work using design tools.
But the difficulty is that with so many design tools being released into the SaaS market every day, deciding on the best option is nearly always a daunting task. Furthermore, each design tool claims to offer the same set of features, performance, and user experience.
How to solve this problem is a million-dollar question. Well, here is a run-down of the top five design tools that will make your design attempt easier in 2022.
Select a platform
Isn't a professional agency the first thing that comes to mind when you think of high-quality web design? While top organizations often perform admirably, they can be prohibitively pricey.
Naturally, there are many options available, all of which are of various quality, but we've done the research and found the best on the market. We can now provide the best possibilities for designing your site based on a combination of expert research and extensive testing.
For instance, you may be looking for responsive, mobile-optimized websites. In this case, you can check out developers of mobile website designs compatible with various platforms and attuned to modern mobile features such as touch input and a wide range of browsers.
Conclusion
As a web designer, you can always follow the above-mentioned best practices and inspire our examples to generate better user experiences for your target users in your healthcare websites.
In the Comments section below, let us know what other tactics you would implement in your healthcare website to create a rich user experience.
Here are few more topics that you shouldn't miss:
Best Practices With Dark UI In Web Design
What is a .NET Developer? Learn the Facts, Skills & Duties
AI Website Builders Will Change the Digital Landscape Forever
Like this post? Don't forget to share