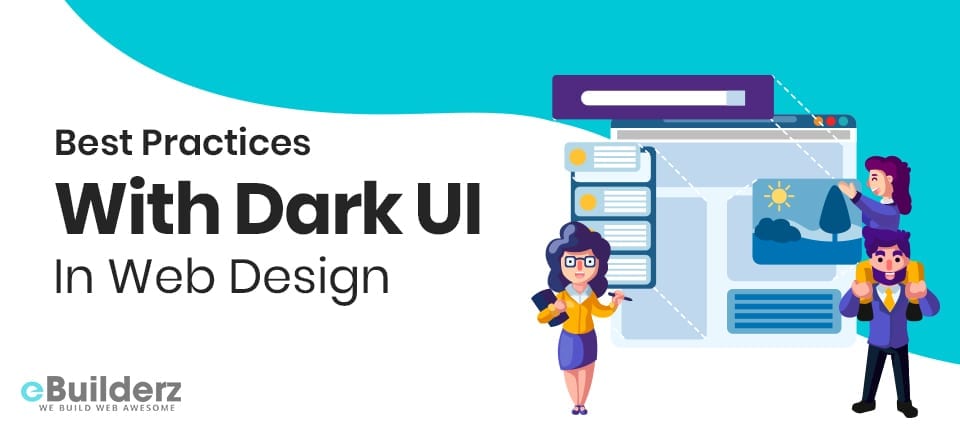 Dark UI is an elegant, impressive, and striking presentation. It should therefore come as no surprise that it has become vastly popular all over the internet. The growing popularity will tempt many designers to join the trend. Still, before doing so, they need to understand how dark mode should be properly designed and implemented and what attributes should and should not be applied in its use.
Ultimately, for a design to be successful, it must focus on generating the look and feel. Still, the presentation varies based on the website, the audience it aims to reach, and the product or service it is trying to sell. In some cases, a dark mode UI might be just what the website needs, but on the other hand, a certain dark mode could have the opposite of the desired effect.
Whether you're a self-employed web designer or work in one of the top companies specializing in UI design, it's crucial to understand modern trends. Dark UI is one of the most popular web design trends today, so if you neglect it, you may be left in the dust of your competitors. Just make sure you understand this one thing: web design agencies and web designers worldwide are taking advantage of this trend because it helps create some novel and exciting user experiences.
Let's explore some design practices that websites use when implementing a dark mode UI. This should help increase understanding of how to more effectively use dark mode in your upcoming design initiatives.
Use Negative Space
Dark mode intends to exude the feeling of 'heaviness' accomplished by using negative space, a term used to define the space around the design's existing elements. In a typical design, this 'white space' may not be thought of as particularly important, but it is pivotal when designing using dark mode UI.
That is because white space' is the visual tool that defines the layout, organization, and hierarchy of a design, serving as a powerful navigational tool for viewers. It also serves as an essential means of resting one's eyes. For those reasons, achieving the perfectly balanced ratio between 'positive' and 'negative' spaces is essential to effective and tidy designs.
Human minds are naturally drawn to elements with ample negative space around them as it triggers the sense of the element's importance and richness. The element with lots of negative space is subconsciously interpreted as being grouped separately from other elements due to its importance, instinctively drawing eyes to it.
For this reason, the balancing of positive and negative spaces can be the difference between a successful or a failed design. Designers need to consider the relationship between multiple letters or elements on display and how much breathing room' each one needs. However, while lack of ample negative space will make a design look clunky and crowded, it is vital to remember that using excessive negative space will give the design a look of incompletion.
Enhancing Visual Content
Dark mode best practices are overall tailored around providing emphasis on the visual content. The dark mode is great when used with websites aimed at capturing the viewer's attention as the heaviness of darker background make the elements present on the page 'pop,' helping to pull the viewer's eyes to visuals of various colors and shapes, graphics, images or videos present on the site set against the high-contrast backdrop.
Color is one of the most effective methods in contrasting the elements present from the rest of the page. Brighter and lighter elements stand out more against dark backgrounds, which controls the design's visual hierarchy by demanding the viewers focus their eyes on the elements first and foremost. A well-designed site using dark mode should seamlessly guide the viewer's eyes to the important elements.
See More Drip Content – Learn about one of MemberPress' Killer Features!
Boost Emotional Branding
Aside from helping the page not look cluttered, a dark mode UI's use of negative space can also invoke a strong emotional response. One of the reasons has to do with the psychological aspects of color, with each one invoking a different psychological response from viewers. These responses trigger a particular set of feelings, which direct the viewer's emotions. These emotions will be a significant factor in any decisions that the viewer makes while at the site.
This has been an area of study, with research finding that black color is commonly linked to perceptions of power, authority, stability, and exude strength. Alongside power and control, black is also linked with symbolizing independence, drama, intelligence, sophistication, mystery, and elegance. As its power convention cannot be understated, black is a powerful color used as a background to contrast and encourage large, high-contrast imagery, yielding stunning visual results.
Whether most viewers recognize it or not, this type of strategy is commonly used to set the mood on many entertainment and product selling websites. While the dark mode is a very effective strategy, it is imperative to use it and pair it with those color schemes that evoke the image that the site's brand wants to be associated with.
Boost the Site's Usability
Dark mode can also be effectively used in enhancing the user-friendliness of application design. Many apps are designed for heavy nighttime use and therefore operate more effectively with a dark color scheme that helps reduce eye strain and fatigue. This is one of the primary reasons Amazon Prime, Netflix, and other entertainment apps, make heavy use of dark mode UIs. Some apps, like Google Maps, automatically toggle to dark mode during the nighttime hours, while many other apps present users with preference or settings options that include switching to dark mode manually.
Apps and sites that aim to showcase images typically use dark mode more often. For instance, Spotify uses a dark background to accentuate the high-resolution album covers, much like Netflix sets crisp movie and show graphics against a dark palette to make them stand out.
However, nighttime usability is certainly not the only reason for dark mode utilization. Dark mode use is easier on the eyes in terms of strain.
With people spending an increasing amount of time in front of screens and the well-known effects of blue light on health, eye-sight, and sleep, it makes dark modes more useful in mitigating those effects.
Also, You Can Read How to Create Easy Notification Bars for Your Website
Other Benefits Of Dark Mode
Using dark background to promote lighter color display on sites is just one beneficial aspect of dark mode. Relief of eye strain and limiting blue light emission on a user's eyes is another. Some other benefits of dark mode use include:
Improved focus
Enhanced concentration
Better contrast
If a site anticipates that viewers will use it for extended periods continuously, leveraging dark mode will help relieve the strain on the eyes, a reason why dark themes are popularly used in financial apps and code editors.
Check Out the Quick Video Review On Practices With Dark UI In Web Design
Source: Flux
Conclusion
Dark mode isn't anything new. Some sites started to use manual dark themes many years ago by simply adding a tiny control switch to one of the top corners on a page. But this year, big native apps for both desktop and mobile platforms have already started adopting an additional dark theme (or, depending on the default theme, it could be a light one) after all the major platforms have added a dark mode.
Simultaneously, dark themes also fit in perfectly with other major web design trends that involve moody and dark color patterns with glowing neon colors and various futuristic styles.
Here are few more topics that you shouldn't miss:
How to Build an eCommerce Website Using Zyro
What Is the Best Free SEO Rank Checker?
The Ultimate Guide To Using Pinterest For Small Businesses
Like this post? Don't forget to share