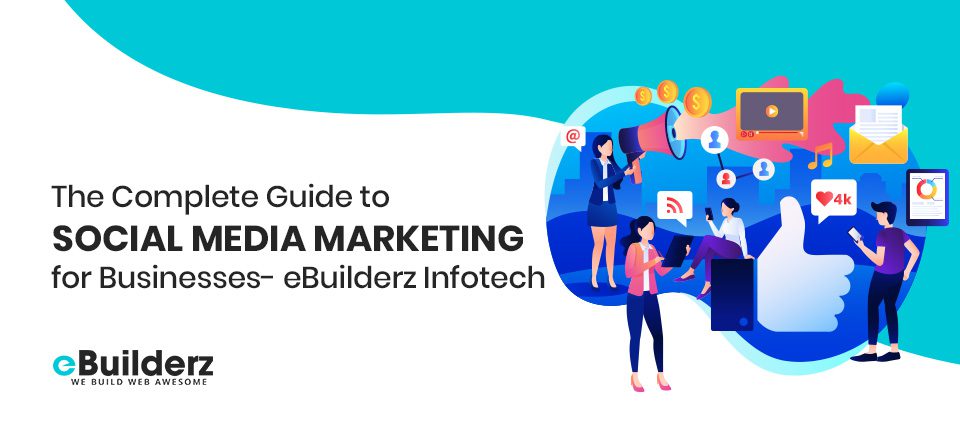 In the ever-evolving digital landscape, one aspect remains vital for businesses, big or small: on social media mastering. Gone are the days when an organization's presence on platforms like Facebook, Instagram, or any social media was merely an afterthought. And, Social media presence is essential for effective businesses. Developing a solid social media strategy is necessary for those wishing to thrive in today's crowded market.
And, social media for business is an effective tool to connect with new, existing, and prospective audiences. Not all social media platforms are made equal.  Just focus on the social platforms that best suit your brand while developing a successful business strategy. So, Social media provides targeting capability, as well as reach and scale, at a lower cost than almost all other marketing channels. People use social media all day, every day, especially on well-known platforms  with that, the brand awareness,  must go where their customers are. We'll look at the most effective commercial uses of social media, best practices for an effective social media marketing plan, how to measure social media ROI, and how to choose the appropriate social platform for your business.
How to use social media for business
These are some facets of business that can profit from a social media presence:
Marketing and Sales

 

Customer services

Employment and hiring

 

Crisis management
You may reach clients and prospects where they are by including an effective social media presence into your small company marketing plan. Here are some tips and best practices for creating a strong social media presence to market your brand:
Create a strategy for social media marketing.
The greatest approach to ensure success on social media is to plan ahead of time. This entails developing a social media marketing strategy for each platform you intend to use.
Post consistently.
Your followers want consistency, so schedule regular posts on Social media for regular business growth. While being consistent, avoid publishing too frequently, as this might be off-putting to your fans.
Develop a clear voice:
Create a consistent audio recognition of the product and tone in your social media presence – one that resonates with your audience and influences how they perceive your brand. Listen to your audience and develop ways to relate to them without appearing to be overly concerned. Most essential, don't be scared to express yourself. This helps to portray your company as adaptable, friendly, and relevant. By integrating your Social Media for Small Business, then it can target to Bigger leads, as well as results.
Have fun with social media:
Provide fun ways to generate more leads and engage with your customers, like running social media contests, linking to your website or special offers in your profile bio, and hosting live videos with exciting updates or news.
How does Social Media benefit your Business?
There are numerous advantages to using social media for company. Here are eight business advantages that social media offers.
Brand awareness:
Every day, billions of people use social media, and it makes sense to place your business where the customers are. According to Facebook, around 60% of Instagram users discover new products using the platform. Social media is an excellent tool for brand promotion and brand exposure.
Brand personality:
It is more important than ever for businesses to establish a distinct voice and communicate with customers on a human level. Social media is an easy way to establish a visual brand, allowing you to develop an identity and a platform in which to highlight your company values and engage with followers.
Thought leadership:
Businesses may use social media to become thought leaders and identify themselves from their competition by creating captivating and relevant content. This can be accomplished by posting creative content on Instagram, producing intelligent blog entries for LinkedIn, or providing a unique perspective in tweets.
Increased website traffic:
If your followers like your social media content, they become interested in you and will go to your business website to learn more about your company. This means higher website traffic and potentially more sales for you.
Reputation management:
Reputation is essential, and social media allows you to engage with customers and resolve concerns fast. You can even design a unique hashtag that your fans can use to ensure the proper people see their query or complaint. You can also highlight favorable reviews or comments on social media.
Analytics and insights:
Most social media platforms have analytics tools, allowing you to monitor follower counts, engagement rates and click-through rates. These numbers can help you determine the kinds of content your followers respond to best and tweak your marketing strategy accordingly.
Targeted advertisements:
It's easy to create ads on social platforms, and the benefit is that you can specifically target them to suit your audience. Research has shown that users respond better when ads are tailored to them, which often increases engagement.
Competitor analysis:
Aside from engaging with customers, social media helps you monitor your competitors. Follow your competitors and note what works well for them and what doesn't. Work those insights into your social media marketing strategy. 
Targeted advertisements:
Ads on social media are simple to design, and the bonus is that you can tailor them to your target demographic. According to research, users respond better when advertising are personalised to them, which typically enhances engagement.
Establish a Meaningful Connection with Your Customers:
Social platforms offer a direct line to your consumer, allowing for instant feedback, engagement, and customer service opportunities.
Show Your Products Online:
Social media platforms, especially visual-centric ones like Instagram, are perfect for showcasing your products, running ads, or giving sneak peeks into new launches.
Increase Your Brand Awareness:
With millions scrolling through their social feeds daily, having a strong social media business presence ensures that you remain top-of-mind for consumers.
Set Social Media Goals for Businesses
Crafting a random post isn't enough. Aim for specific, measurable, and actionable goals. Whether it's boosting website traffic, increasing sales conversions, or simply gaining more followers – set clear objectives.
If you are searching for expert services as small business social media strategy, contact us for expertise SMM Marketing. Call our experts or just fill an appointment form, we will reach you! Social media is a leveled playing field which give small, to large businesses to compete with larger companies for attention.
Also Read our Blog: A Complete Guide to Video Marketing for Interior Designers
Looking for Affordable SEO Services? Here's What You Need to Know
Set the B2B Social Media Goals
If you're in the B2B sector, your goals may differ. Prioritise relationship building, thought leadership, or driving specific business inquiries through targeted campaigns.
It's worth emphasizing how invaluable social media is:
 

Drive targeted traffic to your website.

Build brand loyalty.

Boost sales.

 

Engage directly with customers.

Gain invaluable insights through social listening.
Follow These 5 Social Media Tips for Business
To ensure that your small business's social media strategy stands out:
Build a Human, People-First Social Presence:
Don't just sell; connect. Share stories, highlight team members, and engage authentically.
Look at Your Social Presence as a Resource:
Provide value. Share blogs, how-to videos, and answer frequently asked questions.
Show Up Consistently:
Consistency in posting on social media for business is key. Regular updates keep your brand on the radar.
Be Prepared to Experiment with Different Types of Content:
Mix it up! Use videos, infographics, polls, and more.
Don't Treat Your Social Presence Like an Island:
Ensure it works in tandem with other marketing efforts. If you've hired a social media advertising company, make sure they're aligned with your overall marketing goals.
Going Beyond the Basics of Social Media for Business
While the tips above give you a solid foundation, always be on the lookout for advancements. Platforms evolve, algorithms change, and new tools emerge. For instance, explore the world of influencer collaborations or deep dive into social media marketing services that offer AI-driven insights.
Another strategy to consider is leveraging the expertise of a social media advertising company. Companies like eBuilderz Infotech offer specialized services, ensuring that your campaigns get the expert attention they deserve.
Conclusion:
In the digital age, neglecting your social media business strategy isn't an option. Whether you're a budding small business social media newbie or a multinational giant, the virtual world offers a level playing field – if you know how to play the game correctly.
Remember, it's not just about being present; it's about making an impact. And with the tips and insights provided above, you're well on your way to mastering the art of social media for business. Whether you're DIY-ing your strategy or seeking external social media marketing services, the future is nothing but promising.
Here are a few more topics that you shouldn't miss:
Like this post? Don't forget to share