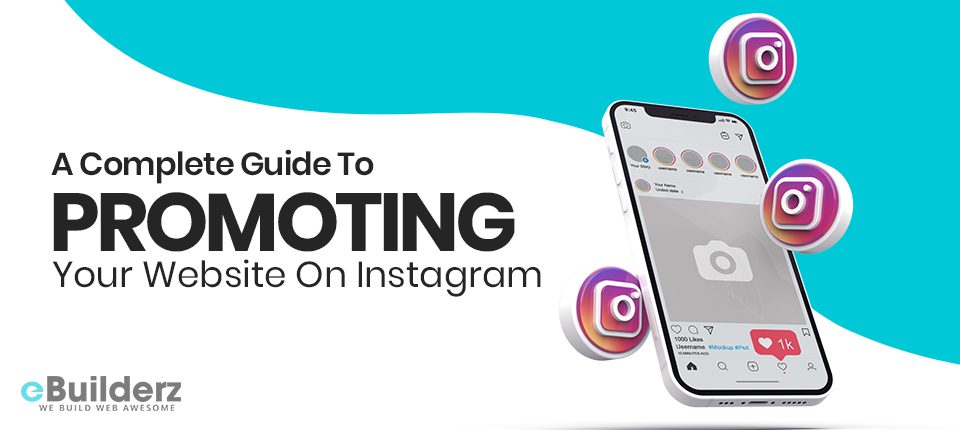 In today's highly competitive market, knowing how to promote your website on various social media websites like Instagram is crucial. It won't only help boost your website's exposure, but it can also make a difference in reaching your target audience.

Unlike other social media platforms, Instagram is a platform that focuses more on visuals. However, it is more than a platform where you can share photos and videos. With its countless users, it's undoubtedly an excellent marketing tool you can use to promote your website.
To take advantage of Instagram's power, read the guide below to promote your website on this social media platform successfully.
1. Set Up Your Instagram Account
Like other social media platforms, signing up on Instagram often requires personal information, such as your name, contact details, and email address. Then, choose your preferred username and password. If you don't have an Instagram account, you can create one easily and switch it to a business account afterward.
When creating a username for your Instagram, pick one that's relevant to the brand or website you plan to promote. While you can be creative with your username, you must also make sure it's not confusing for anyone who's looking for your business. It's because some people may use a private Instagram viewer to sneak peek at your content before they follow your account. So, avoid using unique and irrelevant usernames if you want to increase your followers and maintain consistency with your branding.
2. Add Your Website Link To Your Bio
Your Instagram bio will only provide you with a small amount of space to introduce your website and more information about it. However, never take your bio lightly, as it has the potential to build your rapport on this social media platform. Besides, whoever checks your profile for the first time will read your bio to know who you are and what you do or offer, and then click on your website.
Instagram only allows one link to be placed in a user's bio. If you have several important links you want to make readily available for your customers, you can use link-in-bio services that consolidate all your links in one place.
3. Use Instagram Stories To Promote Your Website
Instagram Stories is an excellent feature you should make room for in your marketing goals. This content is best for storytelling and inviting interaction from your followers. If you're introducing your website for the first time, share authentic content about it using Stories, and don't forget to include your website link and engage with your audience using stickers. This way, your audience will be more encouraged to check your website. You can also use the countdown feature to build up hype for your upcoming website launch or product drop.
While this content is temporary and disappears after a day, you can get constant traffic and extend its exposure by adding your Stories to Highlights. To make your Highlights catchy, design a creative cover and make its title straightforward and something that describes exactly what your stories are about. Don't forget to include your link in your stories to drive traffic to your website.
See More: Social Media Advertising Services
4. Use Previews And Teasers
One of the ways to promote your website on Instagram is to use teasers or trailers. Depending on your preferences, you can use videos or images to preview your website. For example, you can post a photo on your homepage or an excerpt from your published blog. If people find them interesting, they'll check your website out, which can drive traffic and increase your site's exposure to your target audience.

To make people visit your website, don't forget to include your link in the caption. You may also instruct your audience to click the link in your bio to learn more about your website.
5. Consider Instagram Paid Ads
While you can promote your website on Instagram without spending money, investing in paid ads can help you get quicker results. Instagram advertising involves paying to post sponsored content on the platform to reach a more targeted and much larger audience.
Unlike normal posts, Instagram ads contain product catalogs, links, and CTA buttons. This is why they can be a great method to generate new leads, grow brand exposure, and more.
There are various formats of Instagram ads, and these include the following.
Image ads – These ads use a single image to promote your website.
Video ads – Like image ads, a video ad on Instagram enables businesses to give their audience a closer look at their brand or website. An in-feed video ad can be up to an hour long, but shorter videos are more effective.
Carousel ads – These feature a series of videos or images that users may swipe through. They may appear both within Instagram Stories and in-feed, with a CTA button or a swipe-up link that leads users to your website.
Explore ads – These appear in Instagram's Explore tab, which is a place where users discover new accounts and content tailored based on their usage habits. Most Instagram users access the Explore tab, so it's a perfect place to get exposure for your website. Typically, Explore ads can be both videos and images.
Collection ads – These are a combination between shopping ads and carousel ads. They highlight products from your company's product catalog.
Depending on your preferences, you can choose any Instagram ad type as long as it matches your goals. If you're confused with the options, experiment with them and check the analytics to determine which drives more website traffic.
6. Take Advantage Of Instagram Reels
Instagram recently launched Reels, which is now a fast-rising trend for many users and content creators. It's much simpler to widen your reach through Reels than through hashtags and other Instagram features. This is why it's an excellent idea to create Reels to promote your website in addition to your posts and Stories.
You can consider many ideas when using Reels to promote your website. For instance, you can reveal your website's before and after photos. To make it more attractive, you can create a Reel about every section of your website. This may help encourage your followers or audience to visit your website.
7. Consider Influencer Marketing
If you want to successfully promote your website on Instagram, consider connecting with influencers in your niche. Influencer marketing is a good way to boost brand awareness because more people tend to trust influencers about their opinions. Once you work with reliable influencers to promote your website, you'll increase your site traffic and conversion rates.
Although you may need to spend some money, it's a surefire way to put your website in front of your target audience on Instagram. Just ensure that your chosen influencers use a strong CTA to encourage their followers to your website.
If you're wondering how to choose the right influencers for your brand, here are the things you need to consider:
Before you partner with any influencer, you must check if the influencers match your brand's values. To know the influencers' values, browse their bio, post captions, and content. Their bios will give you an idea of what brands they work for.
You must also look for videos or photos that can be related to your niche. Then, read the captions to know what they believe in and the things they usually talk about. Doing so will help you assess the content they create.
When working with influencers, you're providing them the freedom to create sponsored content for your website. Since their content will represent you, checking if their content quality is a perfect fit for your website is critical. When browsing your preferred influencers' profiles, look closely for content that's creative, well-composed, optimized, consistent, and clear for Instagram.
Your chosen influencers should be reliable if you want to ensure your collaborations work effectively and smoothly. The best influencers aren't only reliable but also proactive and know how to reply to messages professionally and promptly.
To promote your website to your target audience on Instagram, it's wise to collaborate with influencers who already have a relevant audience for your niche. Consider using an influencer marketing platform to know influencers with a similar audience in your target demographics. It'll give you a list of possible influencers you can work with.
8. Add A Call-To-Action (CTA)
Even if you can't add a clickable link in your Instagram captions, there's still a way to promote your website: adding a Call-To-Action to your post. For example, you can use a CTA in your captions and photos and ask users to click on your link in the bio.
You can be creative with your CTAs. Aside from encouraging them to click, you can also ask your followers to shop now, read this article, check these deals, add to cart, and more. CTAs that convey a sense of urgency help drive up your site traffic.
9. Use IGTV And Instagram Live
If you prefer long-form video content to promote your website, you might want to use IGTV and Instagram Live. IGTV is frequently used to upload any pre-recorded video content. On the other hand, IG Live is similar to Facebook Live, which is used by those who want to engage and connect with their followers.
To make the most of these features when promoting your website, there are several ideas you can consider, such as the following:
Give a behind-the-scenes look at how you created your website
Tell your website's purpose
Give a talk about your brand and design
For best results, always mention your website as you explain more information about it. For example, you can create a caption that indicates your website link. If possible, make your link simple and easy to remember so your audience can quickly type it in on a browser search tab.
10. Organize Giveaways And Contests
Giving away freebies and organizing competitions on Instagram can help promote your website. If it's your first time doing it, here are the tips you can consider:
The key to a successful Instagram giveaway is a valuable prize. You won't get traffic or engagement if your prize isn't appealing to your audience.
When planning your giveaway, know what your audience prefers and provide something relevant to your brand and valuable for them. For example, if you're an online business, you can give away your high-end products.
Since your goal is to promote your website on Instagram, your criteria should include sharing your website link with other social media platforms and Instagram users. To track the results, use specific hashtags and check your website's analytics. You can even add another detail to your criteria, like subscribing to your website's newsletter to know how many people participated in the giveaways.
Create The Best Giveaway Post
Your giveaway post should highlight your criteria and other information related to the contest. Other than the texts, you should also include a quality image that will entice your audience to join the giveaway.
Overall, a well-planned giveaway on Instagram can help promote your website effectively, enabling you to grow your audience and boost engagement rates. It's also a good way to connect with your target audience.
11. Direct Message (DM) Your Website Link To Your Followers
Other than sharing your website link in your bio, you can promote your website by sending its link directly to your followers. However, don't cross the line between establishing a connection with customers and spamming them.
Before you share or promote your website to your followers, start a conversation with them first. Then, slip in the link if the topic is relevant to your website.
You may also encourage your followers to chat with you via DM and ask relevant questions. If you want to make things easier, have a formatted reply instead of typing a unique reply for everyone. This way, you can easily link your audience to your website's relevant or specific areas and better understand their preferences or needs.
Conclusion
Using Instagram to promote your website may not be easy, but once you follow the above guide properly, you can guarantee that you'll get satisfactory results in the long run. It can help widen your reach and increase your sales, drive more traffic, and gain more potential customers in the future. With such benefits, it's never impossible to stand out among your competitors, regardless of your niche.
Here are a few more topics that you shouldn't miss:
The Ultimate Guide On WordPress Poll Plugin (with Images)
What Is the Best Free SEO Rank Checker?
Creating a Perfect WordPress Website 15 Approaches Elucidated
Like this post? Don't forget to share