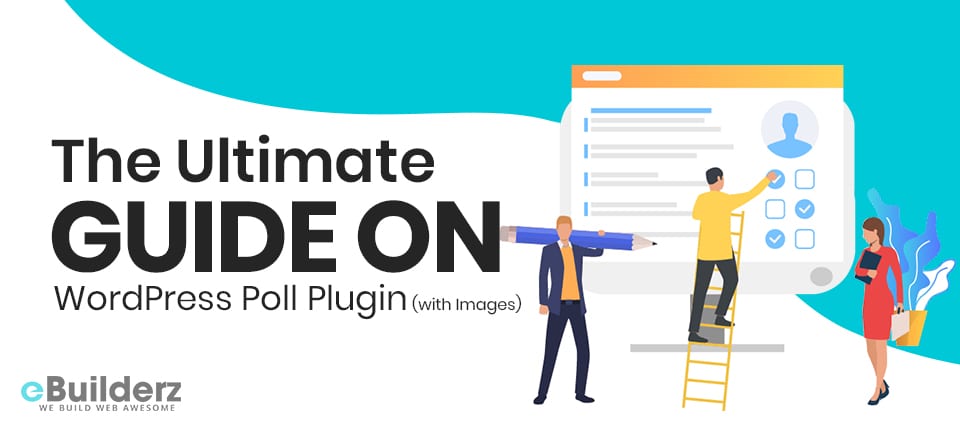 Conducting polls is one way to know what your target users want in a product. Their response will tell you whether you are on the right track or not. If you are running a website on WordPress, having the ultimate WordPress poll plugin will help you achieve many things. We have used many poll plugins in the past, but the one we chose to stick to is Formidable Forms. This great form building plugin has announced that users can now use images when building poll forms.
With Formidable Forms plugin, you can do more than just building online polls. This form builder plugin is also perfect for building survey forms, quizzes, questioners, contact forms, and many more. Get ready to be enlightened because, in this article, we are going to explore Formidable Forms as a poll plugin. We will explain to you why it is the best plugin to build poll forms with images.
What makes Formidable Forms one of the best form building plugins for WordPress is its innovativeness. For ten years now, it has helped many marketers and web owners build all sorts of effective web forms. With Formidable Forms, you can build surveys, polls, quizzes, and many more WordPress forms. What make this form building plugin stand out are the numerous features it offers
Over 300,000+ satisfied users use this form building plugin, making it one of the most sought after form building plugins in the WordPress community. Both the free and the paid versions have tons of features to help you get started easily. With this WordPress plugin, all your form-building processes will be seamless. If you are using the WordPress platform to host surveys and polls, Formidable Forms offers easier ways to build and manage them. One of those ways is using images in your polls. What this means is that rather than using text in your polls when users vote, you can use images.
This is a simple feature that allows users to include checkboxes with images in WordPress poll forms. Inserting images in your WordPress form is also easy. To add images in your forms, just add a radio button or checkbox field to your WordPress form.

After that, you can select Use Images as an option. Once you do this, the radio checkbox or button is going to be replaced with your chosen images. In the field option, selecting from the dropdown box will help you choose your image size:
Extra-large: 400px
Large: 320px
Medium: 250px
Small: 150px (the default size)
choose image size
The visual form styler allows you to change the looks and the feel of your poll images through editing. This is perfect for those with zero coding and CSS skills. When you are done with that, it's time to move to that most vital part, which is uploading your images. You can do this by clicking on the Upload image button.
Also, you can read How to Make a Quiz in WordPress with Formidable Forms
Formidable Forms offers you an option to pick an existing image in your library and use it. You can also use a new image by uploading it.

Adding Polls within the WordPress Dashboard
If you haven't used this plugin, you may think that creating a poll in WordPress is hard. Well, this isn't the case. You can do that with ease by building a form and arranging the fields using the drag and drop editor. You will then end the process by customizing the field options.

After creating your poll form or any other type of form, the next step is to publish your poll form. This is done easily by copy-pasting the shortcode to any page or post on your website. Another way you can use to publish your poll form is with the plugin's widget.
Adding multiple forms with Formidable Forms to your site is a breeze. You should also know that besides adding responsive poll forms on your website, this plugin can also build all sorts of WordPress forms. Replacing radio buttons with images in other forms is also possible with this plugin.
Quizzes
Formidable Forms is also a great tool for adding quizzes to your site. The best thing about it is that you can also insert images in your quiz form. This makes your quiz look unique. What makes many quizzes go viral is their visual appeal, and adding images is the best way to do this. If you are running an online course and offering questions with multiple choices, adding images will offer a whole new experience to users. To achieve this, you need the Formidable Quiz Maker add-on that comes with the Business Plan.
Surveys
Make your surveys engaging by adding images. When you do this, it will boost the conversion rate. Wondering why almost all blog articles have images nowadays? The reason is simple. People find images easy to understand. Therefore, don't drag your site by failing to use images to attract prospects.
Contact forms
A contact form is a must if you are running a business online. The reason being, you make it easy for users to reach you for inquiries, orders, or complaints. The beauty of this form building plugin is that it also allows you to include images in your forms. This makes form filling fun rather than using a dropdown menu. If your users find the form filling process easy and exciting, it is easy to turn them into loyal buyers.
Signup forms
Leads are vital for anyone who has an online venture. When you want to make it easy for people to sign up for your products or services, you need to use a proper email list. You can do this easily with your sign up form. Adding images to your sign up forms makes it easy to lure your prospect to sign up. Don't miss this chance to increase signups on your website, using this WordPress form builder.
More Features of this WordPress Poll Plugin
Formidable Forms has many advanced features that allow its users to do and engage more with their forms. As we have mentioned above, it's the latest feature is an option to add images in your polls and other kinds of forms. Besides doing all that, Formidable Forms also has many other unique features to offer
Display Data with Views
This WordPress form building plugin has a vital feature called the Formidable Views feature. We know that you always want to view your data in an easy to grasp way. With this feature, you can easily turn your data in any format you like. A good example to help you understand is those viral questions that users answer in quizzes to determine what kind of character they are in the Disney world.
Here, if you want to know which Disney character fits your matches with you, you will have to answer a few questions. Once you are done with it, they will give you the kind of Disney character that suits your behavior. When you are using Formidable Forms, it allows you to configure your quiz to do many things. Among them are options to text, images, or display a link to share the quiz upon finishing the quiz.
Displaying more than just text in your polls, surveys, or quizzes is much better if you want to engage more with your site visitors. Boredom is the number one reason why many users click away. Therefore, try to make your forms exciting by adding stunning visuals with Formidable Forms.
Graphs, Charts, and Reports
Users are always excited to see the results of the polls, quizzes, or surveys in real-time once they are done. Graphs and charts are one of the best options for showing poll results. You are going to love this form building plugin as it offers unlimited ways to customize your charts, graphs, and reports. The plugin allows you to show your poll results as a 3D pie graph or as a bar chart.

Smart Conditional Logic
Smart conditional logic is a vital feature when you want to customize your poll questions. For example, you can give different questions to your users based on the ages. All you have to do is use this feature to determine which type of questions to ask. However, you will have to ask the age of the user first before giving the poll questions.
Integration with CRM and Email platforms
The integration power that this form of building plugin offers is endless. You don't have to worry when you want to connect it with other services. Formidable Forms integrates with many other web solutions such as MailChimp, HubSpot, WooCommerce, and many more.

A unique one is an integration with Twilio, a service that allows you to receive text messages.

Final Thoughts
Formidable Forms is the kind of plugin that you run to when you want to stay ahead in the online world. The industry is quite competitive; that is why you need this powerful WordPress poll building plugin. As you have seen, creating engaging polls and other forms is very easy. What makes it even better is its latest feature to include images in your polls. Go ahead and try it to see what it does to your form and poll making process.
Here are a few more topics that you shouldn't miss:
How To Create WordPress Multi-Page Form [Step-by-Step with Pics]
How to Preview Before Submit in a Multi-Paged WordPress Form
New eCommerce Features from Formidable Forms Plugin
Like This Post? Don't Forget To Share