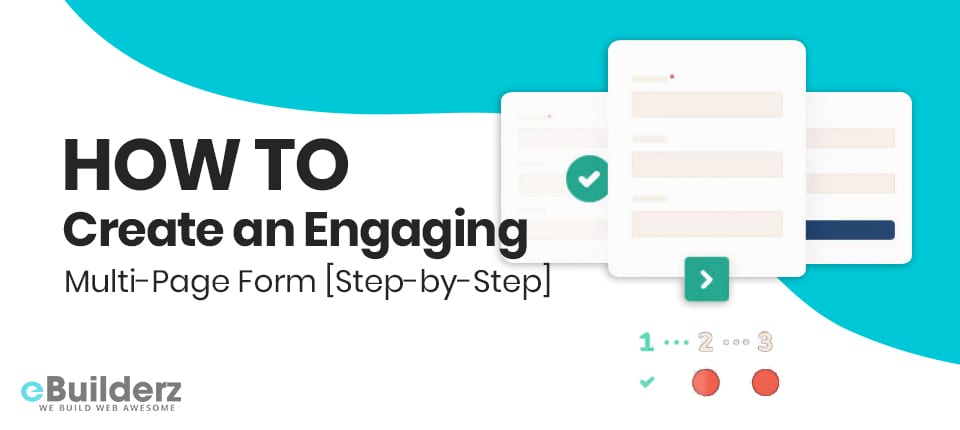 Having a lengthy form on your website makes the form filling process long and tiresome. Most of your visitors may give up along the way. That is why you need to split your form into multiple pages to boost user engagement and conversions. Splitting your form also improves user experience by reducing form fatigue when filling out the form. When you make it easier for your users to engage with your website, you stand a better chance to turn them into loyal clients. 
If you are wondering how you are doing to split your form into multiple pages, you can breathe easy as this article will help you. We are going to show you the seven easy steps of creating WordPress multi-page form using WPForms. 
How does a Multi-Page Form Help?
If you are not familiar with a Multi-Page, it is when you split a lengthy form into several pages or steps to reduce its length. Besides dividing your form into more steps, the main purpose of doing this is to increase conversion. A multi-step form is also called a multi-page or a multi-part form. If you have a form with more than three fields, it is a good idea to split it into multiple pages to make it look short. 
Using a multi-step form has proven to increase the conversion rates of many websites by up to 50%. This means more converts and more leads, which are vital for site growth. If you have a long-form, you need to split it into pages to encourage the user to sign up. 

Why you should use a Multi-Step form in your WordPress website?
Increase focus
When you group questions in your form, you make it easy for your users to understand them. This means they will concentrate on what is vital to them. 
Reduce form abandonment
Splitting your form into steps, your users are more likely to complete the form filling process. Lengthy forms are confusing and tiresome to fill out. 
Gather needed info only
Using Conditional Logic, you make it simple and easier for your WordPress users to give needed info only. This is a vital feature found in the WPForms form builder. 
Checkout Quick Video Review On How to Create a Multi-Page Form in WordPress with WPForms

Source:- WPForms – WordPress Forms Plugin
Now that you know what a multi-step is let's move on to how to create a multi-step form in WordPress.
7 Vital Steps in Creating a Multi-Step Form in WordPress
Step # 1: Create a Form in WordPress
Before splitting your form, you first need to install and activate WPForms. This is one of the best form-building plugins in WordPress. If you are not sure how to do this, we have lots of guides online on how to install a WordPress plugin. 
When you are done installing your form builder, head over to WPForms and select Add New, to build a new form, WPForms makes it easy for you to break your form into multiple pages. In this article, we are going to create a simple contact form and show you how to split it into steps. 
You need to name your form first on the setup screen and pick a template that you want to use. Your template choice will depend on the type of form you want to build. Since we are creating a contact form, we are going to select the Simple Contact Form template.

Using the drag and drop builder, WPForms will help build a simple contact.

Adding extra fields to the contact form is done by drag and dropping fields from the left-hand side of the panel to the right-hand side. 
The simple contact form template comes with the Name, Email, and Message or Comment form fields.
Also, you can read:- How to Create a File Upload Form in WordPress
If you want to make changes in any of these fields, simply click on them. Clicking and dragging the fields helps you to rearrange their order on the form. For more complex forms, we have detailed tutorials on how to build them using the premade templates in WPForms. Some of these forms include:
Request a quote form

Job application form

Order form

Survey form

Poll form

User registration form
The above forms are usually longer than the simple contact form. This means that you will need to split them into multiple pages to make it easier for the user to engage. They also require more info from the user. After building your contact form, the next vital step is to split it into multiple pages. 
Step # 2: Splitting the Form into Several Parts
After building your form and you are satisfied with how it looks, you can split the form by adding the Page Break field. This form field will help you to easily split the form into different pages.
This is done by going to Fancy Fields and dragging the Page Break form field. Drag from the left to the right-hand panel.
The field needs to be placed where you want to split the form. Place this field everywhere you want to split your page into different parts.

Once you are through doing this, you can then complete your form by adding extra fields. 
With WPForms, you can split your form into as many pages as you like. However, you do not need to overdo it as this may overwhelm the user. Just put fields that will help you gather enough needed info. If you want extra details, you can always collect them later.
Step # 3: How to Customize the Progress Bar
You may want to include a progress bar to make things simple for your users. This will depend on your needs. A progress bar indicates the different sections of your form. You users will know where they have reached in the form filling process and what is left. WPForms makes things super easy by offering three breadcrumb style indicator bars for your multi-step forms. They include:
Connectors: These are used to show page titles and connecting bars of each part of your multi-step form.
Circles: On the multi-step form, they are used to show page title per page.
Progress Bar: This is used to show the progress made by the user in the form filling process. 

Click on the First Page Break section to customize the page title and the progress bar of the first page of the multi-step form. 

In the form editor, a new panel will appear. Here, you can pick the kind of progress bar you want. The color of the progress indicator can also change. Another thing that you can change here is the page title. This is to allow users to know where they are on the form when using Circles or Connectors option. If you don't change this option, users will only view the standard progress bar. 

If you want to customize the button that takes visitors to the next page of your form, just select the created Page Break. This also applies to the next page. 

The feature that allows you to show your users the previous page is also changeable. This button comes in handy when a user wants to go back to the previous page of the form.

The button copy will also change when you decide to do this. Click on the Save button to save changes when you are done with adding all the page breaks and customizing the progress indicator. 
Step # 4: Configuring the Form Settings
Here, you start by going to Settings then General. This allows you to configure:

Form Name 

— You can put up another name if you want. 

Form Description 

— Describe what your form is all about. 

Submit Button Text 

— Change the copy on the submit button.

Spam Prevention 

— This allows you to use the honeypot feature to or reCAPTCHA to avoid contact form spam. Since the honeypot feature is enabled in WordPress, you can unclick it to use other spam preventers. 

AJAX Forms 

— Allow AJAX settings without reloading the page.

GDPR Enhancements 

— This lets you disable the keeping of sensitive entry information such as user agents and IP addresses. This helps you to adhere to GDPR requirements.
Click on the Save button, once you are through with this process to apply changes. 
Step # 5: Configuring Notifications on the Form
Whenever the form got submitted, you can send an email from your website using notifications. 

You will always receive notifications of multi-step form submissions on your site if you don't disable this feature. You can also use Smart Tags when users submit forms by sending notifications to their email addresses. This is to let them know that you received it and that they should wait for your feedback in a short while. This will confirm to the user that the filled out form was sent successfully. 
When it comes to a multi-part form that takes time to feel, notifications show that you appreciate the user's efforts in filling it out. You don't want your site visitor to wonder whether his or her form was received or not.

Step # 6: Configuring Confirmations in Your Form
Messages that the site visitor gets once the form is submitted are called form confirmations. Besides letting your visitors know that their forms went through properly, they also allow you to tell them that the next step is. This is vital info to the user since it took a lot of time to fill out this long-form. 
When you use WPForms, you will get to pick from these three confirmation types:
Message – In WPForms, this is the default confirmation type. Here, a simple confirmation message will display once a user submits a form. This confirms to the user that the form was received and processed. You will get lovely success messages to boost user experience. 
Show Page – This type of confirmation takes users to a specific web page to thank them for their cooperation in filling out the forms. If you need help with this, you can look out for our guide on redirecting customers to a thank you page. When you want to send your site users to a different web page, go to URL (Redirect). 
Here is how to customize the Message your site users see by setting up a simple form confirmation in WPForms. 
We'll start by heading to the Form Editor, under Settings and clicking on the Confirmation tab.
Once you are here, choose the type of confirmation type you want to create.

We will use the Message in this example. After that, just customize the confirmation message the way you want and click on the Save button. The next step is to add the contact form to your website. 
See More:- New eCommerce Features from Formidable Forms Plugin
Step # 7: Add Your Form to Your Website
When you are done creating your multi-step form, to make use of it, you need to add it to your WordPress site. What makes WPForms form builder a great plugin is that it allows you to insert the multi-step form in various places. You can add it to your sidebar widgets, on your pages, or blog posts. The most common placement option is embedding the form on the page or post. 
First, you need to create a new page or post in WordPress. If you want, you can also use an existing one by updating it. Once you are done, click inside the first block. This is an area found below your page title. Next, click on the Add WPForms icon.

You will see the WPForms widget appearing inside of your block. Select from your forms, which one you want to add on the page by clicking on the WPForms dropdown. Choose the contact form that you have just finished creating.

The next thing is to publish your page or post to make the contact form show on your website. 
Once you are through, head on top of the panel and click on the blue button that is labeled either Publish or Update, this will make your contact form appear on your site. 
Click on the Save button and publish your multi-step form

Final Thoughts 
That's it. You have created and added a multi-step form in WordPress. You can now boost engagement in your site with improved user experience. This will lead to more conversions and, eventually, more leads. As you can see, WPForms offers plenty of form building options. It also offers lots of customization so that the user gets what he or she needs. That is why it is the most used form builder for WordPress platform users. We are glad that you read and understood this article. Feel free to share with us by leaving your comments in the comments section. 
Here are a few more topics that you shouldn't miss:
How to Make a Quiz in WordPress with Formidable Forms
How to Set up WordPress Mail Log In WordPress
How to Create Custom Calculators with the Formidable Form Plugin
Like This Post? Don't Forget To Share