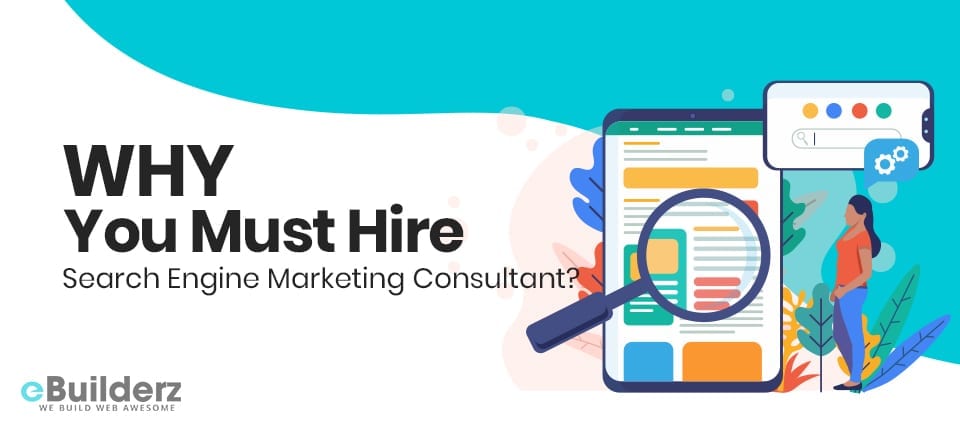 The business market place is competitive. Let a search engine marketing consultant help you get a place in the market. SEM experts help you capture a vast online market. eBuilderz, are a Los Angeles SEO company dedicated to seeing you succeed.
Some years ago, it was easy to use search engines. All you needed was to use the right meta tags and keywords. But with time, millions of companies joined the online community. Search engines developed a trust-based method to keep the relevant website at the top. The process now is not easy, but with the right skills, you can use the search engine and win the trust of many;
Search engine marketing is essential in the modern business world. Due to the stiff competition, you need to hire the best skills to keep your business visible online. With a large market, you are sure to increase your sales.
Research findings show that technology affects your business directly. You need to know the tips and strategies to take advantage of the internet. Take a look at the following research findings;
93% of online searches are through search engines
85% of surveyed retailers say that SEM is a powerful tool to get customers
61% of online marketers focus on SEO and improving organic presence
Generating traffic and leads is hard for 63% of online marketers
57% of B2B marketers use Search Engine Optimization in generating leads. It is a better strategy than others
SEM increases traffic immediately. But you experience long-term conversions in about 3-4 months
75% of internet users search the first page of a search engine
From the above data, you can see that stakes in search engines are high. Marketers who are aware of this fact take you through the basics of Search Engine Marketing. You also learn some search engine marketing tips and strategies.
You need to understand some basics under the following headlines;
What Is a Search Engine Marketing Consultant?

A search engine marketing consultant helps you boost your website's SEO and PPC. They tell you about the methods to attract new viewers and followers. Search engine optimization is natural; all you need is to start with a site audit. There are SEO tools that help you scan through a website and know the step taken to make the content visible online. You also understand what you need to do to rank higher in the search engines.
Search engine marketing experts create strategies to help websites rank higher. They point out what is missing and what you need to do. Also, they suggest and put in place methods for your business success.
An internet marketing expert uses SEO and chooses the right content and keywords for your target client. When you add SEO and other marketing tools, SEM experts create a strong campaign strategy.
SEM vs. SEO; What's the Difference?

Search Engine Marketing involves paying search engines like Google to show your ads. On the other hand, SEO refers to using the right keywords and strategies to increase traffic and clicks.
Search engine marketing agencies help you include SEM and SEO in marketing strategies. SEO keeps your content visible in the search engine for a long time. Then, SEM increases sales at a small budget.
What Do Search Engine Marketing Consultants Do?

Search engines use ranking bots to assess the use of keywords, content quality, and backlinks. SEM experts look into these areas and suggest the best strategy to help you rank.
Search engines such as Google, Bing, and Yahoo revise their algorithm from time to time. The move makes search engine marketing an evolving field. Search engines can knock out your website. Thus, it would help if you were up to date with any updates. If you cannot keep up, hire a search engine marketing consultant to fill in the gap.
In the event your website suffers a demotion, an SEM expert can find out the reason. They also apply strategies to regain your website ranking status.
Other professionals work hand in hand with SEM consultants to rank your website. They include;
SEO specialists
SEM analysts
Internet Marketing Directors.
What are the Responsibilities for Search Engine Marketing Consultants?

Promote content of a website to boost SEO
examine, check and report website data, campaigns, and pay per click (PPC) drive
Test, explore and collect website data from pointing out current trends to increase RIO in paid search drives
Provide support and ideas when developing marketing schemes to lift a website position in the market
Weigh the effect of a marketing plan, communication, and promo programs of a company
Do keyword research, expansion and keyword upsurge
Update you on changing SEO trends, design, new tools, and robotics
Tell your SEO team on the best SEO practices and put a working SEO scheme for the company.
How Will a Search Engine Marketing Consultant Benefit You?

Know the benefit of an SEM consultant before you add them to your promo team. Their job is vital to global and local businesses. But, do you know that an SEM expert can increase your company's profit margins?
Search engine marketers, as expert internet marketers, understand how search engines work. They deliver results in the least time possible. Also, they increase your PPC and SEO performance to raise your site sales and earnings. Below are tips on how they boost your web ranking;
A high number of Visitors
When your site ranks on the first page of the search engines, you get more site visitors, which leads to high sales rates.
Improve your site's Influence
Search engines examine your Influence before ranking you higher. As a business person, you should strive to keep your site on search engines' first page. People have trust in searches that pop up on first on search engines.
Improve Online Visibility
As an SEO beginner, inevitable mistakes trap you into local searches in a way you fail to pop up in various search engines. SEM consultants help you correct the error and improve your site visibility.
Cut advertising costs
When you rely on PPC and paid ads, the RIO may be very low. But an SEM consultant can help you increase the RIO by making your campaigns efficient. You get new customers at lower rates, then re-invest the savings to attract more clients.
Improve conversion rates
It would help if you had suggestions from an SEM expert because web visits don't assure sales. An SEM consultant points out what you need to improve on your landing page, service page, products, and drive ads to reach the target clients.
An SEM expert looks into your site performance, increases the efficiency in ads and PPC drives, improves user experience, and adds essential keywords. These schemes reduce the cost of getting a new customer and improve your sales rates.
How to Become a Search Engine Marketing Consultant?

Various colleges offer a Bachelor in Marketing Course, the most popular SEM/SEO experts course. Through this course, you understand the theory of SEO and SEM. You also get promo skills and the technologies in the marketing career. The course focuses on;
Principles of Marketing
Marketing Strategy
Marketing Research
Supply Chain Management
Consumer Behavior
Organizational Behavior
Beat your rivals by focusing on Social Media Marketing and Marketing Research. You can get more practical and cheap courses online, including Marketing MOOCS and Digital Marketing Bootcamps.
MOZ states that the Google algorithm adjusts approximately 500-600 times each year, which makes the SEM schemes unstable. Thus, it means that no SEO course can be up to date with Google algorithms; hence, you need to update yourself as often as possible. Best organic SEO and SEM strategy requires you to know the basics, then boost it with your creativity and common sense. To increase a site's ranking life, invest in high-quality, useful, and educative content, then back it up with valuable backlinks.
The most critical skills any search engine expert should have include;
Written communication
Common sense
Critical and analytical thinking
Back the above skills with relevant certification such as;
Conclusion
Search engines are easy to traverse; yet, they are tricky. A wide range of search engine specialists helps businesses with their skills. Among them, the communication skills were before all other professions. SEM consultants know how to use more than one power to improve the quality of online content, unlike different tech-based marketing strategies by digital strategists.
An entry-level SEM consultant uses the necessary skills and creativity to deliver top-notch results. They have a chance to learn in the job-, it's what all SEM consultants do.
It would help if you had much practice to learn a notable percent of SEO and SEM schemes. Most of the time, SEM specialists with different skills form an organic SEO company and offer extensive services.
eBuilderz – a Los Angeles SEO Company– has won various awards as a search engine marketing agency. Get in touch with us when you need SEO, On-page SEO services, paid search, and other services. We offer a free consultation to focused businesses.
Here are a few more topics that you shouldn't miss:
How to Create Online Donation Forms for Nonprofits
10 Benefits of Social Media Marketing for Your Business
5 Ultimate Sites to Check Google Keyword Rankings Accurately
Like this post? Don't forget to share