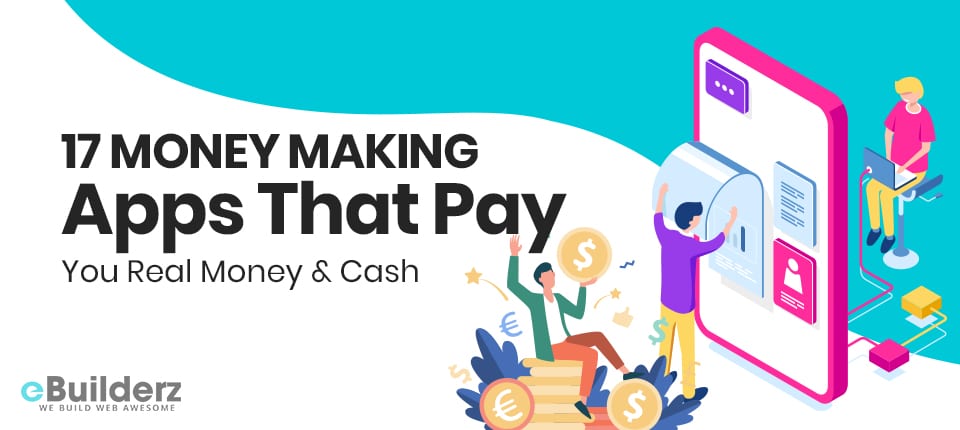 Making money through apps has become a norm nowadays, and many people are looking for money-making apps to make some quick bucks. If you are one of them, this article will help you find the right money-making apps. The amount of time we spend on our smartphones and mobile devices is enormous. Brands have realized this and are taking this opportunity to gather data from their target audience. They even offer incentives for users' opinions. We have many apps that pay you to do simple tasks online and offline. Many people are using these apps to make passive income, while others use them to earn a living.
Earning from mobile apps may seem like a weird concept in the beginning, but as you continue, you get the hang of it. Technology has made it quite possible to earn from apps, and you can even track your earnings. Not everyone can access desktop devices, but smartphones are easy to get. This makes it even easier to earn money through mobile apps, especially if you are always on the go.
Students and housewives who want to make money from home can easily do so using mobile apps. All they have to do is look for apps that offer what interests them, and they will be laughing all the way to the bank. Whatever operating system you are using (Android or iOS), you will get suitable money-making for you.
In this article, we are going to list down 17 of the most effective money-making apps that will guarantee you passive and even substantial income. These apps range from mobile advertising apps to market research apps. Brands are using these apps to find out what their target audience is looking for in a product or a service.
Picking a proper app that will help you work from your home can be very tricky. This is when you consider there are thousands of apps that claim to offer real money to use them. Before you can settle down for one of these apps, it a good thing to research first. This will help you make an informed choice.
Information gathered from these apps is given to brands for strategic reasons. You should, therefore, look out for scams that ask for registration fees when signing up. Other lure you with inflated earnings that seem to ridiculers to be true. Before installing money-making apps into your phone, read reviews, and check their ratings. This will help you know if it's legit or a scam.
If you are wondering if this is possible, we have compiled 17 of the best money making apps of 2020 that pay real money. These money making apps are readily available for both Android and iOS devices. Read on for more insights.
Google Opinion Rewards – Paid Surveys For Cash

If, you have been in the online world long enough. I am sure you have heard of paid survey apps. These money making apps give you surveys which you need to fill them and get paid. It is quite common around the world, especially in India. Once you've filled out these forms correctly and submit, payment will be made.
Google Opinion Reward earning app is well known for surveys that pay real cash. I like this app because you can get it for both Android and iOS OSs. Making money with this app is pretty easy. All you need to do register once you've installed it. They will send you alerts when there is a survey for you to fill out.
They ask all manner of questions. You may be asked, "Which logo is best?" or "Which promo is most compelling?" These are just a drop in the ocean of what they ask. You can get up to ₹32.20 in Google Play credits as a reward for filling in surveys. You can use it to buy movies, apps, games, music albums, and more.
They'll give you 20 to 30 surveys every week when you start. These surveys will ask you for your opinion or reviews about products. The data is then given to brands to show insights about them.
Credits range from as little as 0.1 cents to $2. Since this service is offered by Google, there is no need to doubt them. They don't allow you to answer survey questions randomly. If you try this, they have ways to detect this practice. The number of surveys sent to you will reduce once they find you doing this.
Rated 4.6 stars and 10M Downloads on Google Play Store.
Rated 4.7 stars on the Apple Store.
Download the app: Android | iOS
Helo App – Discover, Share & Communicate

Helo has over 100 million users in India, making it one of the fastest-growing money making apps of 2020. What makes this earning app great is that it allows you to make friends and chat with them. You do this as you make money with it. Helo gives users up to 350 Rupees for every new user you recruit or refer to. Payment is made through Paytm or straight to your bank account.
Rated 4.2 stars and 100M Downloads on Google play store.
Rated 4.9 stars on the Apple store.
Download the app: Android | iOS
Meesho – Reselling Products

If you are like to invest, you are reselling is a good idea. The beauty of this is that you can begin at the comfort of your home. In India, this app is known for offering easy ways to make money by helping people to start their own ventures.
There isn't any easier way to make money from home than reselling. What makes this option easy is that it doesn't need a huge amount of capital to start. Women in India love it since they don't need to set up a physical store. All you need is a smartphone with an Internet connection. Download the Meesho earning app and look for products you'd like to promote. The good thing is that you will get them on many categories. You can't miss any interesting products. These products are sold at wholesale prices.
The Meesho app allows you to share products on social media platforms such as Facebook and WhatsApp. Users can also add their margin prices to these items. Once you get an order, you can place the final order and keep the margin price.
Meesho is a giant in India when it comes to the best apps to make money. It has even inspired other reselling money making apps in the past few years. However, success doesn't come easily with a reselling app; one needs to put more effort. All you need to do is promote your items constantly and establish a base of loyal customers. Once you do this, you are going to succeed.
Many people think that reselling is for those with no jobs. This is not true; in fact, most of those using these money-making apps are working full time. They do this as a side hassle. It offers a great way to learn how to do business.
Choosing to own a business with Meesho will do more than making you independent. You are also going to learn communication skills. You will have it easy when you quite your 9to5 job to start your own venture. Since you know what customers want, you will supply them, and this will increase your earnings. As an active reseller, you can earn up to ₹25,000 per month. Others have even managed to earn up to ₹ two lakhs every month.
You stand a greater chance of earning more if you run your Meesho reselling venture full-time. You will also earn passive income if you treat it as a part-time job, which isn't so bad. The Meesho app has helped many housewives and students to earn a living by reselling. This is because you can easily run it at home.
Rated 4.4 stars and 10M Downloads on Google play store.
Rated 3.0 stars on the Apple store.
Download the app: Android | iOS
Roz Dhan – Read News & Play Games

If you are wondering what apps pay you real money to play games, this is one of them. What makes Roz Dhan the best money making app for Psytm is it's over 10M+ Downloads on the Google Play store. The app pays you for daily check-ins, play games, and sharing articles. When you refer someone to sign up and install Ron Dhan, you get Rs 50. You get paid through Paytm. You can also earn coins and turn them into Paytm. This is done through playing money earning games and for daily check-ins.
Rated 3.9 stars and 10M Downloads on Google play store.
Download the app: Android
Sweatcoin – Best Fitness App

Daily workouts can be tough if you go outside every day. Why don't you make it easy by getting the Sweatcoin fitness app? This is a great motivational app. The thing that makes it's better is you get paid to keep fit. They pay you by completing fitness steps given by the app. However, payment is made through digital currency (Bitcoin).
You get started by downloading the Sweatcoin app and allow it to run on your phone's background. The next step is to get moving by following its workout routine. For every 1000 steps you take, you will earn 0.95 Sweatcoins. The Sweatcoins are redeemable when they reach a certain amount. You can redeem them to get Apple watches, anti-gravity yoga sessions, an iPhone, or a vacation. If you don't intend to do some serious workout, this app is not for you. The reason being that most items will cost around 20,000 Sweatcoins. If you do the math, 10,000 steps/day, will get you 9.5 Sweatcoins. You will need to do this for over six years to earn enough for a single item!
Rated 4.0 stars and 10M Downloads on Google play store.
Download the app: Android
Make Money – Free Cash App

When it comes to apps that pay, Make Money app offers simple but powerful ways to make money online. You get paid for watching videos online, testing free apps, testing services, and doing surveys. You can also make money through endorsements and free trials. Payment is through PayPal.
Rated 4.6 stars and 10M Downloads on Google play store.
Rated 4.9 stars on the Apple store.
Download the app: Android | iOS
Rakuten – Best App for Bargain Shoppers

This app used to be called Ebates before changing to Rakuten. The app rewards its users with cash back from shopping.
With more than 2,500 stores partnering with this platform, its the best money making app for online shoppers. All these stores pay Rakuten commission referrals. The platform then splits the commission with its users as cash backs.
These stores include:
Amazon
Walmart
Kohl's
Macy's
eBay
Expedia
JCPenney
H&M and more
Cashback offers can go up to $10 in bonus when a user orders before 90 days end after becoming a member. A few friends of mine who use Rakuten received over $50 last month in checks. You can choose to withdraw from PayPal or electronically.
Rated 4.0 stars and 1M Downloads on Google play store.
Rated 4.3 stars on the Apple store.
Money App – Cash for Free Apps

You can get the money app for Android or iOS devices. The Money App is a market research app that gives you money for doing tasks. These tasks include offering opinions, mystery shopping, participating in free trials, playing games, checking store displays, and testing services.
You only need to open an account to get started with this app. When you complete tasks, you start getting rewards. These rewards are redeemed later for cash through PayPal. After redeeming your rewards, you can get paid within two to three working days. This is great since most marketing research apps don't offer cash or pay once a month.
I think this is why it scores 4.8 out of 5 on Google Play and iTunes. I fact, a reviewer wrote: "I got my first 10 dollars within five days. That's pretty good for not getting up off the couch."
Rated 4.7 stars and 1M Downloads on Google play store.
Rated 4.9 stars on the Apple store.
Also, you can read:- 12 Most excellent B2B Mobile Apps for Managing Your Business 
Crash karma – Best App for Gift Cards and Rewards

Crash Karma is an awesome app to subsidize purchases at Walmart, Amazon, Target, Google Play, Starbucks, iTunes, and other stores. You can also use it with other top branded gift cards from crash karma.
Karma points are earned from trying new products, filling out survey forms, or shopping for new deals. Another way of earning is through unlocking achievement badges.
Rated 4.4 stars and 1M Downloads on Google play store.
Rated 4.4 stars on the Apple store.
Download on Android
SB Answer – Install Mobile Apps and Earn

Swagbucks has been around for some time now. They help you make money through online surveys, watch videos for money, searching the web, and playing online games. They also offer simple tasks that can make you money. You will get rewarded with SB coins that can be redeemed for gifts or cash.
Swagbucks gives away gift cards for 1000+ retailers. You can get gift cards from Walmart, Starbucks, iTunes, Amazon, and more. Cash is also claimed through PayPal transfers.
Rated 4.0 stars and 1M Downloads on Google play store.
Rated 4.4 stars on the Apple store.
Download the app: Android | iOS
Frapp – Best Money Making App for Students

Are you a college student and want to earn money via internships? Or do you want to get work straight after college? If you are, then you are going to like the Frapp app. The app is available for Android and iOS users. Being one of the most popular money making apps in India, Frapp makes it easy for students to get paying jobs. Students who are in their twenties and or out of college will love this app.
Students can make money while gaining experience. They also get exposure by working for different companies. Students will have to go to their offices and complete certain tasks that they are going to be given. After completing these tasks, the student will receive a reward. Some of the jobs that students like to apply for include network marketing, student ambassadors, event management, and volunteer work. Opportunities are many, and students can always find what they are passionate about.
Besides opportunities, the app also hands out discount coupons for students. The coupons are used at major outlets that are commonly used by students.
Rated 4.4 stars and 1M Downloads on Google play store.
Rated 4.5 stars on the Apple store.
Slidejoy – An App for Locking Screen Cash Rewards

Those who love to use lock screen in their smartphones will like the Slidejoy app. They reward you for using their lock screen app. They also show you personalized ads and trending news on the first screen of your phone.
Firstly you need to do is register for this service, and you'll get a card with news every time your phone is unlocked. You will also receive promotions on your lock screen. Mian thing you need to do is swipe and unlock. After that, you can redeem the carats they give you for cash or gift cards. You won't receive more carats by swiping on more ads.
To see more ads and news, just slide up on your lock screen. When you slide right, you will unlock your phone. On your home screen, just slide left to get more info. To access notifications and shortcuts slide downwards. You will earn 2,000 Carats when you have registered and used Slidejoy for one month. The carats can are redeemed for gift cards to PayPal. You can choose gift cards from your favorite brand, like Amazon, Steam, Google Play, and more. If you like, you can donate to a charity of your own choice.
Rated 3.8 stars and 1M Downloads on Google play store.
Download on Android.
See More:- AppPresser – Build Mobile Apps with WordPress
Foap – Best App for Buying Photos

Did you know that there is an app that pays you for sharing your photos? Yap, Foap is one such app. You can now turn your photos into cash by uploading your taken photos. The photos are sold to popular brands all over the world. It is a crowdsourcing platform for major brands, marketers, and advertisers. They find you buy images from their registry. They have around 2.5 million followers worldwide.
To use this app, register for an account and start uploading your images. The images must have clear tags to allow the Foap community to rate it. High rated images will have better visibility. Users can sell their images via Foap Missions or at Foap.com. The app has partners that help to distribute photos. One such partner is Getty Images.
When one of your photos is sold, you get 50% of the sale. Missions are rewarded with prizes starting at $50. Payments are done through PayPal and can reach $100 per sale.
Rated 3.2 stars and 1M Downloads on Google play store.
Rated 4.5 stars on the Apple store.
AdFly – Paid URL Shortener

Adfly is a great app that offers link shortening services. In other words, if you have a long URL, they help you to reduce it. The service also offers a great way to make money online. As a user, all you have to do is use Adfly to shorten links, and the link will be monetized. This is done through advertisements. For every 1000 clicks, you will get a share of the sale.
A full-page will be displayed to every visitor who clicks the Adfly link. The page will stay for 5 seconds before skipping the ad using the Skip Ad button. The country in which the link is clicked will determine the amount to be paid. Once the threshold limit is reached, the user can transfer the money to his account.
Rated 3.4 stars and 1M Downloads on Google play store.
Rated 2.8 stars on the Apple store.
Download the app: Android | iOS
Cointiply – Earn Money in Bitcoin

This is a micro-task website for earning free Bitcoins. To earn from this site, you need to do tasks such as playing games, installing apps, filling surveys, viewing ads, and more. For every task that you do, you will be given a fraction of Bitcoin called Satoshi. The website also allows you to convert your Bitcoin into hard cash.
WazirX (For India)
CoinBase (For Global audience)
Binance (For everything else)
With their Android app, it makes it easier for anyone to enjoy making money through apps.
Rated 4.4 stars and 100k Downloads on Google play store.
Download the app: Android | iOS
MooCash – Best App to Earn Money from Swipes and Taps

By simply using your phone or tablet by tapping or swapping the screen, MooCash allows you to make money. You can do this using your screen locker. Users are rewarded by unlocking their mobile screen by swiping left. The coins earned can be redeemed through Google Reward Card or PayPal. You claim an offer by watching a short video or download the promoted app. Two thousand points will get you $2 via PayPal. You can also get gift cards from Google Play, Amazon, or iTunes.
Download the app: Android | IOS
Scoopshot – Taking Photos on Android & make money

Do you like taking photos and wondering what apps pay you instantly for your photos? A smartphone is all you need to make money from Scoopshot. This great up pays people for uploading photos of events happening in a specific area. Eventually, these photos are going to be used by small to large scale media or freelance journalists. This is a great way for making money through apps. If there is an event taking place in your area, take a couple of photos and upload them to this website. You never know, you may find just yourself a few bucks.
Rated 1.6 stars and 100K Downloads on Google play store.
Rated 1.9 stars on the Apple store.
Download the app: Android | iOS
Final Thoughts
As you can see, there are many ways to earn cash on your mobile phone. We have given you some of the best ways and money-making apps to do this. There other great ways out there to earn money too. If you have a technique or two on how you can make money online, don't hesitate to share it with us in the comments section. You can also share this post with other Android users to help them make money too.
If you want to hire mobile app developers then I'm always at your disposal.
My mobile application developers guarantee SLA, we have implemented more than 40 projects including Java, Android, and iOS projects, and have more than 8 years of experience, we have more than 451+ satisfied customers. Contact me from here.

Here are a few more topics that you shouldn't miss:
How to Submit Your Apps to Amazon App Store
What is App Stack? Learn the Features, Uses & Types
Like this post? Don't forget to share