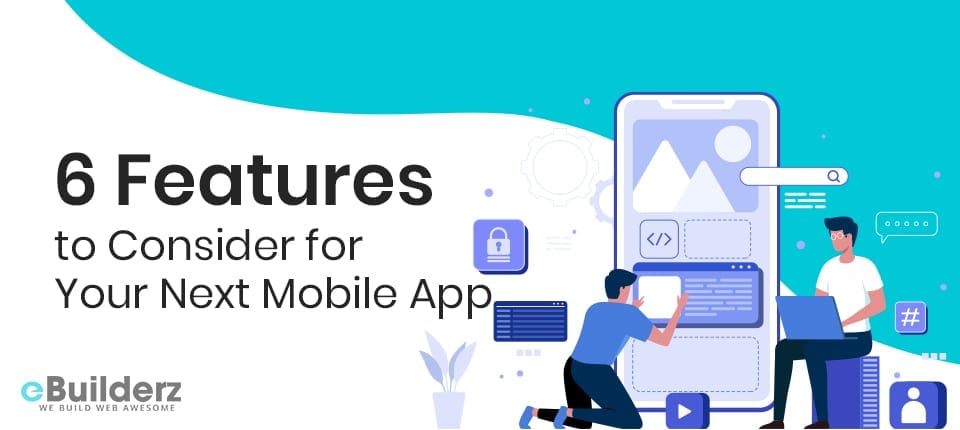 You have a lot of competition in the market for mobile apps. Whether you are working on iPhone app development or Android, you need to build an app that meets users' needs while also delivering a good experience. If users are not satisfied, they know that there is probably another app they can switch to.
One step toward building the best mobile app is to consider which features you will include and which you will not. In this post, we would like to look at six features to consider when you build a mobile app.

Intuitive User Interface
Users shouldn't feel like they need training to use your app. They want to open it and be able to achieve their goals without having to think about it. If you want to succeed with your next app, you should put significant time into developing an intuitive user interface.
Beyond knowing what you want users to do with your app, you need to know what they want to achieve when using an app like yours. Try to make controls and navigation simple and easy to understand. Test the app to make sure it performs well and that it is easy to use.
Push Notifications
Sending notifications can be one of the best ways to connect with consumers and drive engagement. You can use them to inform customers of new features, promote sales or provide important news about your company. If you are building a mobile app, you need to develop a plan for using push notifications.
See More: How to Create Easy Notification Bars for Your Website
Augmented Reality
Using Augmented Reality can be a good way to take a simple mobile app and make it much more dynamic. With AR features, you can provide features that can let customers do things like virtually try on clothes, view objects in their surroundings through the screen of their device, or customize products in a way that lets them see the way it will look when it is finished.
Security Features
Mobile app security has never been more important than it is now. Consumers trust apps with their data, and they use apps for a wide array of financial transactions. If you want people to trust your app, you will need to implement a range of security features when you develop your app.
You will need to use strong encryption to protect customer data in the app. You should also have secure sign-in features and require verification for any sensitive transactions. You should also consider two-factor authentication as a way to create an extra layer of security for your users.
Social Media Integration
Social media integration can offer a lot of benefits for app developers and the users of the app. First, you can enable features that allow users to sign-in or create an accounting using their social media accounts. This makes the onboarding process easier, and it can eliminate a barrier that may cause some users to avoid signing up for an account.
As another benefit, you can enable social media features in the app. With social media integration, you can provide users with options to like, share, and post about your products from the app.
Also, You Can Read 12 Marketing Tools That Will Help to Achieve Business Goals
Feedback
A feedback system can be good for helping your brand build credibility with users. Along with that, it can also be a way to gain valuable insights that will help you improve your app. Consider creating a system for reporting bugs and features that are not performing as intended. Encourage customers to share their opinions of the app and suggest features they want.
Check Out the Quick Video Review On Features to Consider for Your Next Mobile App
Source: Google Cloud Platform
Conclusion
Mobile device users have high expectations for the apps they will install on their phones and tablets. If your app does not meet their expectations, they will probably uninstall and forget about it. With these six features, you can do a lot to build a better app and meet consumers' expectations.
Here are few more topics that you shouldn't miss:
12 Most excellent B2B Mobile Apps for Managing Your Business on the Go
What is App Stack? Learn the Features, Uses & Types
AppPresser – Build Mobile Apps with WordPress
Like this post? Don't forget to share