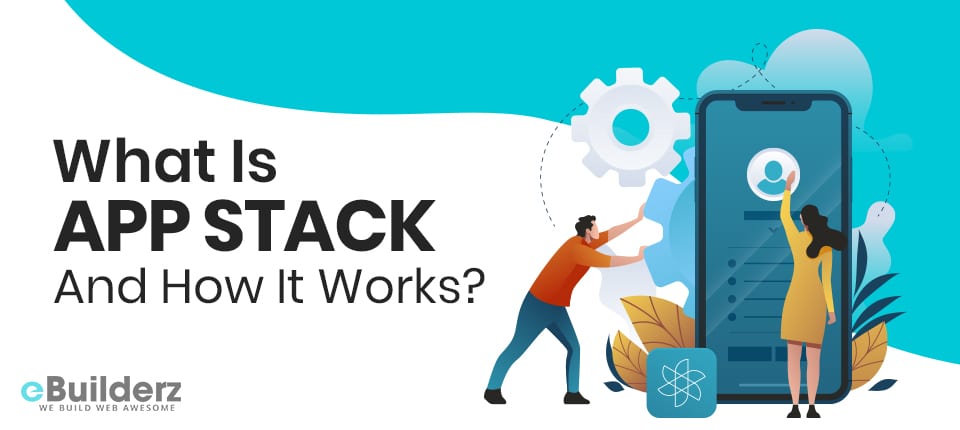 It is amazing how technology changes how things are done in the society. One of the significant technological breakthroughs of the millennium is the use of mobile apps to conduct business. These robust instruments of trade have changed significantly. Things are done at home and at work. It is estimated that in 2020, there will be more than 6 billion mobile devices in the world. It is difficult nowadays to find businesses operating without mobile devices.
With the help of mobile apps, business owners can communicate with their associates, employees, do video conferences, and transact wherever they are. The possibilities of mobile app users are endless. Companies are now selecting the best technology stack for their business with the help of mobile app developers. In this article, I will talk about app stack technology and what it means for business.
What is App Stack?
App stack refers to a community of apps working together for a common goal. These group of apps has different functions, but help one another to achieve one specific purpose. However, you need to know the difference between program stacks and device stacks. A stack of application have programs built to improve a particular workflow. On the other hand, the device stack is several devices (not use) that are brought together to perform a specific task.
Features of App Stack
A user can put his or her favorite app in one app making it easy to move between apps seamlessly without straining
App Stack make smartphones more efficient and smarter
To register into the application, you need to install App Stack into the device and login
The launch screen will display all apps supported by App Stack
Users need to select from the listed apps and give the corresponding app's details
To add all the needed apps to App Stack, this process has to be repeated
You don't need to worry about your data getting lost since App Stack never logs out when you are done
The apps outside App Stack are useless once the needed apps are launched inside App Stack, therefore, the user can uninstall them
While inside the App Stack, each app will perform in their manner without interfering with other apps
In other words, App Stack is smarter than single apps outside it
Office processes are like Word, Excel, and Presentation are performed easily since all apps run simultaneously
Different applications can be linked to other applications inside the Stack and you can also exchange information from one app to another
Another thing is that when you link applications they can work together to achieve a common purpose
Workflow is simplified when apps are inside App Stack
Added apps can only be removed one at a time if needed. The last added app will be the first one out since apps are arranged in sequential order and Stack works on the Last In First Out principle.
A queue is formed as operations inside the Stack go on to prioritize functions. This allows efficiency while scheduling tasks.
15 Significant Benefits of Uses of App Stack
Users can track and monitor any activities done on their phone since all the applications can be tracked effectively.
App Stack gives you all the information needed about any app inside it, including its functions.
App Stack allows users to easily switch apps.
You can backtrack apps such as games, search for apps, and finding paths that are possible.
With App Stack, you can easily manage your device memory and language used.
Expressions inside the Stack such as arithmetic and control structure are evaluated.
Management of prefix and suffix notations are easily done
You can easily convert or translate Infix to Postfix.
App Stack allows the full-stack search and Depth First Search
Users can schedule algorithms using the Stack
For fast data lookup App Stack has a feature called Hash tables, where data is presented in unique hash tables
A user can use many virtual machines thanks to Word processing in App Stack
Another great benefit of App Stack is IP routing. This allows uninterrupted communication since the network follows a particular pattern.
The user login page displays prioritized applications since many applications work simultaneously.
App Stack allows users to manage data, network, social networking sites', organizing data and much more using graphs.
Also, you can check review on how to Business grow faster
Types of Technology Stacks
To make your business grow faster, you need to choose the best technology stack. The technology stack should all the functions required to speed up tasks. However, there are several things you have to consider before settling for any technology stack. Here are some of them:
Native App Technology Stack – iOS Tech Stack & Android Tech Stack
Hybrid App Tech Stack 
Cross-platform Tech Stack 
With these in mind, let's now look into influencing factors that contribute to choosing the best technology stack for mobile web development.
Purpose of the App
When choosing a technology stack for your mobile development, you need to have a clear understanding of what you want to achieve with that app. A more reliable technology is required for applications meant for load processing compared to those needed to optimize interactions. The difference is huge when choosing technology stacks when it comes to developing apps with high latency and slow response versus those with fast response and low latency.
Also, you can read 10 Benefits of Social Media Marketing for Your Business
Parent Company
When it comes to picking up the best technology stack for mobile development, the parent company plays a significant role and creates a big difference in the outcome. Community support and documentation given by brands differ in many ways. You will discover that there are those companies that offer better community support than others. Some of these companies include Microsoft, Adobe, and Google, which offer advanced support options compared to Facebook.
Mobile App Considerations
Various factors contribute to differentiating apps. Some of these factors include:
The device where the app will be installed
The network which the app will run from
The kind of user experience expected from the app
The platform where the app will run and many other factors.
You will need to consider all this element before settling down to develop a group of mobile applications. They will also help you to decide the language, framework, and libraries you are going to use to establish that particular mobile application.
Security
One of the most important factors to consider is the security of the app. Mobile application development technologies need to find ways to protect devices and apps from attacks once the application is launched. Failure to choose the right technology stack with sufficient documentation will give you problems since the form won't have adequate security features to withstand attacks. Mobile app developers must have proper skills to develop safe and secure apps, regardless of the technology you are going to use.
Compatibility of the Technology
You need to understand that your app will work with other different tools and technologies. Therefore, when picking the technology stack for your mobile development, find out first if it is compatible with other devices in the market. You also need to know whether the technology will work well in your projects without any technical issues. At the last all you need is to invest in a technology stack that you can't use in your plans due to compatibility issues.
Conclusion
Mobile apps are the future, and we can't dispute that unless another unique technology pops up. We must learn to maximize their potential to higher productivity. I am glad that you have read this article, and you know what App Stack is, its benefits, what you need to consider before choosing a technology stack. If you are not sure what your project needs, don't hesitate to contact me for mobile app development.
If you want to hire mobile app developers then I'm always at your disposal.
My mobile application developers guarantee SLA, they have implemented more than 40 projects including Java, Android, and iOS projects, and have more than 8 years of experience, we have more than 451+ satisfied customers. Contact me from here.
Here are few more topics that you shouldn't miss:
How YouTube Count Views?
10 Benefits of Social Media Marketing for Your Business
Like this post? Don't forget to share