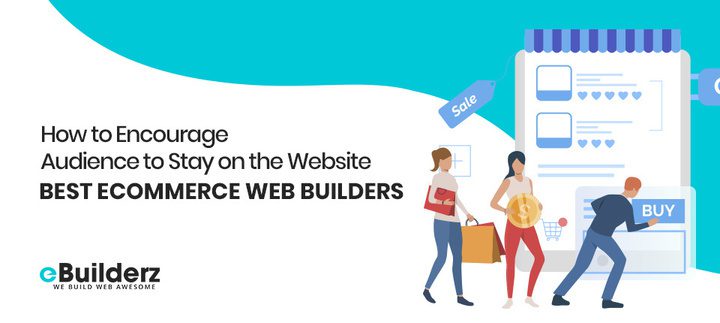 Your website design influence 100 percent of your Business credibility, and you have less than a second to leave a top-level impression.So, E-Commerce website involves creating and launching a virtual store to sell and buy products. While website design isn't only thing which customer is seeking for. But, it also includes Social Media Marketing, Digital campaigns, SEO Optimization,PPC and more.Though such a creative website you will experience an innovative Social media experience with such an impressive E Commerce website!
In the era of a digital landscape where every business is striving to create a robust online presence, it's not enough to have a website—the secret lies in crafting an exceptional website experience that attracts and retains customers. With the rising popularity of e-commerce platforms, the challenge intensifies. This is where an e-commerce website builder plays a pivotal role. You can design E-Commerce Websites through various platforms, including WordPress, CMS, PHP development, Laravel, and more. 
Creating a Better Shopping Experience with Best Website Builders
Using the best eCommerce website builders is synonymous with offering an optimized, intuitive shopping journey. They facilitate smooth website development and e-commerce integrations, ensuring your site stands out. Furthermore, tailored solutions provided by builders cater to the specific needs of every business, be it a startup or a well-established brand. So, e-commerce website builders like eBuilderz Infotech cater to your needs and build creative, well-responsive websites.
For instance, during lockdown periods with stringent social restrictions, the necessity to shop online emerged as a primary safety measure. Many shoppers now seek an online shopping experience that mirrors the tangible, in-store one. 
Making Checkouts Better and More Dependable
The end goal of every online store website is a successful checkout. E-commerce design should focus on simplifying and securing the checkout process. Streamlined steps, multiple payment gateways, and clear CTAs make transactions swift and trustworthy, ensuring users return for more.
Hire the best E-commerce website development Experts. Find the most talented website development experts on eBuilderz Infotech to bring your ideas to life. When you hire us to build an eCommerce website, our web builders design websites accordingly to handle high traffic loads and a user-friendly interface with scalable eCommerce project architecture. We will provide both personal recommendations, depending on your business.      
Create Responsive Customer Care Support on the Website
Customer support goes beyond just providing chat and phone communication avenues. Features like doorstep delivery, touch-free transactions, and hassle-free pick-ups significantly influence customers' preferences. Our top-rated E-commerce Website Builders will help you in better customer reach. As a study from April 2020 indicated that nearly 38% of consumers gravitated towards online grocery shopping due to COVID-19 anxieties. As a result, grocery merchants had to adapt swiftly to meet the growing demand for digital grocery services. And there is a demand for e-commerce.
The essence of successful e-commerce lies in robust customer support. Integrating AI-driven chatbots, offering 24/7 customer service, and ensuring prompt response times will foster trust and loyalty among your users.
Strong Website Design with eBuilderz Infotech
The design of your e-commerce website must reflect your brand's ethos. Incorporate robust and cohesive branding elements, intuitive navigation, and a user-friendly interface. Remember, your website design isn't just about aesthetics; it's also about functionality and user experience.
In a revolutionary era, a product's online presence is essential for any small to large business. Website design is at the heart of this presence, and our experts understand its paramount importance. Our Experts specialise in crafting top e-commerce websites and merging innovative design with functionality, ensuring an aesthetically pleasing experience and a seamless user journey. Their expertise is reflected in many successful projects, showcasing a perfect blend of creativity and technology. For those aiming to be at the pinnacle of the digital landscape with a top e-commerce website, eBuilderz Infotech is the partner you've been seeking.
Various Customer-Oriented Functionalities and Interactions
We enhance design, layout, content, navigation, and functionality to improve customer service and increase selling opportunities. While it's always been challenging to get a site up and running, there is still a load of technical steps like choosing a business and domain name and hosting service that takes time to implement. Our team design everything according to your needs and desired responses.
Tailored Content
Personalization is vital in the digital world. Use analytics and insights from your e-commerce website builder to tailor content to your audience. Curated content can significantly boost conversions, from product recommendations to personalized email campaigns. 
Expressive Visuals
Engaging visuals not only enhances aesthetics but also aids in storytelling. Visuals can significantly influence purchasing decisions, whether it's high-resolution product images or interactive video content.
Best e-commerce website design tips to reach more customers through beautiful e-Commerce Website
Keep it mobile-responsive

Put top products front and center

Use a Pop-up sign up sheet

Use great images

Use searchable content

Put pricing details with shopping carts

Remember the goal to make sales
Building a Wow Experience with eBuilderz Infotech
eBuilderz Infotech is more than just another name in the web development domain. It's a holistic solution provider focusing on creating top e-commerce websites that resonate with the target audience. Beyond e-commerce design and development, eBuilderz Infotech offers many services, including SEO solutions to ensure your website is high-ranking and logo design that establishes your brand identity.
Hire the best E-Commerce Website Development experts from the most talented professionals by visiting our Website. 
Conclusion:
In the vast realm of online businesses, standing out is both a challenge and a necessity. Leveraging tools like e-commerce website builders and platforms while focusing on impeccable design, content, and customer support can create that 'Wow' experience users crave. As businesses evolve, the importance of choosing partners like eBuilderz Infotech, who understand the nuances of e-commerce, becomes evident. After all, in the online world, it's not just about selling products; it's about crafting memorable experiences.This article provides everything you need to know about eBuilderz Infotech eCommerce Website Design and Development details. Contact us now or directly visit our website!
Here are a few more topics that you shouldn't miss:
Like this post? Don't forget to share