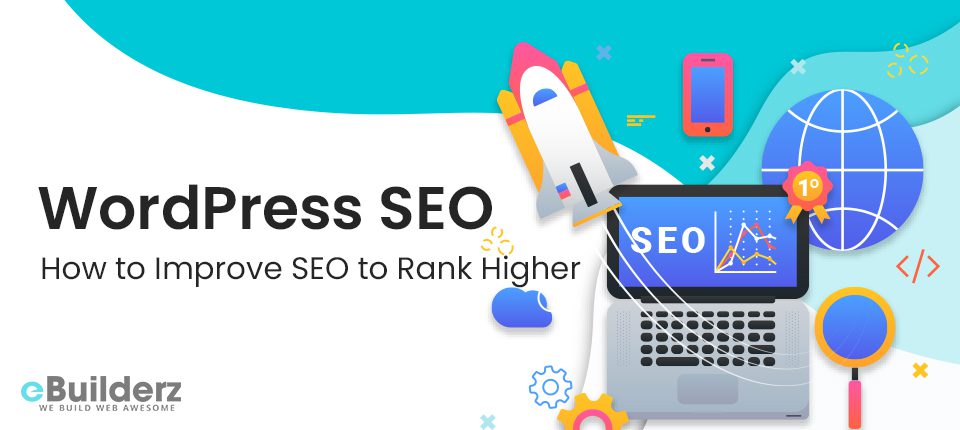 WordPress is the best platform/CMS when it comes to SEO (Search Engine Optimization) friendliness. Whether you want to start a small blog or a commercial website, WordPress is probably the best way to go. However, optimizing your website for SEO purposes can be challenging, especially for those who do not have experience building websites.
For this reason, we have created a guide that will help you improve your website's SEO and rank better on Google. This article highlights why WordPress is so popular and how important SEO is for your website. By the end of this 5-minute read, you will have all the tips and tricks that will help you improve your WordPress SEO strategies.
What Is WordPress, And Why Is It so Popular?
WordPress is by far the most well-known CMS (Content Management System) around the world. Numerous startups and enormous companies (Walt Disney Company, BBC, MTV News, and more) create and develop their pages using WordPress.
The platform was released in 2003 and quickly became the most popular solution to build any website. As a complete solution, WordPress gives you access to numerous websites and blogging tools and is a beginner-friendly platform.
With an enormous number of plugins, a supportive community, and an amazing user interface, it is no wonder that WordPress is so popular. Even though it is not the ideal choice for every company or type of business, those are the most important reasons why WordPress is an extremely SEO-friendly platform.
Let's have a look at the SEO basics and why WordPress SEO is important for your business.
Why Is SEO Important?
SEO is extremely useful to attract more people to your website. Whether you have a travel blog or a vast financial business, SEO is the best and most direct way to improve your website's traffic. Thus, improving your SEO should be your number one priority if you want to rank higher on search engines such as Google or Bing.
See More: A Checklist To Improving Small Business SEO
The Basic SEO Rules
Even though SEO isn't a straightforward concept, learning how to use it in your website isn't as challenging. As long as you learn how to use the WordPress platform, you have everything needed to optimize your site. The most important things to keep in mind are:
Avoid Low-Quality links: Using low-quality external links can harm your overall SEO.
Don't try to manipulate Google with keyword stuffing (using abuse keywords): Even though this tactic might result in high short-term traffic, you will end up losing all of it.
Avoid Keywords with high competition: The more competition over a keyword, the more difficult it is to rank higher.
Follow Google's starter guidelines: Google's SEO starter guide includes valuable information about the algorithm.
Creating a Website on WordPress: SEO Optimization Tips
Creating a website on WordPress doesn't need any special technical programming skills. However, building any kind of website and optimizing it for SEO comes with effort and time.
When it comes to creating a website, there are a few optimization tips you should keep in mind:
Choose a great hosting provider: Hosting providers ensure that your website will be fast, constantly updated, and secured. For this reason, choosing a reliable one is crucial for SEO.
Choose an SEO-friendly theme: One of the first things you get to do when creating a website is choosing a theme. You should make sure that your theme is SEO-friendly, no matter if it is a free or premium one.
Choose your preferred domain: Even though your domain name doesn't directly impact your SEO strategy, your site needs to be easily accessible.
Also, You Can Read Discover the Ultimate 102-Point SEO Checklist
10 Best Tips to Improve Your WordPress SEO
There are many parameters that can help you improve your WordPress SEO and rank higher on Google. Let's dive deeper into them.
Install a reliable WordPress SEO plugin: Plugins are one of the best things about WordPress. There is a plugin for pretty much any task you can imagine, from calculator plugins to analytics and SEO. Accordingly, you can find many popular SEO plugins like Yoast SEO and Redirection.
Enable search engine visibility: Although this isn't a common mistake, many people don't have the search engine visibility option activated. To check it, all you have to do to set up is go to Settings, then Reading and find the section called Search Engine Visibility. You should always have the box unchecked.
Add content after keyword research: Researching for popular keywords and tags in Google is crucial to tracking the market needs and attracting more visitors. So, before you decide about your next blog post's topic, you can use tools like KWFinder or SEMRash.
Add valuable content: No matter if you do keyword research or not, you should always try to add valuable content to your website. If you are not sure or don't have the time to write top-tier content yourself, you can always use third-party services like People First Content.
Use the Google Search Console: Google has developed a complete platform that will help you identify how you perform and alert you of any issues or errors. All you have to do is sign up on Google Search Console by adding your domain or URL prefix.
Don't add written content only: Even though images, videos, and infographics don't help directly on SEO, they are some of the best ways to retain your traffic and provide high quality backlinks. Thankfully, all you have to do to create great visual content is use photo editors like Canva or video editors like Movavi Video Editor Plus.
Add longer blog posts: In general, longer content is better for search engine optimization. For this reason, you should make sure to add longer blog posts that usually are over 2,000 words. Of course, that doesn't mean that every post you add should be that long.
Add internal and external links: For your website to rank higher on Google, you should add internal and external links to your blog posts. This will help Google identify your website as an authoritarian source. Although there isn't a fixed amount of links you should add per post, adding more than five is a good start.
Optimize your titles and headings: When it comes to titles and headings, many things can help you rank higher. For example, your main keyword should be included in the title, and you should use a hierarchy of H1, H2, H3, etc., underneath your titles.
Optimize your Meta Descriptions: The Meta Description is a small amount of text that Google uses below the title. Therefore, it is important for your Meta Description to be short and to include your focus keyword. Think of it as the first and most important ad visitors see before they visit your website.
Check Out the Quick Video Review On To Improve WordPress SEO
Source: Neil Patel
The Bottom Line
It becomes obvious that WordPress SEO is crucial for your website to rank higher on Google. By utilizing the tips and tricks provided above, you will be able to attract more visitors to your webpage.
Here are few more topics that you shouldn't miss:
Discover the Ultimate 102-Point SEO Checklist
What Is the Best Free SEO Rank Checker?
Is the SEO Checklist the Best 2021 SEO Framework?
Like this post? Don't forget to share