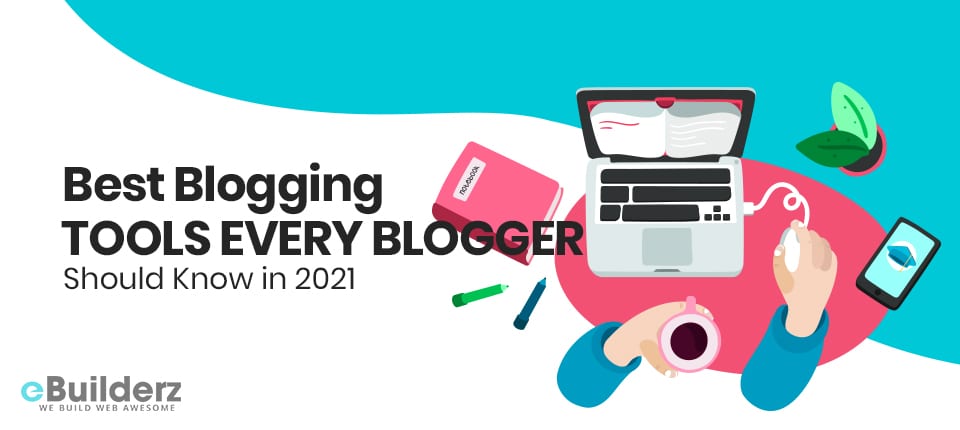 In 2021, blogging will be more relevant and essential than ever. Recent estimates show over 500 million blogs online, with over 2 million new posts getting published every day. That's a lot of content! If you want to compete with the rest of the blogging community, you will need to step up your game in 2021 and deliver frequent, fresh content that keeps readers coming back to your blog for more.
Fortunately, there are plenty of tools available that can help everyone, from the brand new blogger to the seasoned blogging veteran. In addition to helping you create a stunning blog that drives traffic, the following tools can save you valuable time and money. Sound good? Let's get started!
Top Blogging Tools for Bloggers to Use in 2021
In 2020, there are an estimated 31.7 million bloggers in the U.S. alone. That's a lot of creative people vying for the attention of billions of readers!
If you have ever looked at another blog and wondered how the author had the time to regularly come up with creative ideas, design a stunning guest post, add video content, respond to comments, and still manage to have a life, we have some news for you. Chances are, the bloggers you envy aren't doing all the work themselves. They are saving tons of time by utilizing the many available tools that exist specifically for bloggers.
There's no need to feel jealous! All you have to do is figure out what you need the most help with and find the tools to ease some of the burdens of blogging. You may not need all of the tools on this list, but we are confident that there are at least a few blogging tools on here that can help you save time on the things you like least about blogging so you can focus your efforts on everything you love.
Blogging Tools to Create Your Blog
If you've always wanted to blog and aren't sure where to start, we have you covered! Here are some of the best tools for beginners to set up a blog that people will want to read.
Medium

If you have something to say and don't want to deal with a full website, then Medium might be your best bet. This free platform lets you write what you want and include images, videos, and links. Sign up for a free account, then upgrade if you want to access more of the platform's content. You can also sign up for a Medium partner program for a chance to earn some revenue from the content you publish.
Cost: $0 – $50/year
WordPress

WordPress is always a safe bet for new bloggers who want a dedicated website. It's relatively easy to use even if you have no website design or development experience. Start for free, then upgrade if you decide you want a more professional look or use additional features, such as collecting payment from your website or having a dedicated domain.
Cost: $0 – $45/month
Make My Persona

Before you get too far along writing your blog, take some time to figure out who you are writing for. HubSpot has a tool called Make My Persona that walks you through a series of questions to help you identify your audience and their pain points. Use this information to develop ideas for blog posts that speak to the challenges facing your audience.
Cost: Free
Sumo

If you're blogging for your business, you also will want to build an email list to target your audience through email marketing. The tool Sumo can help you capture email addresses without any code. If you love data, you may want to upgrade to their pro membership to access additional analytics information.
Cost: $0 – $39/month
Todoist

Juggling blogging with your career, family, and hobbies can be difficult. Todoist is a tool that helps you stay organized by breaking your blogging down into smaller tasks. You can create a calendar for when you want to schedule posts and add team members to share blogging responsibilities with others. You can also include items from your to-do list, so your work and home responsibilities are all kept in one secure spot.
Cost: $0 – $6/month
See More: How to Choose a Marketing Agency
Blogging Tools for Coming Up with New Ideas
By now, you probably know that regular blogging is the best way to stay relevant and boost your SEO. As Neil Patel points out, the definition of "regularly" can range from one post every 58 seconds to one post a week.
Sometimes, the thought of coming up with new ideas for blog posts can feel overwhelming. If you need to increase the number of blogs you publish every month, these tools can help you with idea generation.
Quora

As a crowdsourced platform, you can ask people for idea suggestions on Quora. You can also search for topics related to your website and see what other people have to say about it. This can be a great way to see what others are saying about your niche and get some fresh takes you can include in a new blog post.
Cost: Free
Blog Ideas Generator from HubSpot

HubSpot'sblog ideas generator tool is perfect for when you're struggling to come up with new ideas. All you need to do is come up with nouns related to your industry or blog. You can include up to five nouns at a time and get a list of five ideas for posts for free. If you love the tool and want more than one week's worth of content at a time, you can give them some of your information in exchange for a full year's worth of blog topic ideas.
Cost: Free
BuzzSumo

Find out what's trending in your industry using BuzzSumo. You can input a word, phrase, or URL to see which posts are trending on a particular topic or website. Use this information to put your spin on hot topics and add your expertise to the ongoing conversation. In addition to getting new ideas, you can see which topics are getting search traffic to help you figure out keywords to rank for with your blog content.
Cost: Free for 30 days, $79 – $499/month after free trial
Portent Title Maker

If you hate coming up with titles for your blog posts, you aren't alone. Use Portent's free title maker tool to generate a blog title. In addition to getting a title to use, Portent will also offer several tips that can help you create an engaging write blog post. For example, if you type in "writing" as your subject, you might get back the title "Writing by the Numbers." In the image above, you can see that if you click on the word "numbers," it gives you direction for writing your blog to engage your audience.
Cost: Free
Fyrebox

Have you ever wondered what your readers think about your blog posts? Ask them! Fyrebox makes it easy to create a survey that integrates with your blog. Use the survey form to ask your audience direct questions about the type of content they love and what ideas they have for new content. This is a great way to learn more about what interests your readers so you can come up with blogs that address their needs and pain points.
Also, You Can Read Best Form Builder for WordPress [2020]
Blogging Tools to Polish Your Writing
Even the most well-designed blogs won't generate a lot of traffic if the content is not of the highest quality. These writing tools can ensure that your blogs are easy to read for all audiences.
Hemingway

Get rid of fluff with the Hemingway app. Named for the author Ernest Hemingway, this app helps you cut out all those words you don't need to keep your message concise and on point. It also gives you a grade-level score so you can keep making edits until you have reached your desired grade level.
Cost: Free
Grammarly

If you snoozed through Grammar class, you could still be a successful blogger thanks to the AI-powered Grammarly app. It will check your work for typos, misspellings, passive voice, and more. You can even run a plagiarism check to make sure the publishing content is 100 percent unique. There is a free package for basic spelling and grammar checks, or you can upgrade to a premium or business plan to get access to advanced suggestions for clarity and conciseness. A business account lets you input your style guide so that all users can ensure they are following your company's guidelines for blogging and other types of written content.
Cost: $0 – $12.50 per member/month
Readability Test Tool

How easy is your blog to read? It might seem like a subjective question. Fortunately, there's a tool that can give you a straights answer. The Readability Test Tool from WebFX can tell you the grade level for any URL. Use it to see how your blog is rated, or test out competitor blogs to see what grade level they are writing for.
Cost: Free
Airstory

For blogs focused on a lot of research, Airstory can be a game-changer. This tool lets you organize all of your research in one place and turn it into a coherent story. Use your notes and drop them into an outline or a full story. If you're working with a team, you can invite collaborators to add their research and contribute to your overall story.
Cost: $25/month – $125/month
Piktochart

Words are great, but pictures are even better for getting your message across and keeping readers engaged. Piktochart makes it easy to convert your written words into helpful and engaging infographics. You can even import data from a spreadsheet to create a visually appealing graph or chart to highlight your data without causing your readers' eyes to glaze over.
Cost: $0 – $99/month
Blogging Tools to Make Your Blog Stand Out
With millions of blogs getting published every day, an essential aspect of blogging is getting people to notice you. These tools will help your blog stand out visually and get found in search engines with search engine optimization (SEO).
Yoast SEO

If you're using a WordPress website, you can easily add a Yoast SEO plugin. This tool helps you make sure your text is SEO-friendly and gives you specific directions to fix SEO mistakes. It has an easy-to-understand green, orange, and red light system. Once you have the green light, your post is good to go! The premium option lets you search for keywords directly in the Yoast platform, along with other features such as alerting you when your content is out of date.
Cost: $0 – $89/year
Canva

Graphic designers and amateurs alike can create professional images with the Canva tool. Use one of their thousands of templates and images, or build your graphic based on your brand. With Canva, you can create images for blog posts and emails, website images, social media posts, and more. Use it solo or add collaborators.
Cost: $0 – $30 per person/month
Fastreel Video Editor

Easily convert every blog post into video content using a video editor. Fastreel's video maker lets you quickly create videos based on blog posts using still images or video clips. You can edit in your browser without downloading anything and instantly publish your newly created video across your platforms. Their free music library makes it easy to add music to your videos.
Cost: $0 – $9.95/month
Ubersuggest

Neil Patel's SEO tool Ubersuggest makes it easy for you to see which keywords your blog ranks for and which ones you should try to rank for. You can type in any URL to see what's ranking, making this a great tool to use to see what your competitors are up to.
Cost: $29/month – $99/month
Stencil

Turn your content into images quickly with Stencil. Pick a background, add text, and then use their library of thousands of free stock images to develop a unique image for your website, blog, emails, and social media pages.
Cost: $0 – $12/month
Check Out the Quick Video Review On Best Blogging Tools
Source: Allison Lindstrom
Conclusion
Writing a blog is a great way to get traffic to your website. These 20 tools can help you create a blog that is relevant and attractive to your audience. Thanks to the great tools that companies have put out for bloggers, it's easier than ever to deliver great content to audiences around the web.
Here are a few more topics that you shouldn't miss:
Why You Must Hire Search Engine Marketing Consultant?
Ultimate Guide To Email Signature and Banner Design [2020 Update]
A Checklist To Improving Small Business SEO
Like this post? Don't forget to share