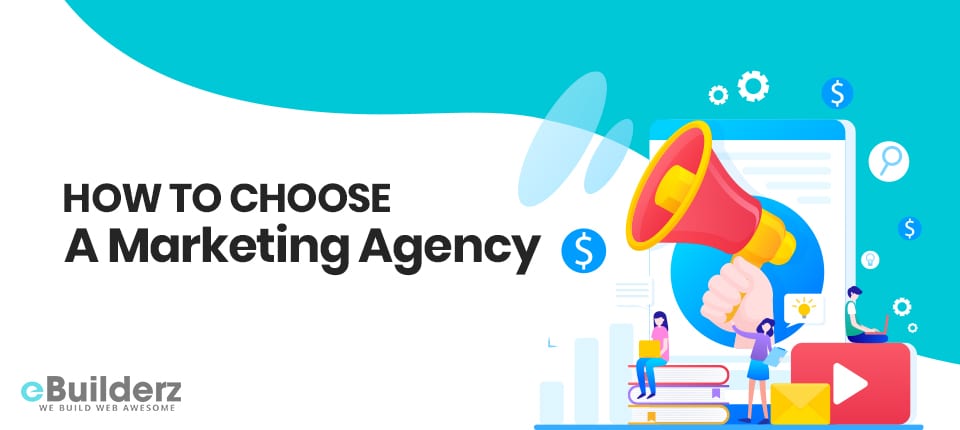 The impact that marketing has on any business if done properly, is quite impressive. That's why brands and companies are willing to spend millions of dollars on marketing to push up their profit margins. It is estimated that in 2020, brands and companies will spend close to $1.3 trillion on marketing globally. The digital marketing budget will hit a whopping$306 billion.
To benefit from marketing, you need to choose the best marketing agency to help you realize your marketing goals quicker. But where can you get such marketing agencies to help you reach your full potential? This question is on everyone owning a small or midsize business mind. Understanding how marketing works is the first step to picking the best marketing agency. You also need to know the kinds of solutions that these agencies provide.
If you don't know where to start, this article is meant for you. Once you go through it, you will fully understand what a marketing agency is and how you can use its services to boost profits in your business.
What is the work of a marketing agency?

Before delving into what a marketing agency does, let's first define what an agency is. Also called a marketing firm, a marketing agency is a company that focuses on offering and implementing marketing strategies on behalf of businesses. This helps them to easily meet their marketing goals fast and efficiently.
Below is an overview of what a marketing agency can help you achieve in your business:
Come up with effective marketing strategies – Together with the client, an agency will create a marketing strategy that leads to more conversions and sales for greater ROI.
Look for and Implement marketing strategies – When clients seek services from marketing agencies, it is their job to come up and implement marketing campaigns.
Check whether the strategy works – The moment an agency has come up with a marketing strategy and has implemented, the next thing is to track it to see if it produces results.
These are the main objectives of an agency when you go seeking their services. Many people don't know the difference between a agency and a marketing firm. To make the best choice when seeking marketing services, you need to know the difference between the two.
What is the main difference between a marketing agency and a marketing firm?
We have marketing agencies, and then we have marketing firms. The two terms mean the same thing, which is a company that partners with clients to create, implement, and manage marketing campaigns. Therefore, in this article, we are going to use both firm and agency to describe the same thing. We hope that you are not going to get it twisted.
Now that we have exhausted the definition of marketing agencies, aka, marketing firms, let's now go through what you look for when you are searching for a marketing agency/firm.
In the marketing world, there are various types of agencies that offer different types of solutions. If you are going to pick one to manage marketing in your business, you need to be wise and go for the one that offers what you need. In this section, we are looking at the different services that different types of marketing firms offer.
Types of Marketing Services Offered by Different Marketing Agencies
We will explore three types of marketing firms and the services they offer:
Full-fledged Digital Marketing Firm
If you decide to work with this type of marketing agency, you are going to get the following solutions:
Search engine optimization (SEO)
Web design and development
Pay-per-click (PPC) advertising
Content marketing
Social media management and social media advertising
Website maintenance
Review management
Email marketing
Conversion rate optimization (CRO)
These are the few solutions that you are going to get with a full-service marketing firm like eBuilderz Infotech.
Specialized Marketing Firm
Also called boutique marketing firms, specialized marketing agencies offer one or a few devices mentioned above. A good example is an SEO agency. This kind of firm specializes in offering SEO solutions to its clients. We also have companies like web design and development firms, which deal with creating websites for clients.
eBuilderz Infotech is an example of full-service agencies that offer specialized solutions in areas like SEO, PPC, and more. So, if you want to invest in making your website more productive, they are the right firm to go to.
Traditional marketing agency
We have two kinds of marketing; these are traditional and digital marketing. When it comes to traditional marketing firms, you are going to expect these marketing solutions:
Broadcast marketing on TV or radio
Brand management
Print marketing
Public relations
Your ultimate choice of agency will depend on budget, needs, and business goals if you are running an SMB.
Also, you can read Digital Marketing is Simple: A Step by Step Guide
3 Major Reasons Why You Should Hire a Marketing Agency
Not yet convinced that a marketing firm is the best option to help you market your SME, then, hopefully, these three benefits will make you change your mind.
With marketing firms, you will get result based strategies
When you have the best marketing firm to work with, you will get marketing strategies that produce results in the shortest time possible. Such a marketing firm offers a concrete strategy that you can track to see the results that it brings forth. When you have such a strategy, you gauge whether you are getting the desired results or not. You will also get to know which channel gets the lions to share in terms of results.
Implementation of campaigns is easier with marketing agencies
We know that not all of us are gifted with the technical skills needed to launch and manage campaigns. Seeking solutions from marketing agencies allows you to get expert opinions from marketing experts. Managing an SME is tough work because most of the time, you are the only one handling stuff. If you decide to do marketing alone, you won't be able to focus on other aspects of your business. Hiring marketing experts save you a lot of time, and the expertise that you are going to get will benefit your business in the long run.
Results are tracked, and campaigns are optimized
To get the best results when marketing your business, you need to track and optimize your strategy. Marketing firms are in the best place to do that because they have the resources, skill, and manpower.
Digital marketing experts like eBuilderz Infotech provide their clients with custom reporting options to help you know where your marketing budget goes. In case one of the channels doesn't give the results needed, marketing experts can adjust certain aspects in your marketing to improve on it.
Benefits of a full-fledged marketing agency
Do you need services from a full-service agency? If you are not sure that you need all the solutions which are a full-fledged marketing firm offers, here are its benefits to help you.
Campaign management is streamlined
With a full-service agency, all the marketing solutions needed to improve your business are offered under one roof. You will get web design, SEO, PPC, social media marketing, and more. Meaning that you don't need to waste time looking for other firms to get other solutions. Such an agency allows you to streamline all your marketing needs so that you can easily manage your campaign.
Integrated strategies for better results
When you want to invest in more than one service, then a full-service agency will be the best option. When you decide to seek such a firm, you are going to get experts in several marketing channels. When you combine all these solutions, you will get the best results.
You will remain agile with a full-service agency because they are willing to replace a marketing channel that doesn't give you results with one that does. This will help you achieve greater ROI.
Bundled services save you time and money
If you choose to partner with a full-fledged marketing firm, you will save your time, energy, and money since all the services are under one roof. When you invest in several services by working with one agency, you will get discounts.
eBuilderz Infotech gives clients the freedom to monitor and track results on multiple channels. This helps clients to know where their marketing funds are spent. Clients are also allowed to adjust their marketing budget for a greater outcome. We use metrics that matter most to give you the best results possible.
What is the cost of hiring a marketing agency cost?
If you haven't hired a marketing agency, we are sure that you are curious to know how much they charge for their services. The cost of hiring marketing agencies varies based on the services that your business needs. Some firms bill their solutions based on the project at hand while others charge on an hourly basis.
Overall, you should expect these charges from a marketing firm if you are an SMB:
$500 – $20,000+ per month for SEO
$5-20% of monthly ad spend for PPC
$250 – $10,000 per month for social media marketing
$2500 – $100k to design a website
$1000 – $20,000 per month content marketing
$300 – $2500 per month for email marketing
Tips on how to pick an effective marketing firm
With all that info about marketing agencies, it's time to top it off with tips that will help you make the right choice:
Find out what services are offered by that marketing firm
The first thing that you need to do is find out what kind of services are offered by that agency. This will help you to know if they are the right agency for you.

For example, you will need to seek services from a full-fledged marketing firm like eBuilderz Infotech if you want to create one more website and optimize it with SEO.
A traditional way of marketing is the best option when you want to manage a magazine ad or TV commercial. Take time to review several marketing agencies before settling for one. When you do this, you narrow down those firms to those that offer what your business needs.
Review the charges on various solutions

How much do you really want to spend on marketing? You should ask yourself before looking for a marketing firm. Price varies by a big margin from one to another. That is why you need to look for a marketing firm that offers affordable services that suit your marketing budget. However, the price also determines the quality of services you get. If you choose a company that offers cheap services, don't expect to get quality services.
From a marketing firm like eBuilderz Infotech, you should expect to get transparent pricing based on the type of service that you need. The client's ROI is also maximized with expertise and exclusive data.
Where is the agency located?
From where you are, where is that marketing firm found? It is good to choose a company that is close to you so that you can meet up and discuss business. That is if you are not so sure about the firm. Other firms may have different offices in different locations. If this is the case, look for one of their offices near you.
A marketing agency like eBuilderz allows clients to conduct virtual meetings with them so that you can discuss business. This way, location doesn't matter much.
How does the firm perform?
It is always a good idea to look for a company that has proof of previous projects that they have worked on to know whether they can deliver. Review its portfolio, case studies, and reviews from clients. This will give you enough info to know whether it's the right choice for you. A firm with none of these is a red flag, and you will need to consider this when you make your final decision.

How does that company rank on search engines? If they are on the top page of Google, they are the right pick for your SEO. If it doesn't rank well, steer away from it because if they can't rank high, how can they help you improve your rank?
Consider the agency's experience
You want to go to an agency that has years of experience in the industry if you want to succeed. Not all marketing services that brand themselves as full-fledged have enough experience. Look for reviews and determine whether they are the right company for your business.
eBuilderz has over a decade of experience when it comes to offering web solutions. We always work with the top experts in the sector, and we always deliver on our pledges.
Conclusion
When you really want to hire a marketing agency, engage with its team first. This will help you know if they are going to deliver or not. Are they friendly? Do they take the time to understand how your business works? What advice can they offer you to improve your business? These are the questions that you need to ask them before making a decision. With all this I go, we trust that you are now ready to choose which marketing agency is good for you.
Here are a few more topics that you shouldn't miss:
Digital Marketing is Simple: A Step by Step Guide
Free Beginner's Guide on Social Media Marketing in 2020
Why You Must Hire Search Engine Marketing Consultant?
Like this post? Don't forget to share