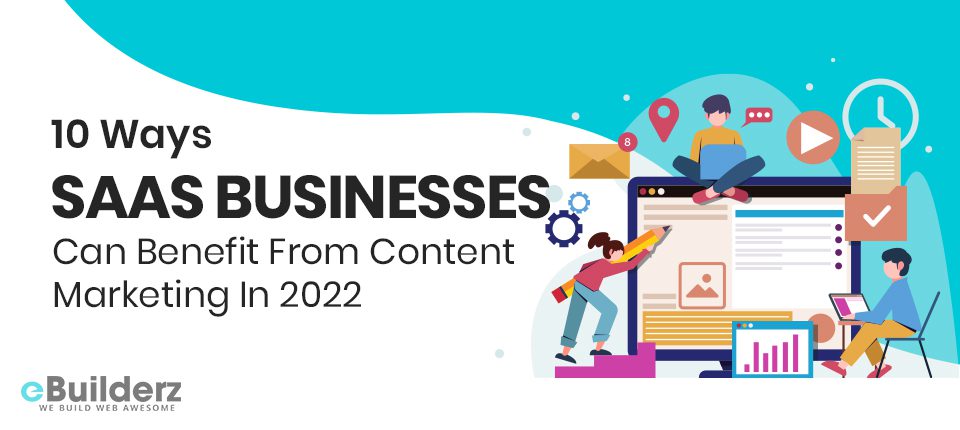 SaaS or Software-as-a-Service is the way forward for the post-pandemic digitalized world. The quality of service is key but also are the different marketing strategies. Global forecast research indicated an 18 percent growth in the SaaS market per year.
In the post-pandemic era, the growth of the Cloud, especially SaaS, continues to boom.
Content Marketing for SaaS businesses differs from other businesses based on the lack of physical service. Quality content builds brand reputation, opinion, loyalty, and your SaaS businesses can benefit from Content Marketing.
Here in this article, you will find out why Content Marketing is exactly what your SaaS business requires for that extra boost.
10 Ways SaaS Businesses Can Benefit From Content Marketing
Most SaaS businesses would agree that content marketing can give you results like nothing else. Yet it is often overlooked by the business owners due to a lack of recognition of its benefits. Harnessed properly, content marketing can become the turning point of a SaaS business.
Let's look at the top 10 strategies and how these can help you with your SaaS business.
Turn visitors into clients
The main purpose of content marketing is to entice casual guests into leads. SaaS businesses can stand out by bringing up generic problems faced by their potential clients and, over time, supply solutions to those pain points.
Creating content outlining easy-to-implement steps that customers can put into action immediately to solve those problems is a proven method to building business relationships. Businesses can use this type of 'newsjacking' technique to jump on the latest trends and news
stories, raising awareness for their SaaS solutions.
Bridge the gap between customer and the SaaS business
SaaS businesses have an everlasting need to communicate intricacy with simplicity. These companies work with elaborate programming, mathematical procedures, and technical jargon. Potential clients require this to be restated and presented in an uncomplicated manner.
This is done by putting effective content marketing strategies in place.
As an increasing number of potential customers turn to remote vocation, content marketing via several channels and mediums plays an integral part. An informative piece of content can reach several potential customers. These customers end up looking through the internet for solutions to their problems.
Harnessing informative content strategically placed can be very beneficial for your SaaS business. The manner you present your content has a substantial effect on its success.
A SaaS content marketing agency is the most affordable route for creating and delivering required content to your target audience. These agencies are the market experts and come with a fool-proof plan to support and help grow your SaaS business. There are several points to think about before you choose a marketing agency that would serve best for your business.
Market your USP
SaaS businesses can successfully showcase their distinctive value against their contenders with an exhaustive content marketing strategy.
In the post-pandemic era of 2022, most potential clients are likely to search for a solution to their problems online. Your company needs to be prepared to guide them to you with quality content in place.
Prospects want to see what makes your SaaS business better than its competitors in solving their problems. Content that your target audience discovers is useful is gathered after in-depth research of key topics in your industry. Using case studies and customer success stories, besides FAQ posts, you can illustrate the features that make it a better fit for your target audience's requirements.
Long-term marketing strategy
SaaS customers appreciate convenience over everything else. Contents that inform potential patrons about what the service can do for them and get the most out of their SaaS investment are invaluable to guarantee customer loyalty and referrals.
Content that constructs and fosters a post-sale association with customers is indispensable. After a sale, supporting customers with gated content that only they can access has a long-term effect. Special FAQ sections and articles available only to users build trust and community for your businesses.
Webinars and podcasts, or newsletters can also be used to keep your clients in the loop. This will not only grow your relationship but can also act as an effective long-term marketing strategy.
See More: Top 15 Mobile App Marketing Strategies that You Can Implement Easily
Improve on-site SEO
Content marketing correspondingly helps you to get links and mentions on social media, as well as on traditional media. This brings legitimacy to your business, supplements customer confidence, and provides a major boost for SEO (search engine optimization).
SEO enhances the visibility of your business when people search for products or services related to your business in search engines. The more useful visibility you have in search results, the more likely you will garner attention and attract future and existing customers to your business. Following a checklist of important points for SEO is a good method of staying on top of your game.
A recognition or link in an established publication would bring you a boost in organic traffic and an improved inflow of potential new clients, along with a social presence. The idea is to reach more and more prospective clients. With strategically channeled, informative content, the accessibility increases several folds.
Free PR solutions
Investing in content marketing is a very accessible form of PR. Instead of using the services of a PR agency, a well-thought-out piece of content can get comparable effects. Blog posts with data, images, or a newsworthy angle can achieve the same end.
Here is a list of the most profitable types of content for your consideration:
Long-form blog posts
Webinars
Short Videos
Social media trends
GIFs, stickers, memes
Interviews and podcasts
Case studies and infographics
White papers
Email newsletters
You can provide knowledge about your SaaS business through informative content and place it strategically on several platforms to gain free PR. The benefits of Social Media Marketing for your business in this digitalized world are vast and varied in every sense.
Build awareness about your brand
The central idea of any marketing strategy is to publicize the services your company offers to your target customers. Content marketing does exactly that for SaaS businesses.
For SaaS companies, content marketing is a cheaper solution when compared to other traditional marketing strategies. According to studies, it costs half as little and greatly produces the number of leads compared to advertising and other marketing strategies.
You can differentiate your SaaS business from your competitors with informative content pointing out the advantages of choosing you. Such quality content can be posted and shared through different mediums and channels to eventually increase the brand awareness of your SaaS business.
Evaluate your ROI
Many SaaS businesses which started only a few years ago have risen to international stature with strategic content marketing. HubSpot, for example, has experienced incredible growth from its content marketing. A 2020 article by Kelly O'Hara suggests the statistics show that SaaS businesses leveraging content marketing can expect returns up to 647 percent on their investment.
Even older SaaS businesses can benefit from good content marketing by maintaining relevance in the modern world. An example would be IBM, one of the pioneers of SaaS businesses. IBM keeps itself in headlines with well-planned content marketing and a library of quality content available to users and prospects alike.
Also, You can Read Drip Content – Learn about one of MemberPress' Killer Features!
Building links and backlink
B2B SaaS audiences value original data and research, thus giving rise to a huge potential for earning links. Google still gives a lot of importance to links as a top-ranking factor for SEOs and search optimization.
Additional links equal greater sovereignty, higher rankings, and more organic traffic. Backlinking provides an increase in the brand value of your company while boosting the prestige of your SaaS business in the market.
In 2019, SaaS marketer Ryan Berg analyzed several SaaS content and found a potential backlink gap. According to this study, original research posts and FAQ articles receive the most backlinks. Infographics and charts can get several mentions across the internet and physical media.
Maintain a customer-centric approach
Modern-day clients appreciate dealing with a SaaS company that they can rely upon. Customer-centric content marketing is the best way to earn your prospects' loyalty. Blog posts that reflect the diversity and meet the needs of specific customer segments generate increased interest and feedback channels for your company.
Separating your audiences is critical for email newsletters, as email marketing and social media marketing come with their own sets of differences.
When a user becomes a subscriber, your business should personalize the content it sends to the user's unique needs. Focusing the content on familiarizing your clients with better methods to use your product and using account-based marketing content has been proven to perform well.
Conclusion
Content marketing has successfully proven its worth over other marketing strategies for SaaS companies. Its adaptability to the distinctive needs of SaaS businesses makes it a major player in the space for the post-pandemic year of 2022. Content marketing yields not only a strong ROI but also increases both growth and retention rates for SaaS companies.
Now, it's over to your hand to employ the above strategies to elevate your content marketing endeavors to grow your SaaS business in 2022.
Here are a few more topics that you shouldn't miss:
12 Marketing Tools That Will Help to Achieve Business Goals
Is Software Development Crucial For Business Success?
Shareholic: Content Marketing Platform and Website Traffic Tool
Like this post? Don't forget to share