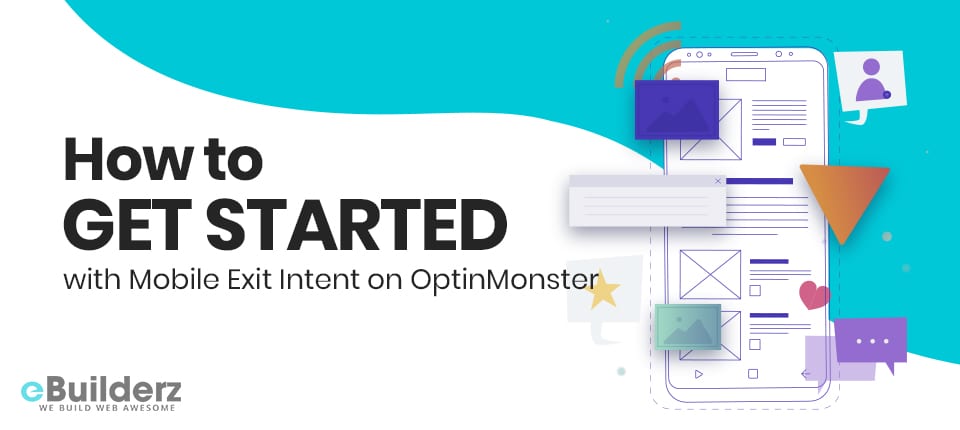 Building an email list is very important if you want to succeed with your blog. That is why brands are trying to devise ways to get more email subscribers. We have so many tools to help us do this. One that stands above the rest is called OptinMonster. This is a great email marketing tool that can help you increase your conversion rate by 600%. You may be getting a good amount of traffic into your site using contact forms, the sidebar form, and other landing pages on the site. Use this with a great tool like OptinMonster, and your sales will shoot through the roofs. In this article, I am going to show you exit intent pop up on mobile and how you can use it to get more subscribers.
How Does Mobile Exit-Intent Work?
When a visitor is about to leave, an exit-intent popup will appear with a targeted message. After doing some split tests, we found out that the bounce rate with an exit intent mobile was the same. That means it not affect the user experience. We also noticed that there were no complaints from users, and subscribers increased on the page exit intent mobile. What makes this happens is due to user-intent. Since the user was about to leave anyway and way not looking for more info, it won't hurt. The exit intent mobile feature helps to convert more readers who were leaving the site.
How to Get Started With Exit-Intent for Mobile Devices
It is estimated that more than half of all site traffic comes from mobile devices. Also, more than 75% of consumers use their smartphones to buy stuff from online stores. This makes mobile devices powerful tools for online business success. Although the exit intent mobile was there in this plugin, this feature was not available for mobile devices until now. This is due to public demand. With the new mobile exit-intent tech, brands have doubled their chances of getting more clients and sales. This great feature gives them that competitive edge they need to compete with popular brands.
How to Trigger Exit-Intent on Mobile Devices
Mobile user intent was considered when designing the mobile exit intent mobile feature. Normally, a smartphone or tablet user will scroll back up mobile pages to get to the address bar and the second way is to tap the back button when they want to exit. With the exit intent mobile feature, this intention is captured.
Scroll Up Trigger
When a user starts scrolling up the page, it means they are done reading the content on that page. This does not mean that you can't entice them to stick around longer. When you add exit intent mobile to your mobile campaign, you activate scroll up triggers. You do this by going to Exit Intent >> Sensitivity of either Low or Medium.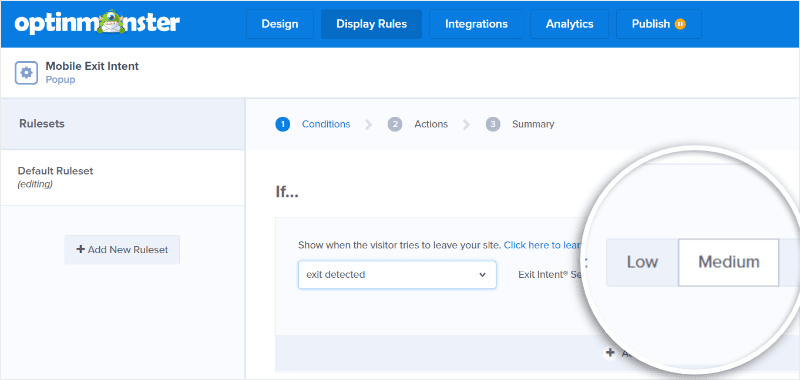 Back Button Trigger
Other users just tap the back button, and when this happens, it means that they are thinking of leaving that site. This shouldn't dampen your spirits. You can still make them stick on your site longer by enticing them with a great offer to make the order for a product. Then you select High sensitivity.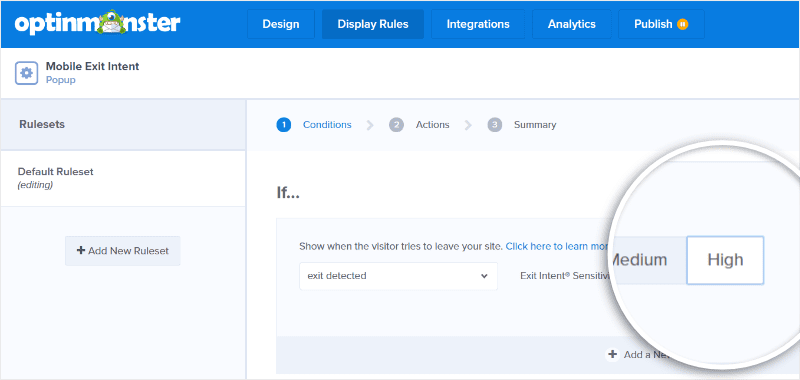 you activate both the scroll up triggers and the back button triggers. This way, you can target both users who show intentions to leave your site using either by scrolling up of using the back button.
See More:- OptinMonster Review: Best Lead Generation Plugin
The online world is known for its vicious competitive nature. If you do not have the right tools to help you, you will lose your visitors forever. You are going to love OptinMonster's exit-intent tech because it detects user behavior. If they want to leave, you can lure them with targeted campaigns. This is a good way to retain your visitors. When you consider that 70% of them never return when they leave, it's a great feature for you.
You can increase your site's conversion rate by 2–4%. This is the best way if you also want to build your email list or get repeat purchases. One of the good things about exit popups is that they don't interfere with user experience. This means that you won't annoy your users. Those who are going to find mobile exit intent mobile perfect are users who want to:
Convert visitors wishing to click away
Grow their email lists
Increase passive income from affiliate markets
Increase sales
Increased well time (time spent on your site by visitors)
Checkout quick video review on How to Get Started with exit intent mobile on OptinMonster

Source: OptinMonster
Final Thoughts
Mobile users contribute a lot in making your online venture successful. Having a great plugin like OptinMonster makes it easy to lure your mobile visitors. The exit-intent mobile features allow you to use targeted campaigns that interest your users. As much as popups are not user-friendly, some are needed if you want to build your email list first. But you need to balance this requirement with user- experience.
There is no need to sacrifice user experience in the name of generating leads. After all, where are you going to get leads if no one is visiting your website due to poor user-experience? The mobile exit-intent feature is an exception popup since it allows you to create targeted campaigns. If a person likes he/she sees, That person will definitely subscribe or purchase.
You can use OptinMonster to do other things like boosting traffic. It is also the best tool if you want to turn readers into clients. Besides popups, OptinMonster also offers other opt-in types like footer bar and slide-ins. This is for those who don't like popups. OptinMonster is the best WordPress plugin if you desire to improve how you gather leads by getting people to subscribe.
Here are a few more topics that you shouldn't miss:
Mobile Marketing Tips that Drive Leads and Sales
How to Create a Formidable Forms using WordPress Calculator Plugin
Like this post? Don't forget to share