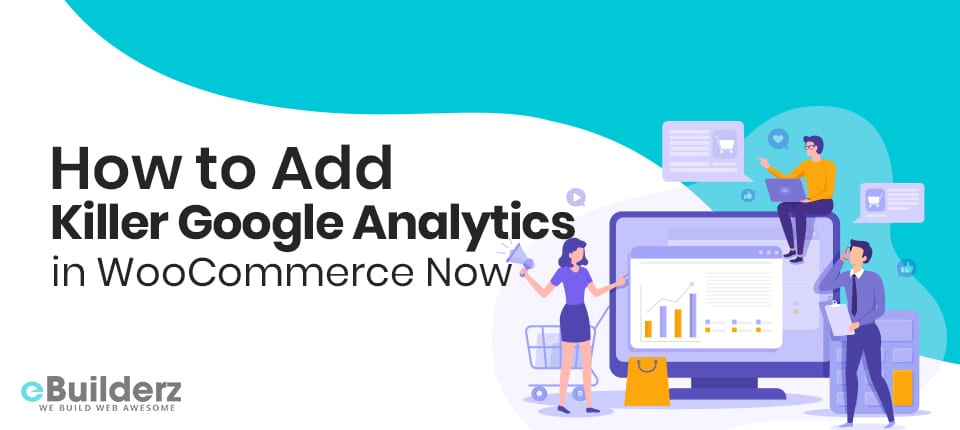 Running an E-Store is not as easy as people think. There are many things that you need to think of. You also need to get your hands on crucial reports that affect your store. The best thing is that we have plenty of tools to help us enhance our E-Stores. One of these tools is Google Analytics. This tool does a good job when you want to gather data and relay it.
If you are running an e-store, you will find its Enhanced eCommerce tracking feature quite helpful. This feature gives you detailed info about how customers behave on your website. Once you get this info, you can make changes to enhance your store to increase income.
This article is focusing on WooCommerce Google Analytics Integration. We'll also into the many benefits of Enhanced eCommerce and why you need it in your e-commerce site. Before we head straight to that, let's first draw a line by Enhanced eCommerce tracking and traditional eCommerce.
Traditional eCommerce vs. Enhanced eCommerce Tracking
This is a feature in GA that gives in-depth insights into the behavior patterns of customers. Compared to traditional eCommerce tracking, this one is really helpful. You will get to know a lot of things about your consumers.

Below are some great reports that you are going to get when you enable the Enhanced eCommerce tracking feature on your store:
Also, you can read New eCommerce Features from Formidable Forms Plugin
Sales Performance
Shopping Behavior
Checkout Behavior
Product Lists Performance
Enhanced e-commerce product performance

What makes Enhanced eCommerce tracking better than traditional eCommerce tracking? Let's find out:
Product Performance Reports
The traditional eCommerce tracking allows you to access sales data for each product. You will get reports about income, the average order value, conversion rates, the number of refunds, and more. Enhanced eCommerce, on the other hand, helps you to track categories. You can also get reports on brands that relate to your business. This allows you to give data-based on-brand assets and product categories.
Checkout and Shopping Behavior Reports
With Enhanced eCommerce tracking, you get in-depth insights on shopping carts. You also get access to product page views, abandoned carts, completed checkout, and more.
Product List Performance Reports
The list of products is grouped on your website. This helps a lot when you want to categorize for cross-selling and up-selling. When you do this, you increase income in your store. This report helps you to track the list of products viewed by consumers. This report is crucial as it you gauge they perform.
With Enhanced tracking, you can compare reports from your coupon codes and sales to see which is more useful. With detailed info about order amount, earnings, and checkouts, you will know who your top affiliates are. If you want to increase sales and income on your site, then Enhanced eCommerce tracking will help.
WooCommerce Google Analytics Integration Using Enhanced eCommerce
If you want to benefit from the Enhanced tracking, just follow these steps. Your GA will start working in a few minutes.
Step # 1. Install MonsterInsights and the eCommerce Addon
The first thing that you have to do is to install MonsterInsights. Why this plugin? Because it's the best GA WordPress plugin. It gives detailed reports on your WordPress dashboard. You don't need to know coding skills to set up GA with this tool.

It is the perfect plugin when you want to boost performance on your site. It also allows users to configure Google Analytics eCommerce with ease. With this eCommerce addon, setting up Enhanced eCommerce for your Google Analytics tracking is a walk in the park.
See More:- How to Set Up Author Tracking On Your WordPress Site by MonsterInsights
Head over to Insights >> Addons and then navigate to eCommerce to activate the e-commerce addon in this tracking tool.

Once the activation process is over, go to your GA account.
Step # 2. Enabling Enhanced eCommerce Tracking in Google Analytics
To enable Enhanced eCommerce tracking, start by logging in to your GA. Once you are in, choose the website that you would like to track with Enhanced eCommerce tracking.

Once you've done that, click on the Admin in the left taskbar.

After, go to the column on the right and click on Ecommerce Settings.

By clicking on sliders under Status, you will Enable Related Products. This means you will turn it from off to on. After that, click on the Next Step button.

Next, under Enhanced Ecommerce Settings, click the slider to turn it on from off. After that, go ahead and click on the Submit button.

Step # 3. Enabling Enhanced eCommerce in MonsterInsights
You will need to access MonsterInsights first for these processes. So, return to your WordPress dashboard. When you are there, head over to Insights >> Settings and from the top menu select eCommerce. Now enable the Use Enhanced eCommerce option.

This addon will now begin to track your store. This will allow you to take your venture to the next level using detailed data.
Track Your WooCommerce Store's Performance
Once you are through setting up WooCommerce Google Analytics, this plugin will help you store to perform better. This is because it's one of the best WordPress plugins in the market.
The first thing to do is go to Insights to view the reports and select eCommerce from the menu. You will be given info about conversion rates, income, transactions, and order value. The data range can be changed to your desired figures if you want.
After that, view the Top Products report by scrolling down. This report will give you your best-selling items. You will also view the quantity ordered and the income they've made. You will also see the number of sales.

To increase sales, the report will suggest what products to promote to boost income. Products that are not doing so well are also seen so that you can enhance them to improve their sites. Besides this, Google Analytics also shows your store's Top Conversion Sources.
You will see all the sites that send traffic to your site leading to conversions. The number of visitors is also provided their overall percentage and income. With this report, you can look for these sources to help promote your products.

The MonsterInsights addon also provides other useful reports such as Total Removed Carts and Total Add to Carts and from Cart. With this report, you will be able to see the number of products added or removed at checkout.
You can also see how long it takes your visitors to convert with the Time to Purchase and Sessions to Purchase reports.

Final Thoughts
That about it when it comes to enabling Enhanced eCommerce tracking to your WooCommerce store. We hope that this guide was helpful to you, and you are ready to apply it to your website. As much as it's not easy to run eCommerce websites, tools help to ease things up. Google Analytics Enhanced eCommerce and MonsterInsights are the best tools if you want to sell on your E-Store.
Here are a few more topics that you shouldn't miss:
How to Create Great Zapier Integrations in MemberPress
Drip Content – Learn about one of MemberPress' Killer Features!
Like this post? Don't forget to share