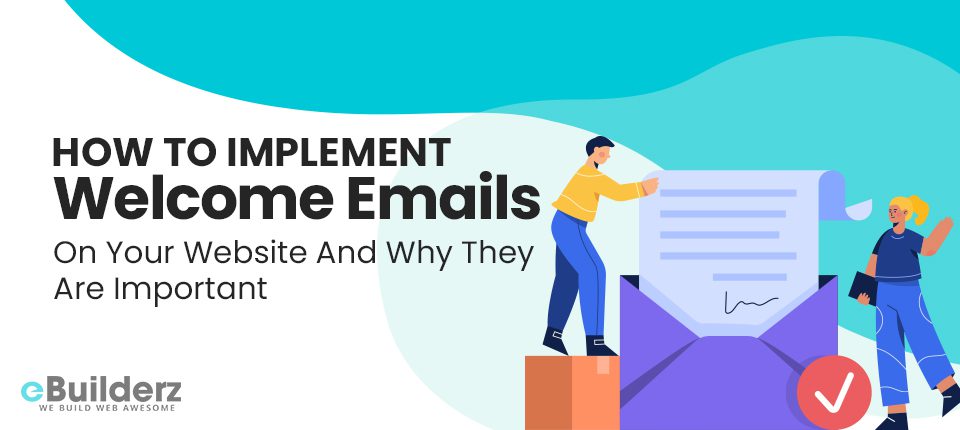 Do you want to grow your business? Do you want to send emails that turn heads and transform leads into customers? Of course, you do!
A well-designed email campaign could reach thousands, even millions of potential customers, and generate 40 times more income than its initial investment.

Email marketing is one of the most powerful and cost-effective tools available to modern businesses. This is why many invest in email marketing platforms that help them create and manage campaigns.
Of course, you can send many different types of emails, from special offer emails to newsletters. In this post, we are going to focus on welcome emails in particular. Read on to discover the different reasons why welcome emails are important and how to implement them effectively.
Why Are Welcome Emails Important?
Before we provide you with some tips and advice on putting together the perfect welcome email, it makes sense to consider why these types of emails are vital for your campaign in any case.
Here are some compelling statistics to consider:
Choose an Engaging Welcome Email Template
Now that you know why welcome emails are so important let's look at some of the different things you can do to ensure your welcome emails are successful. Firstly, you need to pick a good template.

You can check out these welcome email templates for some great examples of some of the better options on the market today
You need to make sure that the template reflects your brand and that it is easy to follow. The last thing you want to do is make your customers search for information, and instead, their eyes should immediately divert to the important part.
See More: Quickly Grow your Email List with Sendinblue and WPForms
Tell Your Recipients What to do Next
This leads on from the former point about making sure that it is evident where the eyes should divert. You need to make sure that you direct the reader on what they should be doing next. For instance, if you want them to sign up for a free trial, it should be clearly stated within your email.
You may feel like it seems obvious, but it is always important to point out what action you want the viewer to take next, whether to watch a video to make a purchase.
Use Email Testing Tools to Improve Your Welcome Email Campaign
With email testing tools, you can check the appearance of your marketing emails and the viability of your email lists before you hit 'send.'
In a world where first impressions count, you should always test your emails. When you do, you'll protect your business's reputation, boost your campaign conversions, and get more of your emails seen.
A wide range of email testing tools is available that cover everything from assessing how likely your emails are to hit spam filters to how your subject line will look in different email clients' inboxes.
If you know where to look, you can snag tools for any of the following niche jobs that most email marketing platforms skip:
Analysis of email message impact
Subject line testers
Email list quality checkers
Verification of email subscribers
Email list quality improvement
Email deliverability assessment
Email spam checkers
Inbox previewers
Email body checkers
Plug any of these terms into a search engine, and you'll find multiple options from different providers – most of them completely free. Below, we'll introduce you to 4 of the most useful.
NeverBounce (Email Verification)

NeverBounce is a paid email verification tool that integrates seamlessly with email marketing software like MailChimp, Drip, iContact, and HubSpot.
NeverBounce compiles three solutions into one tool: bulk email list cleaning, real-time email verification, and automated list cleaning. Generally speaking, it's these multiple-tools-in-one options that are paid – but you can usually find free sites that offer each function individually. Whether you choose one paid tool or multiple free ones depends entirely on how much faffing you're willing to do during the email checking process.
Bulk Email List Cleaning
With bulk email list cleaning, you can connect with over 85 integrations and upload your existing email list for it to be cleaned. Once cleaned and downloaded, your new list will be capable of delivering up to 99.9% of your emails.
Real-Time Email Verification
Real-time email verification lets you verify your customer's emails at the point of entry. You can add Verify to your lead pages, emails, and lots more. NeverBounce's helpful JavaScript widget can integrate quickly with your existing setup, saving your list from misspelled and bogus emails.
Automated List Cleaning
With automated list cleaning, NeverBounce will automatically clean your email list so you can have always-accurate email data around the clock. NeverBounce's system will automatically verify your email list every day and remove any duplicate or bad emails. It's the ultimate hands-off list-management tool.
IsNotSpam (Spam Checker)
It's the bain of every email marker's working life. You send a well-crafted email with a great offer, and no one gets to read it because it gets chucked in the bin by the email clients' spam filters. If you want your prospects to read your emails and not be put off by 'this looks like spam messages, you need to use IsNotSpam.
IsNotSpam is an easy-to-use spam checker tool. Simply compose your email, then send it to the address on the IsNotSpam website using the mail server you intend to send your marketing emails from.
You can then view an online report which will highlight any potential issues with your email that might get them flagged by various spam filters. Fix those issues, and you have an email almost guaranteed to be seen by its target audience.
TestSubject (Subject Line Tester)

TestSubject is an email marketing tool that tests how your email subject lines appear on the most popular mobile devices. While you may think it's not overly important, the internet is chock full of unfortunate subject line formatting that leads to everything from offensive slurs to hilarious typos. Ergo, this image from Zurb shows you how easily your well-crafted subject line could become a complaint-email magnet without you even knowing.

TestSubject is simple to use and will allow you to check how your subject line looks on popular mobile devices and email clients so you can tweak it before you hit 'send.'
All you need to do is fill in the required details (sender name, subject line, and preheader text). It's as easy as that.
Hemingway App (Body Copy Evaluator)

If you've ever built your website, used WordPress, or even written your blogs, you'll be familiar with tools like Yoast SEO and Grammarly – but you might not have heard of Hemingway. Hemingway assesses the body of your email copy and analyses it for readability.
The best part? It's completely free and easy to use. All you have to do is copy and paste the body of your email copy into their website or download the desktop app. Hemingway will grade your content for readability, give you a word count, and highlight grammar and syntax issues.
With it, you'll craft a better copy that's more likely to convert.
Also, You Can Read Difference Between Email Marketing vs Social Media
Give Your Subscribers a Welcome Gift
Who doesn't love the opportunity to get something cheap or free of charge? Offering a gift in your welcome email is a sure-fire way to ensure that your welcome email campaign is a success.
There are many different ways you can go about this; for example, you may want to provide the person with a discount for their first purchase, or you could offer a gift with any purchase made. There are plenty of different options to choose from!
Think about what sort of gifts and special deals will most likely appeal to your target consumer base when deciding on this.
Include an Unsubscribe Link in your Email
Finally, we know that you do not want people to unsubscribe from your mailing list, but it is important to give them the option. The last thing you want to do is cause frustration and be accused of spamming people!
Check Out the Quick Video Review On Welcome Emails
Source: Metics Media
Final Words on Implementing Welcome Emails
So there you have it: everything you need to know about welcome emails and why they are so important. We hope that this helps you to craft the perfect welcome emails for your client base. Delight them from the beginning!
Here are a few more topics that you shouldn't miss:
Difference Between Email Marketing vs Social Media
Quickly Grow your Email List with Sendinblue and WPForms
Business Email Guide: How to Write Business Emails & Achieve Your Business Goals
Like this post? Don't forget to share