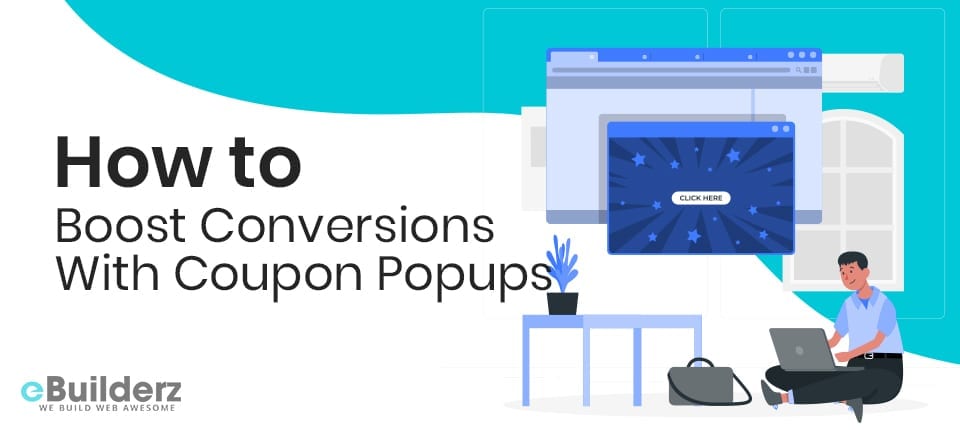 You must have come across offers, coupons, and discounts in your inbox several times that made you wonder why companies and brands send out all these promotional offers in the first place. Of course, they do this because it's a great marketing strategy that works. However, most businesses miss the point because they fail to offer the right type of promotions to the right audiences. Lucky for you, we have got just what you need to boost conversions on your website without too much hassle that doesn't bear any desirable fruits. But, unfortunately, it involves using coupon popups. To understand better how it works, read this post to the last sentence.
Using the Right Coupon App
The first fact that you need to understand is that there are numerous coupon tools out there, but not every single one of them will give you the desired outcome that you are looking for. You also need that many website visitors find coupon popups annoying and intrusive. Always try to offer discounts in the right way if you don't want to piss off your users. A timely coupon popup makes your visitor feel he or she is part of an exclusive "in-group." A coupon popup that is well-targeted makes the visitor feel appreciated and special.
There are many reasons why OptinMonster is regarded as the holy grail of online marketing. One of them is that it offers coupons at the right time, in the right ways, and to the right targeted audience. What makes this possible is that OptinMonster provides advanced targeting options that are bound to work effectively. These options make it easy for a business owner to display coupons at specific locations, at specific times, to specific visitors, on specific pages.
With OptinMonster, you can easily target coupons based on the device used by your visitor or by the visitor's inactivity or activity on your website. Reducing cart abandonment is also possible using targeted popup coupons together with exit-intent® technology. They also have this nifty feature that offers advanced ultra-precise targeting rules that allows you to choose exactly who sees the coupon. For instance, you can set it up to allow only visitors who reside from a specific location to see the coupon popup.
Despite the content management system you're using, OptinMonster will work on it, unlike WordPress coupons, which only work on WordPress websites. It works on major platforms such as Magento, Shopify, WooCommerce, BigCommerce, and many others. Let's now focus on how you can use OptinMonster's coupon popups to boost conversions on your website.
See More: How to Boost Conversions With Coupon Popups
Creating a Coupon Popup on Your Website
Since we are using the OptinMonster plugin as an example to show you how coupon popups work, you will have to install it first on your website. After installing the OptinMonster plugin, these are the steps that you will have to follow:
Creating Your Campaign
To help you completely understand how it works, we will recreate a coupon popup that looks like this one from BaubleBar. This serves as a great starting point for creating your popup coupon. As you learn how to do this, you should also know that the OptinMonster plugin offers several options to customize this coupon. As you can see from this example, we are offering a discount. While creating your coupon, you can decide to go with free shipping instead of the discount.
You can start by logging in to your OptinMonster dashboard and click Create Campaign:

After that, go ahead and pick a campaign type. In this guide, we have selected to use the Lightbox Popup:

What will follow us choosing your popup's template. You can pick from 30+ templates that are designed professionally. These templates have varying color schemes and layouts. In our guide, we shall use the Coupon theme, which is found by scrolling through the themes. Or you can decide to type "coupon" if you want to cut to the chase and find it quickly:

The good thing about OptinMonster's templates is that they are all fully customizable and flexible. You can also use the Canvas technology to design your form in HTML if you want to.
The next point you have to do is name your campaign and decide which website you want to use your coupon popup on. Once you are done with that, go ahead and click on the Start Building button:

Also, You Can Read How to Get Crazy Conversion with Exit-Intent Popups
Customizing Your Popup Coupon
After selecting your campaign type, what follows next is to customize your campaign to meet your requirements. You will be brought to OptinMonster's drag and drop campaign builder. You will see your popup coupon's live preview by default on the right side of the screen. On the left side of the screen, you will access the editing tools. Finally, you will see the Save button on the top right corner, which you will often use in this process.

Clicking on the headline on the left side brings up the element editing tools. Once you have done that, just type in the text box your new text. Then, use the available tools to format your text. Your headline should be one big thing that you want your visitors to know about.

The same method is also used to edit the body. More details of the offer can be included and what visitors must do to get the offer. For instance, they can include their email address to get it.

Setting Up Delivery of Your Coupon Code
The moment you are through with the basic design of your coupon popup, you need to tell your visitors how they will get the coupons after submitting. You can do this one several ways. The best way is to do it when using the OptinMonster plugin is to send it immediately by email and by their Success View. This happens automatically when you enable you to email service provider integration:

As shown above, you will need to type in the coupon code on the success view. Another way to show your visitors how they get a hold of their coupons is by redirecting them to a new page to redeem them.
Check Out the Quick Video Review On Boost Conversions Like Crazy with Coupon Popups
Source: WPBeginner – WordPress Tutorials
Final Thoughts
And that is how easy it is to boost conversions on your website using coupon popups in the right way. This helps to prevent shopping cart abandonment as well as enticing them to take action on your website. The best part of OptinMonster is that it allows you to target the right people in the right location with the right coupon popup. This ensures that your visitors don't get annoyed and also makes them feel special.
Here are a few more topics that you shouldn't miss:
How to Build an eCommerce Website Using Zyro
How to Boost Sales with Countdown Timer Popups
How To Increase Conversions with Easy Multi-Step Popups
Like this post? Don't forget to share